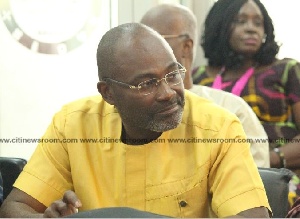 You are a lawmaker, a prominent member of the Ruling Government. Since this government came to power, you have used your influence to win many contracts through sole-sourcing and competitive bidding (Please this is a public record, not a lame allegation). Last year, your wife was given a contract worth 100 million Ghana Cedis Contract through sole-sourcing to supply Street lights.
What point am I driving at? Ken is a big-time beneficiary of our corrupt systems and hence isn't a credible voice when it comes to the fight against corruption. He is a top-class hypocrite and I'm going to prove it. When you see him attack a shoddy deal, it is more often than not because he wanted the contract and was denied. NCA and NIA are classical examples.

In spite of all these, Ghanaians overlook these flaws and give him some benefit of the doubt because he is like the evil you can expect a little good from.

But what have we seen from Ken since this government came to power? As someone who wants to pass as a voice against corruption, Ken is always quick to attack people who seek to achieve same

Anas: When Anas released the No. 12 Expose, many people including myself condemned the approach. Ken did not only condemn the method, but went ahead to attack the personality of Anas and the people he works with. Today, he is begging them because he cannot prove any of the wild allegations he made against him and Kweku Bakoe. What Ken has succeeded in doing so far is that Anas has lost a considerable trust and so his works do not carry same weight. Most of the people who questioned the method wanted to fix him so that he comes out with the quality of work that made him a brand from the beginning. Ken set out to destroy him. As I speak, he is now begging them, low key.

BOST: When the contaminated fuel matter came up, Ken was quick to jump to the defense of Mr Alfred Obeng, his friend. His reason was that the man funded the NPP campaign and so should be left alone.

Metro Mass: When the Metro Mass boss was exposed, Ken is on record to have viciously attacked the guy who planted the gadgets in his office to expose his I'll dealings. In fact, he even said that if it was America, the guy would have been killed on Adom TV.
GMA Scandal: When the news of Mr Kwame Owusu's expensive lifestyle at the expense of the state institution, conflict of interest and 'inflated contracts' came up, Ken Agyarpong again defended the man that he had done nothing wrong. On record, he defended the man's public posture and actions. Mr Kwame Owusu is Ken's close friend, this is a well-known fact.

MANASSEH: For the very first time in a rather long time, Manasseh gave some of us a comprehensive investigative reportage that exposed wrong dealings of a public official with clear-cut evidence.

Even NPP communicators have had no choice than to praise the quality of work despite their acrimonious relationship with the Journalist. In less than 24 hours after the expose, the president took a first step to suspend the man. He is to meet the special prosecutor. This was an investigative masterpiece that anyone genuinely seeking to see corruption minimise should hail and encourage.

But not Ken, he is again at the throat of Manasseh. Not just on the basis of the work done but an assault on his personality. Like he sort to do with Anas, he wants to do same to Manasseh. When you taint the credibility of an investigator, you destroy the appreciation of his works to the extent that it should be and this is how Men goes about this. This time though, it won't wash because reasonable people would at least know that Ken is not a credible voice in this fight.

He said some time ago that when people fall into scandals, they rush to him to do damage control for them. From the record, he is really doing a good job at it.

I don't know how you see him, I am not swayed by his rants, he is fake and a problem for this nation. When you see him tell what you'd call the truth, it is because he didn't gain from the lie.