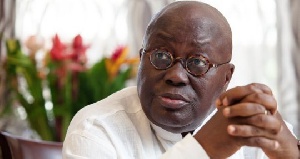 By Dr. Michael J.K. Bokor
Thursday, Oct. 13, 2016

Folks, ever since Steve Malory (Executive Editor of the AfricaWatch magazine) published its lengthy report about the health status of the NPP's Akufo-Addo, a lot has issued forth to feed public discourse. We have heard dismissive and condemnatory reactions from the NPP camp to suggest that Mallory and his medium were being used by President Mahama to damn Akufo-Addo.

We have also heard rebuttals from the Akufo-Addo camp to suggest that Mallory was out of his mind to go the way he did in publishing reports about Akufo-Addo's personal health. In effect, then, Mallory was pursuing a lost cause.

Well, he has come out now to serve notice to Akufo-Addo and his backers that he has a lot more to reveal about Akufo-Addo which will hurt his political ambitions. Ina simple language, then, Akufo-Addo is handicapped in many ways and shouldn't be upheld as fit for Ghana's presidency. A very damaging charge that is!!

Steve Mallory's contribution to public discourse on Akufo-Addo has stoked much fire. He has been easily dismissed by those close to Akufo-Addo as a petulant, peeved, and unreliable person who broke away from Akufo-Addo and the NPP for weird reasons. Thus, anything published by his medium that doesn't favour the NPP is goaded by hatred for Akufo-Addo. That's the mantra; but it has more to it.

We have also been critical of Akufo-Addo only to be blackened by his supporters as hate-filled people bent on damaging his "hard-earned integrity" (whatever that may mean). Yooooooooooooooooo!!

Having already published a report on Akufo-Addo's health situation only to be insulted by the NPP members, Steve Mallory has stepped out again to intensify the rhetoric. This time, he is reported to have vowed to expose Akufo-Addo if his followers continue insulting him for telling the whole world what he needed to reveal about Akufo-Addo's health and political misfortunes, not to talk about the wiliness of Fraudie Blay.

Steve Mallory has already made good that vow, publishing more material (entitled "Ghana, the Lies and Insults Must Stop—Africawatch responds to Nana Addo") to confirm his earlier reports on the sordidness surrounding Akufo-Addo. Here are some notable aspects:
1. Edward 'Bumpty' Akufo-Addo, the NPP Presidential candidate's brother, is seriously ill. Bumpty, a leading member of NPP financiers' status, is badly affecting the party which is currently broke and still facing difficulties in raising cash for campaign because of donor fatigue deepened by cracks within the party.

2. Akufo-Addo reportedly rewarded then deputy Governor of the Bank of Ghana, Dr Mahamadu Bawumia with the Vice Presidential slot for awarding the contract for printing of new currencies during the controversial redenomination exercise in 2007.

3. Akufo-Addo's Ghanaian doctor, Prof. Adu Gyamfi, lied about the true state of his client's life-threatening kidney and cancer diseases.

4. Akufo-Addo has hidden behind the smokescreen created by his running mate's public lecture on Ghana's economy to surreptitiously leave Ghana for medical treatment in London. He simply used Dr. Bawumia's event as a "decoy". What else has he been doing under such a cover? Can he be trusted? (A serious claim here).

5. The NPP is in a serious state of dilemma because of Akufo-Addo's bad health situation and also because of the mismanagement of funds donated for Akufo-Addo's previous campaigns, which explains why the big financiers are not willing to commit anything to the party's purse for Election 2016.

6. The Africa Watch Magazine is ready for further attacks on the NPP, mocking Akufo-Addo for failing to manage the NPP, leaving it in a state of quandary, with very influential leaders deserting him or sitting on the fence while the NPP awaits a shocking defeat in the upcoming elections.

HINDSIGHT

Steve Mallory says he stands by his publications and that he is ready at any time to produce evidence in support of these assertions, including those related to the recent story on the health status of Akufo-Addo.
He said he was a personal friend to Akufo-Addo, whom he had supported in the past before quitting active politics in 2009 (after Akufo-Addo's defeat by Atta Mills) to concentrate on journalism.

This is how he puts it: "For those who do not know and are saying all sorts of things, I have given Akufo-Addo money in the past to support his campaigns, but he has never, ever given me one cent or one pesewa for my personal use, contrary to what his men are alleging. I dare Akufo-Addo to prove me wrong".

He has dared Akufo-Addo to say "Fi" in denial of his claims so he will come down more heavily on him, ridiculing him in this sense: "[It is] shocking and very disturbing, Akufo-Addo's one clear response to all the issues at a rally in the Northern Region: "Now, they say I have cancer, it will not work." The point is that such a curt reaction hides the truth about his health status.

In the end, Steve Mallory puts everything together this way:"Now it appears Akufo-Addo has hit a snag that poses a threat to the NPP campaign. Three critical factors have come into play: The first is the fact that Akufo-Addo's ill health is taking a serious toll on him. Second, his brother's deteriorating health has become a major distraction for him as well. Third, the Akufo-Addo family is financially weak and the NPP is almost broke." (See https://www.ghanaweb.com/GhanaHomePage/NewsArchive/AfricaWatch-vows-to-expose-Nana-Addo-in-response-to-NPP-s-insults-477193).

MY COMMENTS

So, whom should we believe now? Akufo-Addo and his evasive version of what has so far been revealed about him (personal health status, mismanagement of the party's funds, alienation of financiers, doom at the polls, etc.) or Steve Mallory and his evidence-based revelations?

Has Steve Mallory shot down Akufo-Addo? Why would such a former personal friend turn the heat on him this way? Will Akufo-Addo call off Steve Mallory's bluff? And be ready for more punches?

Already, Akufo-Addo has shied away from litigation by way of seeking redress. Atta Akyea has already told us that.
As is to be expected, his supporters reacting to the publication on Ghanaweb have been quick to pour invective on Steve Mallory. Are they motivating him to come out with more revelations about Akufo-Addo? I hope that is the case so we can get to know what Steve Mallory has known about Akufo-Addo all these years that he can no longer keep to himself.

Folks, what sort of man is Akufo-Addo that he should be so embroilled in controversies all over the place? No Ghanaian figure has had such tough battles to fight in the public domain as far as personal integrity and the pursuit of political ambitions are concerned. Why is it so? As for me, my mouth no be gun oooh!!.

oes to feed into the NPP's negative public image as a violent party. It sustains the negative opinion of Akufo-Addo as a violent man whose main political tool is instigation of his followers to cause mayhem.

In a democracy, negative acts of the sort put up by the NPP elements at Kokompe have no place. The exchange of ideas to woo voters is the best approach, not hooliganism.

Of course, if the NPP thinks that lining up its supporters to hoot at the President will win the day for it, so will it invest resources in it; but at the end of the day, discerning voters will go where they feel comfortable to be given the peaceful atmosphere in which to live their lives, regardless of complaints about the cost of living. At the end of the polls, these NPP hooligans will end up biting their tongues for doing acts that have rather detracted from Akufo-Addo's worth in the eyes of the voters. Hooting at the President is an impotent and misguided political tool.

The truth is that wherever President Mahama goes, he pulls crowds. Those who think otherwise can do all they please until December 7 stuns them.

One lesson, though: Once the NPP people have begun using unorthodox means to sustain their rogue politics, our security agencies have to be on their toes. Their recourse to worse political tools should be foreseen and stemmed before anything horrible happens. The hooting is just the tip of the iceberg; but it is a clear harbinger that must be proactively monitored and dealt with before it turns into something ugly. I am speaking in parables here.

We wait for more developments to confirm the notoriety of these sore losers who have chosen open hostility toward the Lion of Gonja that their negative politics over the years hasn't succeeded in degrading.
Interestingly, the NPP leaders haven't said anything about that stage-managed hooting incident. They appear to be happy that it happened. The party's followers are celebrating it as an accomplishment, describing it as a clear demonstration of bravado to foretell Akufo-Addo's victory at Election 2016. I pity them.

I hope that NDC supporters won't counteract this negative attitude by doing anything untoward against Akufo-Addo when he enters their space. Decency counts in the search for votes!!

I shall return…

• E-mail: mjbokor@yahoo.com

• Join me on Facebook at: http://www.facebook.com/mjkbokor to continue the conversation.