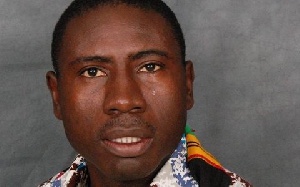 Martin Amidu has come and gone. Nominated. Vetted. Confirmed. All became headline news. I watched the entire vetting process. Some of the committee members obviously over prepared, to show him where power lies. A few sharp teeth questions emerged, which met a couple of sharp teeth answers from the man Martin Amidu.
I am still romancing with the comment, "I cannot live in harmony with criminals". I have said, that, that statement is the best answer ever to have come from an appointment candidate. It gives confidence, that we are putting the right person up to fight corruption.

But senior, your current role, and the role you took upon yourself, as a Citizen Vigilante, is a sacred one. You would have been failing your mother, and your father, you would have been failing the people of Sandema (where you come from), if you thought, that, you are in such a position because you are the most decent person in Ghana.

I understand that you were the longest serving Deputy Minister of Justice that Ghana has ever had. You also eventually became the Interior Minister, and later the substantive Minister of Justice. I have lit a fire in front of you, and I will like you to walk through it, just as an example for all those you are going to hold accountable, for you would have to pass the test first before you hold your fellows accountable.

It appears that you have only work in public sector since you left school. Can you give us, publicly, an account of all the assets you hold as your own? And can you tell us how you acquired them? I am told your children are well educated and grown. Did anyone of them secure a government scholarship? How were they able to secure those scholarships, if any?

When you were in public service, did you ever take sitting allowance, or transportation allowance, for meetings which were held during regular working hours in the same offices where you worked?
I see you in a double-breasted well-ironed and bottomed dark suit, with your well-trimmed vetting-purposed haircut, with your usual well-polished dark shoes to march, with your briefcase in hand. Can you please tell me what you, yourself, stole when you were in government for all those years? What did you steal when you were the Minister of Justice?

You praised your former boss, Flight Lieutenant John Jerry Rawlings, for nearly killing corruption in Ghana. Sir, one question; the money that was brought to the former President, Flight Lieutenant John Jerry Rawlings, from Nigeria's former President Abacha, was that money $5million or it was $2million? Was that money receipted or it was in a polythene bag that got offloaded into some people's pockets? How much of that money did you see, as a Deputy Attorney General? How did a sovereign state like Nigeria, give money to another sovereign state like Ghana, without any evidence of negotiation, without any evidence of receipt, and without any evidence of how the money was used?

The late Alhaji Bature was a member of your NDC party, the same party that appointed you as a Minister of Justice and Attorney General. The same party that made you the Minister of Interior, and the Running-mate to the late President Atta Mills. Alhaji Bature had this to say about J. J. Rawlings' wife: "Nana Konadu Agyemang Rawlings is the most corrupt woman in Ghana". The late Alhaji further asked the following questions: "Where are the Ghana National Trading Company (GNTC) properties, where are the cocoa factories and the Nsawam Cannery?" In the Alhaji's view, all these companies are found in the pockets of Nana Konadu Agyemang Rawlings.

Senior, do you, honestly, still hold on to your view, that, J. J. Rawlings was the one who reduced corruption drastically, in Ghana? Or were you trying to say corruption became a festival during Rawlings' regime, of which you were a member? If Nana Konadu Agyemang Rawlings, who happened to be a public official, and the wife of the President you happened to be praising, could purchase nearly every single one of the state divested companies, and lie about some of them, and you, a Special Prosecutor, choose to praise them at such a platform, then don't you think we should begin to be worried about your appointment?

We hail your appointment, as the first Special Prosecutor. But I will like to assure you that you are not going to work unnoticed. You were in the government when Betty Mould Iddrisu, together with Ebo Barton Oduro, gave Woyome over GHC51million, for free. It gives me no comfort that someone whose government is claimed to be one of the most corrupt in the history of Ghana, can, suddenly, metamorphous into the country's saint.
If you claim the (P)NDC government was corrupt, and you have been part of that government for nearly its entire 27 years life, then you cannot suddenly claim that you cannot live with criminals; that is a repugnant self-serving hypocrisy.

You see why I have said you should be measured in your superiority? If you begin to claim that you cannot live harmoniously with criminals, then you set yourself up as the cleanest person we have suddenly discovered, as though you are made of gold, for you know that gold has not been all that you have held in your hands.

God put Esther (in the Bible) in a position of privilege for the sake of the Jews, to bring salvation to her people. The person who promoted Esther into that Queen-ship, Mordecai, knew he had a duty to do so, for the sake of the Jews. But Esther also understood her obligation to stand in the gap against the machinations of Haman – purpose and duty – it did not make Esther more superior to Mordecai. They both understood their callings, and they both worked to bring Haman down.

Petty corruption, which is unlikely to form part of your mandate, is likely to persist, as though nothing has changed in the world. Men and women of faith, men and women who worship on Fridays, those who go to church on Saturdays, and all the Sunday people, will continue to steal as they worship, and we will not be able to punish them if you behave as though you are omnipotent.

You require the cooperation of all of us, and all of us will require your cooperation, to defeat corruption the builsa way (comprehensively). We have had the Commission for Human Rights and Administrative Justice, we have had EOCO, which keep changing their colors as the political colors change. We have had the Judiciary itself, the very courts at which you seek to prosecute thieves, but you know that the courts themselves are not clean. We will have to do things differently if your office will succeed.
I became worried when the Electoral Commission began to assert its autonomy haphazardly. The Electoral Commission virtually became one institution that asked for a nearly unlimited amount of money, and we were always running to give them whatever they asked for. We knew we could ask questions, but all of us were too afraid to ask the necessary questions. Today the Electoral Commission is at war with itself, with the Commissioners accusing each other of being the most corrupt.

I overheard you taking the Board of the Office of the Special Prosecutor to the cleaners, even before they are created. I wish I am appointed as one of the board members. Like you will smell pepper. How on earth could a Chief Executive Officer assume to be more powerful than his board? What kind of chaos are you seeking to celebrate?

That is what happens when we are told we are so powerful, and when we believe that to be true, to the point that we challenge the very authority that gave us the power, then the very person we have put there to fight corruption, then become the embodiment of blackmail – we will not allow you to get to that level.

I still believe in you. But I will not allow you to believe that you are infallible. You are not omnipotent. You need to accept, right from the beginning, that, you are the least chosen to do the work of many. We have given you rules and laws. Apply, with them, wisdom, not power.