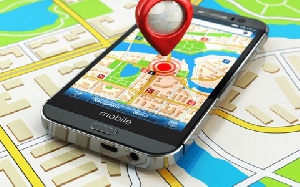 With the craze of launching anything launchable, the NPP government decided to beat the whole world to the ICT game. A software amateur decided to download Google map unto his laptop and created a front end application to hide the original Google map.
He further generated some "huhudious" codes like QZ, ST, SD, etc, that have no bearing on the Ghana's address system. GH stands for Ghana in the international comity of address systems. AR for Grater Accra, VR for Volta, UW for Upper West etc. Are you getting the example? Good. So a "huhudious" code like SD and ST for Upper West Region? Where is that coming from?

This confused GHPost address application asks you to key in your mobile phone number. And instructs you to stand in front of your gate to determine your location. If you don't have a gate, that one is your wahala. You can choose to stand on the street in front of your house. Do you know why? Because some time back, the Google car drove on Ghana roads and captured most of the roads by satellite. Now you get my point.

But if per political accident, you are residing at a place which was developed after the Google car had left town, sorry for you. The azaa GHPost system will generate an 'unknown street' for you and add some selected numbers taken from your phone number to generate a confused code and only to be deceived by the Minister of Communication that Ghana Post onward will deliver letters to your non-existence letter boxes on your unnamed streets. If you have more than one phone number, you are bound to have more than one post code for same house. The more phone numbers you have, the multiple the GHPost code. If care is not taken, you may even find yourself on the streets of Qatar.

Ok, so now we get it. So let's get the money. This azaa GHPost code which was incubated on Atta Mills High Street was freight forwarded to Jubilee Flagstaff House. Where a high powered IT team which was more sophisticated and more complex than NASA and NATO ICT and military joint team, under the disabled chairmanship of Bawumia, was put together to proof test the software.

Eureka!!! There is it. We have beaten America and Britain. Even Canada is snow-frozen by the power of Ghana's superior digital address system. Indeed, Ghana has conquered the world.

"When we implement the digital address system, I argue that it is going to be the most advanced addressing system in the world. We will leapfrog above the United States, Canada, and the UK and have a very modern address system." Bawumia declared to a sweaty and bemused audience.
Hehehe. Me sisi yemi ya. Nye dzi lo...... Bawumia will 'kill' pregnant women in Ghana. Charlie, we still do not have digital address system. It does not exist. But we have to get the money.

In that case, no further negotiation on the software. Sharp Sharp, US $2.5 million dollars (GHC 15 million) under the urgent certificate of 'innovation' was paid. And a lavish launch was orchestrated. So here we are. Ghana has paid GHC15 million for Google map which is free on Google Playstore.

This Bawumiac and first to be invented digital address system launch, set the country in chaotic agog. So to take care of this agog until the next launch of hail the king, let the country discuss the opposition party.

Sir, why? Ooh, it will keep the NDC, the major opposition party busy with finding their digital location in the Kwesi Botchwey report. Just say Mahama's defeat was caused by Omane Boamah and Stan Dogbe. They will start fighting for 'gravitational digitality'. Make sure you commission the Bipolar FM station to do it. They are in relapse at the moment.

Ayayaya. Let me drink my palmwine in front of my gate. May be, the gods of the drink may capture my stupor.

KOFI B. KUKUBOR