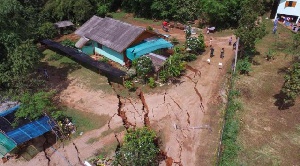 On March 4, 2019, two days after the latest earth tremors that rocked parts of Accra, President Akufo-Addo tasked the National Security and the Ministry of the Interior to prepare a national earthquake emergency plan.
Words from a caring President. But hear what a Seismologist at the Geological Survey Department (GSD), Mr Nicholas Opoku, told journalists.The department "needs an amount of GH¢10,000 to purchase the necessary equipment to conduct an assessment of the tremor."

This GH¢10,000 is far, far, far less than the per diem allowance of one Minister or Government official attending a conference in Europe or America for two weeks.

My point here is not to ban foreign travel; I have done foreign travels myself. What I am advocating is the Tanzania style where President Magafuli cut down a delegation to a Commonwealth conference overseas from over 50 officials to five because the nation needed the money urgently for an economy that was ailing!

Meanwhile, the GSD has warned of an imminent earthquake along the fault lines especially areas in the Greater Accra Region.

"It [earthquake] can happen; nothing can prevent it when it is happening."

While that is true, it is also true that in other parts of the world, governments are showing that they think and plan ahead.
As one seismologist warned, "forces are acting on the earth in parts of the fault lines, especially in the Weija area, resulting in putting more stress on buildings on the rocks.

As the stress keeps adding, it can result in an earthquake."

We can task the National Disaster Management Organisation( NADMOs) and National Security to do all they can, but what about the decisive action? For example, why should it not be possible to stop people, no matter how rich or how politically powerful, from going on with construction and developments in areas known to lie in the fault lines? That, I think, is the type of decisiveness that distinguishes one government from another.

The affected property owners can be compensated with land in safer zones.

To be forewarned, they say, is to be forearmed.

In Ghana, as in many other African countries, we are still to cultivate the culture of forearming ourselves. We will cry and talk and promise; a week later, it's all forgotten.
My main beef this week, however, is what lessons we are prepared to learn from the experiences of others, especially the measures being taken, not to prevent earthquakes, but to either minimise their physical damage or to even eliminate damage to precious limbs.

I will take you to Japan. In the April 2016 earthquakes that killed at least 50 people and injured about 3,000 others, many structures in Kumamoto and Oita Prefectures collapsed and caught fire, and more than 44,000 people were evacuated from their homes.

However, among the structures that were not damaged was a small village of 480 houses at the Aso Farm Land resort, a health-themed national park with what have come to be known as the Dome Houses built on a volcano!!!

Using proprietary technology, the Dome Houses are built with expanded polystyrene products (known in Ghana for making take-away boxes, cups and disposable cutlery) and are highly earthquake resistant.

Their effectiveness was tested when a two-storey house built from panels of expanded polystyrene sandwiched between cement boards survived a simulated earthquake of magnitude 10, stronger than the world has ever experienced.

Don't we have scientists in Ghana! Osagyefo Dr Kwame Nkrumah may not be your favourite leader, but hate him or love him, Kwame Nkrumah had some policies and governance styles that we can pick from.
Whenever the young country came up against an intractable complexity that needed a scientific solution, he was said to camp the country's best scientific brains and task them to come up with a solution.

What stops us from doing so now? Recently the President has put together two economic and finance think tanks. Why can't we have a science and technology think tank, with specific problems at a time?

Ever heard of Pozzolana Cement? It is a wholly Ghanaian product invented by the Building and Road Research Institute of the Council For Scientific and Industrial Research (CSIR).

Concrete works, cement blocks, mortar for blockwork, culverts, drains and pavement blocks made from Pozzolana cement have been scientifically proven to be superior in all ways to all of the above produced with Portland cement.

Earthquakes are inevitable. In Ghana, when an earthquake strikes, here are some predictable events. One, the NDC and NPP will be on air shouting and pointing accusing fingers, thinking only of the votes in the next election.

If you don't hear anybody blaming scientists, it is because as a people we do not know or appreciate what science and technology is, or does.
Hear Pastor Mensa Anamua Otabil, founder of International Central Gospel Church (ICGC), at the Thanksgiving Service held at the International Conference Centre on December 19, 2010 for the discovery and first commercial pumping of oil in Ghana):

"Ladies and gentlemen, the key to Ghana's development is not black gold; the key to Ghana's development is gray matter. Our wealth resides in our heads."

Like Kweku Baako, I rest my case.