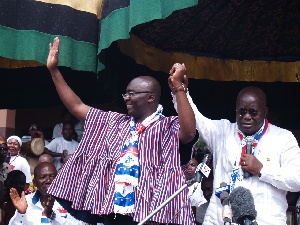 ghana Watcher

1--The campaign was turned into a concert party with 43 musicians always in the convoy. 6 articulators carried their equipment alone and it was so vulgar. I was in bolga when they visited and people took the oppty to see all the best musicians but this did not translate into votes.


2- The andani gate needed some assurances but nana addo kept them so scared of him, so also were the kusasis in bawku were alienated. The dagbon issue is the single biggest factor that cost nana addo.


3--the beating of mills' and rawlings' body guards incensed many floating voters.


4--Nana addo did not have a humble composure. He said on a platform in tamale "we are many they are few, if there is war we shall defeat them". This was a very unpresidential statement.


5-The campaign was very disorganised. Every one was incharge and no one was really in charge

6--he surrounded himself with kuffor haters like victor newmann, osarfo marfo,aprako etc.. and alienated a lot of people.


7--Genuine volunteers were seen as opportunist and shoved off.


7--They spent time marketing bawumiah than him bringing votes. Boniface was an already marketed person but nana addo is alleged to have said "his father was not among the BIG SIX". DYNASTIC POLITICS AT PLAY


8--Complacency was very strong factor fuelled by the press.


9--Nana addo took sides in the dagbon problem and andanis were not welcome near him.

10--Launching his campaign at the okyehene's palace was also a wrong step.


11--Kofi koomson's warning "i can't sleep soundly with nana addo as president, its not safe" really shook a lot of people b'cos coomson was supposed to know better.


ADVICE TO NANA ADDO


1--Please dont take sides in conflict situations. You need every single vote.


2--A conscious effort must be made to clear the perception of arrogance. His refusal to hug nduom at the debate registered on many people

3--Platform utterances must be sober and gentle.


4--The cocaine question must be answered clealy. obama admitted it and people accepted him all the same


5--Politics of exclusion must be avoided


Finally nana and his supporters must never count the eggs before they are hatched