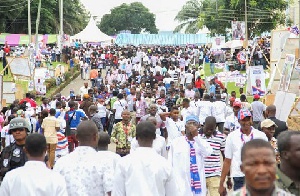 According to history, in the fourth quarter of the 19th Century, there was a civil war in Asante Empire, where all the Divisions teamed up to declare war on the Adonten Division, headquartered in Juaben.
As a result, the Adontenhene of Asanteman, Juabenhene, together with all his sub divisional chiefs fled Asante to the safe haven of the Akyems who gave them a small parcel of land to settle, under KOFORI's Tree – KOFORIDUA.

Koforidua soon spread out as a major commercial town, and thanks to Colonel George Minyilla who was the Eastern Regional Commissioner under Col I. K. Acheampong, Koforidua was transformed into a truly municipal status.

Koforidua, for reasons unknown, attained notoriety for having countless beautiful girls on their streets; popularly called "Koforidua Flowers."

According to a famous local musician, if you are a man and you go to Koforidua and for two days you have not got a girlfriend, then you are not "correct"

Thanks to God, nowadays every week my law chambers travels to Koforidua High Court to do either civil, criminal or a chieftaincy case.

And so when news came out that this year's NPP Delegates Conference will take place in Koforidua, what baffled me was where? Hotel Eredec? Or Jackson Park? Or the dilapidating Jubilee Park?

The Planning Committee made an excellent decision to host the conference at the campus of the Technical University, formerly Koforidua Polytechnic. In terms of security, it was not only an excellent choice but the most strategic one.
I learnt something from then candidate J. A. Kufour in the year 2000 when I drove all the way to Anloga one Saturday morning to attend the funeral of the late Awoamefa. Believe it or not, by 0700 hours when I got there, the NPP Presidential Candidate surrounded by his future Cabinet Ministers were all there, seated, at a very strategic location.

The lesson is that if you are NOT the Guest of Honour, then, if you are invited to any function; please go EARLY, as early as possible, so that you can get a very good commanding position to sit. If you arrive late, well, you are welcome, but who should get up for you to sit down?

With this mindset, I left my Kasoa residence at 0500hrs Saturday morning, 7 July 2018 and by 0630hrs, I was in Koforidua. As I entered the city, after passing so many posters of Nana B and Dominic, both vying for National Youth Organizer position, I got to the Polytechnic traffic light and turned left, onto the dual carriage way, which was choked with millennia of posters.

Anytime I see banners and posters, I remember what the chief of my hometown, Jinijini, once said angrily – "it is NOT posters that vote – it is the human beings!"

To my shock, and complete surprise, as early as 0700 hours when I thought I was early, I saw a stampede at the regal entrance to the University campus. Armed policemen everywhere, with security men checking everybody – oh my God.

"Chief, without a sticker, you are NOT entering "said a fierce looking policeman, wild eyed, brooding no nonsense. Thankfully some senior policeman saw me, saluted, "Captain!" "Oh lawyer, go, go….." Thanks be to God.

It was early, but cars everywhere – then police after police directed us to a second security check point, flooded with police all round. As for that gate I was rushed through, amidst smiles, and walked about 100 metres to the last check point.
There too without hustle, I entered and found myself facing over 30 radio FM Stations, each scrambling to talk to NPP big wigs.

Finally, circa 8 am, I got a correct frontline seat, and sat down, to observe events, as slowly, delegates from NPP branches all over the country and the diaspora start to arrive. The actual conference venue was the football park of the University, flooded with over sixty white canopies, in a rectangular typical durbar style.

As for the dignitaries whose seats were reserved, they started arriving long after 10am. Almost everybody who is somebody in NPP was there – Ministers, MP's, DCEs, diplomats – they were all there. I saw Honourable Kennedy Ohene Agyapong, the firebrand who said on radio that he always dreams of "how to make money and how to fight" wearing some shirt over bluish shorts, walking with the Ashanti NPP regional boss, Chairman Wontumi.

First to arrive was former President, J.A. Kufour, then Vice President Mamadu Bawumia and then the Acting National Chairman, Freddie Blay and finally His Excellency the President, Nana Addo Dankwa Akufo Addo.

Then the programme took off. Prayers. Speeches and elections.

I noticed that the crowd was so thick that honestly, only those on the presidential dais with the MCs, Lord Commey and Tourism Minister, Catherine Afeku (MP) were actually following events.

We, the audience, or conference participants, were so far away, that in spite of the giant loudspeakers, other interesting issues were engaging our attention – arrival of the 41 contestants; each with bombastic entourage – Rita Asobayire, waving a man size whiskers, Steve Ntim, followed by smock wearing bodyguards, Nana B, dressed almost like combative General Mosquito…………………..
Those watching proceedings on television could better follow events, and listen to the speeches – but as for us the Conference participants – it was a different ball game.

One man seated next to me asked: "Captain, where did the organizers pick all these beautiful ushers from?" Reader, I could not answer, because how could I? Over 40 shapely ladies each of them fabulously endowed with watermelon backsides, as excess luggage!

Voting actually started around 3pm and finished just before midnight, about 6,000 delegates, casting their ballots for over ten positions.

It was the counting which took a very long time. The results were very predictable: John Boadu and Sammy Awuku had walk over, Nana B sailed through safely with voluptuously endowed Kate Gyamfua for the Youth and Women's Organizer positions and Rita Asobayire, FF Anto and Omani Wadie were 1st 2nd and 3rd Vice Chairpersons respectively.

The real battle was between Stephen Ntim and Freddie Blay. It was an epic battle, a clash of titans.

I was in Legon in 2006 when Stephen Ntim lost to Mac Manu, in Kumasi in 2010 when he lost to Jake Obetsebi Lamptey and in Tamale 2014 when he again lost to Afoko.

The talk in town was that it was now the turn of Stephen Ntim. But he was faced with an uphill task. Freddie Blay, Acting National Chairman, rumoured to have the support of "the Establishment".
According to my father in law's daughter, in the year 2000, she was in the house in Ayawaso West Wuogon Constituency when a strange visitor walked in: Madam, your husband is contesting in far away Berekum, you are not going to vote there. You are here, Accra – vote for me. I am the NDC Candidate for Parliament."

She says the NPP Candidate did not even border to come and hold a rally across our street, let alone coming to house to house, but she could not bring herself to vote for NDC – in the confusion, she did not vote at all.

I had a similar problem; I know Freddie Blay inside out, as contemporaries at Legon, he is a very close personal friend. But Steve Ntim is from my area, Brong Ahafo, a stone throw from Berekum. Which of them should I vote for?

Fortunately, even though I am a Founding Member of NPP, I was not a delegate to vote from Berekum West Constituency, so, just after 0400hrs, the results were declared: Freddie Blay, the Acting National Chairman is now the substantive National Chairman, elected by popular ballot.

And, so, Koforidua 2018 goes down in history: Victory for Freddie Blay, Warterloo for Stephen Ntim.