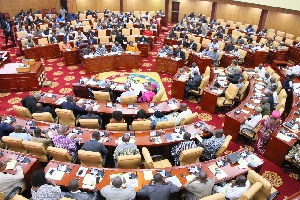 A couple of weeks ago, in my article entitled "Papa Kwesi Nduom is too big to be ignored", I did mention that it was not right for Papa Kwesi Nduom to have been disqualified without giving him the opportunity to correct his nomination form. I also did mention that in an ideal situation, there should have been a desk in the office of the Electoral Commission that helps Presidential candidates with the submission of their forms.
The High Court of Ghana has almost entirely agreed with me, and pronounced Judgment for the PPP, and Papa Kwesi Nduom. This is a good news, not only for Papa Kwesi Nduom but for our country as well.

We cannot have a situation where the outcome of our elections will be predetermined by saboteurs of opposing parties, and I believe that even after this verdict somebody needs to further test the law, to know if it is right for a party to necessarily be disqualified because one person endorsed for two nominees or one person endorsed for more than one political party.

In my view, if such a law is left on our statute books, then the chances will be that opposing political parties will in future plant moles in the camp of their opponents just with the intention of sabotaging them, and this could potentially plunge the country into conflict.

I think that the judge's opinion on Kwesi Nduom's case is one of the brilliant judgments I have read in a long while, especially considering the short space of time available to the judge, and I honestly wish that such a judge was a member of our Parliament.

The quality of his analysis, the meticulous attention to detail, the breadth of research brought to bear on the judgment, this is exactly what, I believe, Ghana's constitution envisaged for members of our Parliament.
Honestly Simpa Panyin has not been impressed with the performance of Ghana's Parliament in recent years, both in terms of the quality of work, and how Ghana's Executive seem to have whipped them so much in line, so much so that our Parliament seem to have seized to be as independent as the 1992 constitution envisaged.

Last Week Honorable Hackman Owusu Agyemang, a former member of Parliament, said that Ghana's Parliament is not Independent. He was commenting on the surprise confirmation of the nominated Deputy Minister for Local Government and Rural Development, Oti Bless. He felt that the processes that led to the confirmation of the nominee lacked transparency. Oti Bless is a member of Parliament, and he is reported to have maligned the Supreme Court a few months back. I agree with the Honorable. I have been of the opinion that our Parliament is so weak and polarized that the Executive will likely prevail upon the house in nearly everything they took to them, and so I was not surprised when Honorable Hackman Owusu Agyemang suspected that Parliament went ahead to confirm the Deputy Minister, even though, in his opinion, the house might have lacked quorum.

A weak Parliament is likely to be either as a symptom of the lack of logistics or a symptom of poorly performing Members of Parliament or both. It appears to me that in our case there are several members of Parliament who do not even understand the role of Parliament and their own roles as Parliamentarians. They go to Parliament behaving as though they are Ministers and District Chief Executives, pre-occupied with what they can do, in terms of development in their constituencies, in order for their constituents to re-elect them in the next Parliament.

Currently, party affiliation seems to be the dominant channel to enter Ghana's Parliament. Party activism is about loyalty, it is about commitment, and about dedication. And with the keenness in our elections, activists have stepped up their game of winning the war of words, and the war of brute. There are those who seem to be competing for the most violent persons in their parties, and such persons are rewarded in many ways.

A couple of weeks ago Honorable Kennedy Agyapong was quoted as having said that he would be surprised if Nana Akufo Addo did not appoint Anthony Abayifa Karbo as a Minister if he wins power. His reason is that Anthony Karbo has been so hard working and so loyal to the party, so much so that he deserved an appointment.
I am not by this impugning that Anthony Karbo is violent. And of course, they have to win power first, before there could be that possibility of Anthony Karbo qualifying for the kind of appointment Ken is alluding to.

But we know that those who are most active in our political parties may not necessarily be the most sensible or intelligent. In fact the most intelligent, the most sensible of people, the people who pay the most attention to detail, may not be the ones that will be violent, they are not the ones who will employ inferior tactics to win elections, and they may not be the ones who will be at the forefront of the party.

Going to Parliament has now fallen into the category of brut, violent processes, and as I have said in the past, this violent approach is virtually eliminating most decent people from wanting to offer themselves for elections. This is how we are selecting individuals we will thereafter call 'honorables' -- men and women whose simple duty will be to discuss and pass laws, approve agreements, approve ministers, and debate policies.

The perception out there is that the caliber of individuals being elected to Ghana's Parliament lacks the capacity to effectively carry out the responsibilities of being parliamentarian; that our Parliament is susceptible to the dictates of the Executive, so much so that majority of discerning Ghanaians are unable to trust the house to serve as vanguard for the integrity of the laws they make, especially with regards to the approval of government nominees, and major international agreements.

In my opinion, the most deserving persons to be in our Parliament should be the most intellectually stimulating individuals, individuals with inquisitorial minds, people who have the penchant for objective critiquing of policy documents, people with meticulous attention to detail, those are the people who we must allow to enter our Legislature.
And here I am not talking about educational backgrounds. I have said it several times in my previous articles that there are so many people with degrees, including some PhDs, who are unable to express deep thoughts. There are so many unemployable graduates out there, some of whom might, unfortunately, have found Parliament as an easy and cheap route to be employed, by means of being Members of Parliament.

I am not talking about people who pride themselves in the amount of money they made while in Parliament or the number of development projects they brought to their communities while representing them. That is not the essence of Parliament. And the fact that many Parliamentarians think that they hold the responsibility to bring development to their constituencies is a reflection of how weak our Parliament has grown to become.

I am talking about people who are good readers of documents, no matter how technical it may seem, people who are able to read meaning into policies, and how it impacts on society. I am talking about people who can apply sizeable understanding into issues, apply their knowledge and skills, no matter the field, to bear on our governance, and pride themselves in the good contribution they made in Parliament, and not the amount of money they made when they were in Parliament.

Ideally, and with all the short-comings of our election processes and choices as cited above, we should have had a certain flexible room to appoint additional minds into our Legislature. I am talking about making room for people such as Edward Omane Boamah, Papa Kwesi Nduom, Ekow Spio Garbrah, Tsatsu Tsikata, Dr Muhamudu Bawumia, Samia Nkrumah and Kweku Baako Jr, to be appointed as members of Parliament.

These are people who are highly qualified, and self-achieving with deep thinking, but who for some reasons are unable to contest or win power to go to Parliament by themselves, either because of the way we have created our election processes or because they are averse to putting themselves up for elections.
Let's face it, we don't have the best we should have in our Parliament, and therefore we are not getting the best out of our Parliament. And because we don't have the best we should have in our Parliament, we are also not getting the best we should have from our government. In simple terms, it is the poor choices we make that results in the poverty of governance we receive. This calls for reflective voting this December. We cannot continue to be carried away by emotional democracy. We cannot continue to vote for symbols. Our votes must count towards the building of our nationhood, voting must empower our society, and make us bold and strong. It will soon be December 7, and it will soon be you and I in the box.