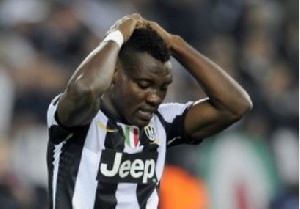 Another season, another Serie A title for Kwadwo Asamoah, but there's still the niggling sense that he's not coming close to achieving his potential at Juventus.
He's primarily employed as a reserve left-back, and it was little surprise when the Ghana international reportedly handed in a transfer request in the aftermath of the Old Lady's Champions League final defeat.

Has 'Asabob' reached the end of the road in Turin, or can he earn a more prominent spot in Massimiliano Allegri's plans?

The story of last season

Ok, so the big positive about Asamoah's season is that he's largely remained injury free.

After several nightmarish campaigns in which he's been forced to sit on the sidelines and watch on as his fitness problems subside and his teammates accrue honours aplenty, the 28-year-old has pretty much avoided the treatment table.
He managed 18 appearances in Serie A, which is more than he's played in any campaign since the 2013-14 campaign. His 16 starts is more than he's achieved in the last two seasons combined, while he also featured three times in the Champions League.

There are caveats, of course.

Only five of Asamoah's appearances came in the centre of the midfield, the position where he originally made his name, while many came during the latter portion of the season, when Allegri opted to reshuffle his options and often play a second string in the league.

He's often been excellent when he has played—notably in an outstanding performance against Sampdoria—but is a role as a reserve left-back the best that this talented player can hope for?

What could happen this window?
When Asamoah reportedly handed in a transfer request in early June, there was an initial flurry of rumours linking him with a move to Southampton, West Ham United and Trabzonspor, although as yet, he remains a Juve player.

In fact, while Asamoah has just one year left on his contract in Turin, it's looking increasingly likely that his future will be bound to the fates of the club's other full-backs.

Alex Sandro is wanted by Chelsea, Dani Alves has already departed and Stephan Lichtsteiner has been heavily linked with a move to OGC Nice.

Would Allegri really countenance the departure of all four of his full-backs in one transfer window?

As Pep Guardiola is perhaps learning, that's the kind of overhaul that has the potential to destabilise a side.
Latterly, Tuttosport have suggested that it's now looking more likely that Asamoah will remain at Juve this season, although an exit still can't be ruled out.

What to expect next season

Heading into next term, Asamoah likely has two probable ambitions and two possible ambitions.

Certainly, whether at Juve or elsewhere, he'll be keen to both remain injury free and to play more. While he made an improved 18 appearances last term, that's still 20 league outings where he didn't feature—often watching on from the bench—and he played for just two minutes in the knockout stages of the Champions League.

Certainly, these are targets for the former Udinese man to improve on, particularly considering he's now firmly in his prime…and yet to truly make up for lost time.
In terms of possible ambitions, perhaps Asamoah would enjoy a return to the centre of midfield on a more regular basis, where he'd be allowed to influence contests and demonstrate his qualities more consistently.

Finally, does 'Asabob' have any desire to reignite his international career?

He hasn't featured for the Black Stars since late 2014, but could the prospect of another World Cup—assuming Ghana get there—tempt him back to the fold?

If he's fit and established at club level, don't rule it out…!