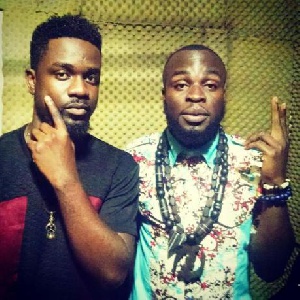 For some reason ,I don't know why I have been compelled to weigh in on the current heat and jabs that has taken our music industry by storm.Whatever the reason may be, I am very certain, social media has played a key role in piquing my appetite for an issue which ordinarily, will not border me.
Once, again, one of the theories I learned in my Mass Communication class has manifested and proven truthful.Yes, the repetitive pattern of a news or conversation, as per the Agenda-setting Theory, is determining not what i think but what i think about.

But while I admit that social media has played a key role in making butt into this matter, i want to state clearly that i will not tow to the line, many who are discussing the issues have. Therefore, in this piece, i promise not to do two things:

Firstly, I do not intend to chronicle or provide commentary on how and who is slugging it out with who .In fact, doing same will be a repetitive, as information in this respect has largely dominated our media, both traditional and social.Besides, why will i even pursue that line when i am fully aware that that attempt will intrinsically draw me into stating some of the unprintable jabs and punches that have gone down under the cover of lyrical and rhythmic dexterity.

Secondly, I promise not to take sides with any of the parties in this lyrical warfare.To me, the public will be the better judge in all matters regarding who their favorite musician is.

My decision to pen this piece down is driven my surprise at how all of us can be so vulnerable,allowing ourselves to be the dumping grounds for the bitterness and personal squabbles these musicians continue to pick up with each other.
Rather than use the medium of music to unite and affirm our believe in co-operation and togetherness, some of these musicians, are entrenching the principle of division with the stand they have taken against each other. In this precarious times of our political history, I think the worse, we should contemplate and entertain is to allow people to sow the seed of discord, what ever way or corners, same will come from.Having shown and demonstrated the need for unity through Peace-Games, i thought our musicians, would take a cue from our soccer stars.While some of these soccer stars may have issues among themselves, their ability to tame those sentiments to make way for public display of togetherness , cannot be over-emphasized.

I know some will get back at me on this.Surely some will try to trivialize the issues and justify same on the grounds that those jabs are part of the game.But much as i agree, albeit partially, with holders of this view,i am very clear in my mind that the current development in the entertainment front does not augers well for our social fabric as a people, given the important role these musicians play in shaping the realities, view points and behaviors of many.

To me, this issue goes to confirm my long standing prejudice that some of our celebrities need to apply high level of discretion and maturity in their public outburst,being the,"Kings and Queens" they claim they are.More so, i have no doubt that disunity, which has been a major bane to the development of the Entertainment industry in Ghana is alive,derailing efforts at consolidating the gains that have been made in Ghana's Showbiz industry.

It is in view of my reservation that i shudder to ask these questions: What role does MUSIGA and other regulatory bodies and associations,play when events such as this rear its ugly heads?

Do these relevant stakeholders have a role in restoring sanity and calling for calm, at all? Can we continue to have an industry where its players act with impunity without any checks or control by anybody?What does this unfortunate development do to the image of Ghana's entertainment industry?Does it make it attractive to corporate bodies? If any of these questions, which keeps, begging, is valid, then i will humbly asked that these bodies act as quickly as possible….
After all, nothing will happen to Musiga, if it decide to issue statement calling for calm.May be the Ministry of Creative Art,can also,in line with its mandate of ensuing circumspection and cultural compliance,can also add its voice to my call for calm and sanity.

There is no doubt that these musicians at the center of this lyrical scrimmage have great content, reasons for which,perhaps, they have achieved the level of mileage they are enjoying.But whatever the case is, i think they must consider the broad context of the socio-political heat in the country , tap into same and help build a united and great country.Ghana will count on them for these. At least, the poor people who go all length to show their support and patronize these musicians, will demand this of them.

We cannot continue on this divisive path..Ghana needs every industry to rally support, both with words and actions, as she heads to the polls this November….#GhanaDecides. God bless our Homeland Ghana as we treat each other with respect and recognize our own contribution towards Peace, Love, and Respect