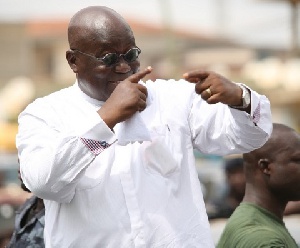 It is abundantly clear that the "spiritual pollster", Rev. Isaac Owusu Bempah, founder and leader of Glorious Word Ministry International's, predictions on the December 7 polls has suddenly gone into the head of Nana Addo Dankwa Akufo-Addo, the Presidential Candidate of the NPP. Akufo-Addo has totally bought into it!
Owusu Bempah keeps saying that Akufo-Addo is already there and that he will be Ghana's president-elect when the polls close on Wednesday December 7, 2016. This daily predictions by Owusu Bempah seem to have taken the better part of Nana Akufo-Addo, who does not have anything to campaign on. If you have nothing to hinge your hopes on in political campaigns, you are inclined to jump on any nonsense that is floated around.

As a result, Akufo-Addo has now seized on the words of Owusu Bempah by claiming that his victory in the up-coming elections has been ordained by God and that nothing can stop him from marching to the Flag Staff House. It is good to daydream especially if you have no record to run on. It is equally absurd to assume you are already there when defeat stares you in the face.

Here is what happened at a mini-rally at Denkyira Obuase in the Upper Denkyira West Constituency in the Central Region last week. Akufo-Addo started talking like Owusu Bempah by saying emphatically that his victory in the 2016 Elections is sealed and that no evil forces can stop him.

Nana Akufo-Addo also stated that no demonic entity or machination could prevent his victory, adding that God has ordained change in this year's election.

Then desperate Akufo-Addo added this, "The power belongs to the people and I will never stop begging them to entrust that power into my hands to restore hope to the people of Ghana".
Indeed if there are any demonic forces that will stop Akufo-Addo from achieving his dream, it is none other than the demon of pettiness, the demon of arrogance, the demon of being funded by drug money, the demon of divisiveness, the demon of blood money, the demon of belittling others, the demon of being worshipped, the demon of not having a listening ear, and the demon of lording over others. I will even add the demon of Akufo-Addo – Lord of the rings.

My simple question is who has ordained Akufo-Addo to lead Ghana from next year? Is it Owusu-Bempah or Akufo-Addo himself? And upon what premise was Akufo-Addo ordained? And why Akufo-Addo of all people?

My God will never ordain a man with trails of blood on his hands to lead a peace-loving country like Ghana. It is true that our forgiving God at certain times redeem sinners and use them for good causes just like He did with Saul who eventually became Paul, and spread the gospel across Europe and Asia.

But if God is indeed God, He will never go with Nana Addo Dankwa Akufo-Addo. So this man should not tickle himself into thinking that he is already there. If God has ordained Akufo-Addo to win, it is not for Akufo-Addo to rumble it on campaigns stops. God will surely use various means to let Ghanaians know. Akufo-Addo does not need to tell Ghanaian voters that he has been ordained by God to win this year's election.

Such statements make Akufo-Addo look ridiculous. I mean Akufo-Addo looks ridiculous to true Christians who know the word of God, if he goes around making such ridiculous statements.
I would like Akufo-Addo to know today that no one has ordained him to be president of Ghana at all cost. If God has truly ordained Akufo-Addo, he will coast to victory. He does not need to tell voters that he has been ordained because does is not how true Christians behave. True Christians do not boast about what God wants to do with them. True Christians do not rumble. They don't tell people that they have been ordained!

Therefore, Akufo-Addo should stop disgracing himself. This false assumption would not get him there. It would not win him the Flagstaff House! It would definitely not win him the elections. It would not make not make him the President. It would rather make him a laughing stock.

This is what I'm leaving with you for now!

magjackson80@yahoo.com

http://majjacks80.blogspot.com