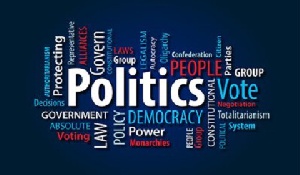 Upon skimming through His Excellency Ex-President John Dramani Mahama's 2019 May Day's message, I could not help but to ruminate inexorably over the sceptics assertion that Ghanaian politics is destitute of honesty and integrity.
In fact, after mulling over the former president's seemingly controversial message, the only option that was available to me was to embark on critical assessment.

Ex-President Mahama tells the workers: "Through your toils, over the years, we have added to the gains of our forebears. I am, however, aware of the present harsh and hard socioeconomic environment within which so much is still expected of you."

Dearest reader, I am afraid, it was former President Mahama's terrible errors in decision-making which regrettably resulted in excessive public spending, less efficient tax system, needless high public deficit and destabilization of national budgets, heightened capital flight and the creation of perverse incentives that stimulated income-seeking rather than productive activities.

Truth be told though, discerning Ghanaians cannot so soon forget the harsh economic conditions the Mahama government wilfully imposed on them.

The crucial question we should be asking former President Mahama then is: where is the justification for accusing others when a GH9.5 billion debt former President Kufuor left in 2009 rocketed to an incredible GH122.4 billion with a little to show for?

How can Ex-President Mahama exonerate himself, and convince some of us about his capability to lead Ghana again when he woefully shrunk Ghana's GDP from $47 billion to $37 billion in five years?

How could former President Mahama justify his suitability to lead the nation again when he abysmally dragged an economic growth of around 14 per cent in 2011 to a squeamish 3.4 per cent as of December 2016?

Given the unobjectionable economic mess under his watch, why is former President Mahama refusing to take the blame?

Unsurprisingly, the unpardonable incompetence ineffaceably stencilled on the mental sheets of discerning Ghanaians, who fretted thy souls with disappointments and curses, and waited patiently for an opportune time to show the Mahama government the exit.

Former President Mahama writes: "In addition, I am aware of the unprecedented insecurity in our country, which is becoming a major threat to foreign and domestic investment in our economy."

I do not know the basis of the former president's claim, but if anything to go by, Ghana is not at war, and no known upheavals that can put off potential investors.

I am, however, aware that in recent times, Ghana has been receiving praises in respect of rapid economic transformation from credible organisations and prominent people, both home and abroad.
However hard the ex-president will try to censure the incumbent NPP government over the economy, the fact remains that Ghana is heading towards a favourable economic growth.

The fact indeed remains that under Akufo-Addo's presidency, Ghana's economic growth has moved from a disappointing 3.4% in December 2016 to a favourable 8.6%.

And the previously double digit inflation (15.8 in December 2016) has been reduced drastically to around 9% as I write.

The seasoned journalist, Kweku Baako Jnr hit the nail on the head when he pointed out on Joy FM's political show (News File) on Saturday 6/04/2019 that the NPP administration led by President Akufo-Addo has performed exceedingly better than the erstwhile NDC government led by former President Mahama.

Juxtaposing the state of the economy in first two years of the two administrations, Kweku Baako Jnr aptly concluded that the economy is in a better shape under the Akufo-Addo's administration than it was under Mahama's administration.

Baako Jnr thus asseverated poignantly: "There's no doubt that the Akufo-Addo administration has done far better than the Mahama administration; it's as simple as that, the figures and the records support it (myjoyonline.com, 6/04/2019)."

The Director of the International Monetary Fund (IMF), Ms Christine Lagarde, could not have put it any better when she asserted that the Ghanaian economy is in a better place than it was in the previous years under the John Dramani Mahama's administration.

Ms Lagarde, therefore, stressed that the Akufo-Addo's government had made important gains towards macroeconomic stability, including inflation, which had declined to a single digit and now within the Bank of Ghana's (BoG's) tolerance band; buoyant growth, averaging about five per cent between 2015 and 2018, and, over six per cent in 2017-18) and a primary surplus in 2017 for the first time in 15 years (IMF 2018).

After his visit to Ghana, the UN Special Rapporteur on extreme poverty and human rights, Philip Alston, commended the Akufo-Addo's government: "Ghana met the targets for halving extreme poverty and halving the proportion of people without access to safe drinking water, and it achieved the goals relating to universal primary education and gender parity in primary school.

"In the period ahead, Ghana is set to become Africa's fastest-growing economy in 2018. Bloomberg News has proclaimed Ghana as the "Star of Africa in 2018 Lenders' Economic Forecasts".

"And in reporting on the same fiscal policy achievements, Le Monde has pointed out that Ghana's success is not just as the result of an oil-driven boom, but is also due to prudent economic management, an entrepreneurial population, the role of traditional leaders, and good governance.

"In addition, Ghana's achievements in providing free schooling and free meals to students, and its creation of a health insurance scheme for the whole country are considerable accomplishments (Philip Alston, 2018)."
Ex-President Mahama continues: "Like many disappointed Ghanaians including yourselves, I am also aware of the numerous unfulfilled promises of this government, which has led to the twin phenomenon of massive job losses and massive unemployment."

I am wondering what job losses the ex-president is talking about?

Well, since he could not pinpoint the exact job losses, I am unable to comment extensively on his claim.

However, all that I can state is that job losses will depend on the prevailing circumstances.

That said, I am really astonished that former President Mahama has found a cause to complain about the supposedly dishonoured Manifesto promises by the Akufo-Addo administration.

Let us be honest, it is extremely unfair for anyone to upbraid a government that has managed to roll out most of its flagship programmes within 27 months of assuming power.

Whichever way one may view the topic under discussion, the fact remains that the Akufo-Addo's government has commendably roll out policies and programmes such as the Free SHS, One District One Factory, One Dam per Village in the Northern part of Ghana, One Million Dollars per Constituency, the numerous tax reductions, amongst others.

Verily, former President Mahama, President Akufo-Addo and his government are graciously delivering on their Manifesto promises to the delight of the vast majority of Ghanaians.

His Excellency Ex-President Mahama asserts: "On this special day, I encourage you, our gallant workers and all citizens, not to despair. Don't give up on yourselves and Ghana. Let's keep hope alive and pray for better times in the coming years."

With all due respect, and no intended condescension whatsoever, it would appear that His Excellency Ex-President Mahama has not been receiving accurate briefings on the governance in the country.

Let us, therefore, remind His Excellency Ex-President Mahama that despite the insurmountable difficulties, since assuming office, the Akufo-Addo's government has taken commendable strides to improve the social mobility through implementation of poverty reduction policies and programmes.

Well, maybe someone ought to inform former President Mahama that in spite of the huge economic mess left behind by the erstwhile NDC administration amid stunted economic growth, the Akufo-Addo's government has prudently raised the economic growth from a disappointing 3.4 per cent as of December 2016 to over 8.5 per cent within a short space of time.
If His Excellency President Mahama cares to know, since taking office, the NPP government has dramatically reversed the inflation rate to around 9per cent from a little over 15 per cent as of December 2016.

Your Excellency former President Mahama, it is absolutely true that the Akufo-Addo's government is tackling the erstwhile NDC government economic mess head-on.

"On my part, I promise you truthful, selfless and dedicated leadership, to improve the wellbeing and security of all Ghanaians."

I am not sure of the 'truthful, selfless and dedicated leadership' the ex-president is talking about, but the fact, however, remains that under former President Mahama, Ghana's economic growth slowed for the fourth consecutive year to an estimated 3.4% in 2015 from 4% in 2014 as energy rationing (dumsor), high inflation, and ongoing fiscal consolidation weighed on economic activity (World Bank, 2016).

Moreover, the high inflation rate remains elevated at 18.5% in February 2016 compared to 17.7% in February 2015, even after the Central Bank's 500 bps policy rate hikes (the inflation stood at 15.8 per cent as of October 2016).

Besides, the Mahama government dragged the economic growth from around 14 per cent in 2011 to around 3.4 per cent as of December 2016.

How can such a woeful performance be deemed as a cynosure of outstanding governance?

The outgone Mahama government, so to speak, performed abysmally. Former President Mahama indeed did not do enough to improve on the socio-economic standards of living.

Take, for example, former President Kufuor quadrupled Ghana's GDP to a staggering $28 billion in 2008, and the late Mills inherited oil in commercial quantities and managed to increase the GDP to $40 billion in 2011.

Disappointingly, however, the erstwhile Mahama administration reversed the GDP to an incredible $37 billion as of December 2016.

Where is the exceptional governance that former President Mahama is promising Ghanaians?

Former President Mahama states: "Let me also remind the government of the overarching need to work conscientiously towards the attainment of the Sustainable Development Goals (SDGs), and in this particular case, Goal 8, which calls for the promotion of sustainable economic growth and decent work for all."
Dearest reader, I am really struggling to comprehend how and why His Excellency former President Mahama can preach about decent work for all Ghanaians since he woefully failed to care for Ghanaian workers during his presidency.

Somewhere in 2015, medical doctors quit their consulting rooms indefinitely, and threatened to carry out mass resignations if the Mahama government failed to improve their conditions of service.

A few days after the medical doctors' agitation, pharmacists and psychiatric nurses left their posts, requesting improved working conditions and unpaid allowances and salaries.

In addition, following unsuccessful dialogue, teachers in public universities declared an indefinite strike to demand payment of their 2014 and 2015 book and research allowances.

The university teachers association insisted that the Mahama government flagrantly failed to acknowledge receipt of several letters they have written to demand payment of the allowances, which led to their decision to boycott the lecture rooms.

Dearest reader, if you may recollect, somewhere in 2014, the university teachers declared a similar strike, lasting five weeks, which was to compel the government to release the book and research allowances.

Besides, in the same year, teachers and education workers union warned the NDC government it might also join the strike bandwagon if issues about their conditions of service were not addressed.

In a related development, about 3,000 mid-wives and nurses in the country also threatened to occupy the finance and health ministries if the Mahama's government failed to pay their allowances and salaries.

Despite the overwhelming concerns, the Mahama administration blatantly failed to resolve the issues affecting the public sector, especially the health sector.

Unsurprisingly, the doctors were incensed by former President Mahama's lack of concern and vowed to intensify their strike action by withdrawing emergency services (see: www.theafricareport.com/West-Africa/labour-unrest-rocks-ghanas-public-sector.html).

So, who says that His Excellency Ex-President Mahama has the wellbeing of an ordinary Ghanaian worker at heart?

k.badu2011@gmail.com