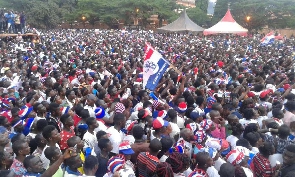 My fellow Ghanaians, even though I am very sure that this Nana Addo government has about one year and three months to go, there would be another scandal that will go bad.
If Nana Addo is what he was sold to us in 2016, he would have resigned by now because it is very clear that he is not in charge of his government. The scandals gone bad under this government should tell you that this NPP government is an organized criminal enterprise. Let's go the memory lane.

The first scandal that went wrong was the Ameri deal. They wanted to negotiate a $500 million deal and make it better. The NPP ended up stealing $1.2 Billion from Ghanaians. When Nana Addo was caught stealing, he sent his cousin, Gabby Otchere- Darko to tell us that the President was misled.

The second scandal that went wrong was when the NPP government wanted to buy a $12 million property from Oslo. As soon as they were caught stealing, Nana Addo sent his Foreign Minister to tell us that they will no longer buy that property.

The third scandal that went bad was $200 million parliamentary chamber. When they were caught stealing, Nana Addo hurriedly organized a meeting in his office and told us he has heard that parliament will no longer build the chamber. He had earlier accepted to cut the sod for the construction.

The fourth scandal was the Aisha Huang deportation to China. Senior Minister told us they deported Aisha because of a $2 billion loan from China. A year later, Nana Addo told us that deporting Aisha Huang was a mistake.
The fifth scandal that has just gone bad is the PDS. The criminals in the PDS scandal made it so sophisticated that it took the likes of Kelvin Taylor (an NPP), Hon. Kennedy Agyapong (an NPP), Hon Jinapor, Hon. Adongo, Comrades Sammy Gyamfi and Brogya Genfi to break it down for us. When they've been caught stealing, I heard the government has unwillingly cancelled the contract. I hope they don't come up again in another skin. Now let those who defended PDS come out and defend the cancellation too, so Ghanaians will know their hypocrisy and foolishness.

The sixth scandal that went bad was the Comprehensive Sexuality Education. Nana Addo went to Kumasi to deny his involvement in the scandal even though it was captured in his 2019 Budget Statement and approved by Ghana Education Service. These guys are plain organized criminals with no mercy.

Dr. Bawumiah was at the NABCO anniversary and making unnecessary noise. He said his government needs two to three years to put the economy in shape. Somebody should remind Dr. Bawumiah that he has a little over one year to leave the Flagstaff House. We will continue to remind Ghanaians of the thievery and scandals in this government until they are kicked out next year. Right now, if an NPP communicator says Nana Addo is not corrupt, look at his/her face. You will see all the stupidity written on the face. I have said it before that the scandals and homosexuality confronting this government makes it a very scary government after 2020.

Dr. Lawrence is the Founder of the Diaspora Progressive Movement based in USA.