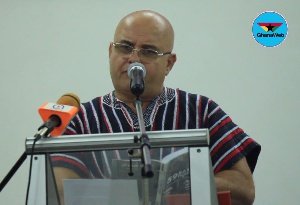 With the advent of the NPP, and the ascension to the Presidency of His Excellency Nana Addo Dankwa Akufo-Addo, a brand new sunrise broke the seeming gloom that loomed over the cocoa industry in Ghana.
It couldn't but be a blessing to the nation that sought a change from incompetence to excellence; from abject stupidity of governance to broad spectrum of intelligence; from near zero achievement to massive social interventions; from a fully import based economy to a self-dependency manifesto fast being implemented and gradually taking root; from non-culture to a massive agricultural revolution; from barren productivity to an enormous industrial revolution; from a raped and scandal-ridden cocoa industry to a revolutionised and modernised one under a revamped and vibrant Cocobod.

That is the current success story of the NPP administration under the astute leadership of His Excellency President Akufo-Addo.

In spite of a few appointees who have not been impressive with their character and performance, the majority are competent.

Under the Ministry of Agriculture, the food for jobs and other interventions have yielded abundance in produce to the extent that where we were importing basic staples like plantains, yams, cassava, palmnuts, and so on, under the incompetent administration of John Mahama, the tables have turned, and now we are exporting them.

Further to that, the industrial revolution currently taking place in the country has allowed for value to be added to the produce, which is fetching the country more foreign exchange.
The cocoa industry was not spared the innovation of revolutionary vision. The astute Doctors in agronomy and other disciplines in the broad spectra of agriculture are on the move, relentless in their drive for perfection.

However, it must be said that the main driver of this segment of the economy is the Head of Cocobod and his team of players. I am yet to come to terms with the idea that under the NDC, cocoa in Ghana saw the most challenging times at all.

John Mahama was allegedly using MrOpuni to siphon money from COCOBOD into the most expensive political campaign in the history of Ghana, dishing out Toyota Landcruisers and Dollars to idiots just for slighting the then flagbearer of the NPP, current President Nana Akufo-Addo. It was said that John Mahama was using the farmers' money to do politics, further impoverishing them.

During his time, fertiliser was diverted to neighbouring countries in thousands of tonnes. I cried foul all these years, and even mentioned the purported crimes in my books, "59 years to nowhere and counting…the future is now", and "59 Dark Hours…a #FreeSpeech campaign".

Chemical insecticides, fungicides, and other such relevant items which were supposed to be subsidised were given to farmers in tots like akpeteshie that members of the NDC hierarchy were so addicted to; and at a very expensive price.
Today, Cocobod, under the able leadership of Honourable Joseph Boahen-Aidoo has been transformed from a lazy setup of thieves and political braggarts to a functioning and well-organised institution. This CEO is continually on trek to ensure that all policies and decisions taken at the office were well implemented on the grounds.

He personally sees to it that the cocoa farmer is comfortable and motivated enough to increase production, which is set to reach someone and half million tonnes. Through his effort and that of other stakeholders, Western monopoly over the industry was finally broken.

Now, Ghana and Ivory Coast call the shots. When NDC's DrOpuni was in charge, Cocobod was a large kennel of hounds that salivated at the thought of the "chopchop" that they indulged in unrestrainedly, having SeiduAgongo do the dirty work.

It got to a point in time that if any institution bid for a contract, be it supply or construction or other, they were referred to SeiduAgongo. He, allegedly, said yes or no depending on who was asking and how much money they were able to squeeze from them.

I am glad to report that as it stands today, no such monopoly is in the hands of anyone. Legitimate businesses could register and collaborate with COCOBOD without intimidation.
Even the CEO, Mr Joseph Boahen-Aidoo, has neither appropriated such powers to himself nor arrogated same by force of authority. Simple and clever, he is running the affairs of the industry like the unmistakable ticking of the Big Ben Clock that tires not and lags not.

That is, basically, the essence of leadership; to make a system work, and work to produce more and more reaching a temporary crescendo that acts as yet another platform to move further upwards.

Under the current administration of Ghana, His Excellency the President is not stalling for a minute in his drive towards perfection, and in like manner, many of his appointees, including the Honourable Chief Executive Officer of COCOBOD.

However, let me say a word of caution to those stomach politicians who are nothing more than cling-ons. They must understand that their selfish motives will not be tolerated.

They should endeavour to emulate their sensible peers so that we can all win the battle that is ahead in 2020, in shaa ALLAH.
The hypocrisy of the NDC in opposition and its shenanigans bring to mind the headless chicken that runs around in total disorientation; another subtle reminder of the dumb man who told the deaf man about the blind man who saw a cripple running after a bald man just to pull his hair.

How can such people ever be given the opportunity to ransack this country ever again? Oh no no no…#neverNDCagain!!!

Still Four More For Nana #FMFN