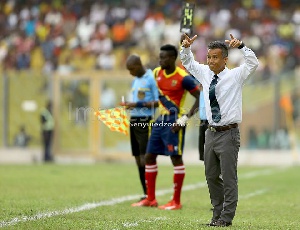 After hours of deliberations by the Board and Strategy Committee of Accra Hearts of Oak on Thursday, the dust has finally settled and there has been a U-turn on the initial decision to sack Kenichi Yatsuhashi as head coach of the club.
The Japanese-American trainer was on the verge of being served his sack letter but the swift intervention of the Board Chairman forestalled the decision which seemed unpopular by a section of the Hearts fraternity.

Administrative Manager of the club, Hackman Aidoo, told Happy FM Friday morning that after the board met on Thursday, a decision was reached that the coach continues with his duties as coach of the club though he is expected to fully cooperate with the management of the club and improve the performance of the club in the second round.

"After the board met yesterday, the decision to sack him was rescinded and he continues as coach of the club although he is expected to cooperate fully with the management and accord them the necessary respect." Hackman told Happy FM.
Grapevine sources at the club disclosed to Happy FM that Board chairman of he club, Togbe Afede XIV was careful about the sacking of Kenichi because of how much the club had to pay as compensation for sacking David Duncan.

Kenichi amassed 13 points in his first 5 games for the club but only managed a paltry 13 points in his next 10 games.

Kenichi is expected to start training with the club on Monday to prepare the club for the second round of the season which begins on June 26.