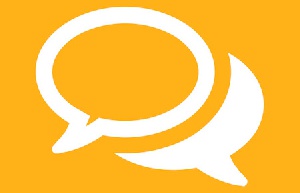 When I heard the news Saturday evening, I wanted to know whose favour the pendulum of public opinion swung. So I logged in to Facebook. And, as I had expected, that was the subject trending. Nana Aba Anamoah was overwhelmingly courting public sympathy. She courted and still courts my sympathy, except that I do not condemn her employers. I hail them. In her action, I see something beyond posting a photograph without acknowledging the source.
Now the story in detail.

TV3 Network had issued a statement suspending one of its leading presenters, Nana Aba Anamoah, from air "until further notice." Her offence? She had taken photographs from some friends, posted them on twitter to create the impression that she was in the Old Trafford Stadium to watch a Manchester United match. One of the pictures, which had the face of one of its owners, was cropped to exclude him. Those who actually owned the pictures challenged and exposed her when she posted the pictures on twitter. It sparked social media frenzy, and Nana Aba Anamoah trended for two days.

Nana Ama Anamoah's first tweet with the pictures.

It was more of poking fun than malicious attacks on her. We did it to President Mahama when he posed in front of CNN headquarters. We did it to former Black Stars goalie, Richard Olele Kingston, when his age was disclosed. On this occasion, it was Nana Aba's turn, and she became omnipresent. Her picture appeared on almost every historical photograph that social media users could imagine – #NanaAbaWasThere!

She later apologised and explained that she didn't intend to steal the pictures. She said it was a prank, a joke. That did not stop her employers from cracking the whip.

This tweet suggested she was there

Almost all the posts I have seen on Facebook are in favour of Nana Aba Anamoah. The TV3 Network, her supporters say, has not been fair to her. The decision is too harsh, they say. On that issue, like many others, there are some social media users whose words carry weight. So one after the other, I visited their Facebook walls when news about Nana Aba Anamoah's suspension was announced in a press statement by TV3.

"Mercy – Call their bluff and move on," Samson Lardy Anyenini, lawyer and host of Multi TV and Joy FM's Newsfile programme wrote on his Facebook wall.

On Sunday afternoon, he again wrote, "Mercy! Don't even give them the time and chance to revoke the suspension. Just ditch them! #ShowYouGotPricePride."
The Managing Partner of Bentsi-Enchill, Letsa and Ankomah, [Ace] Kojo Anan Ankomah, wrote on his facebook wall: "If I owned a TV station, I would hire Nana Aba immediately. Put out one #NanaAbaWasThere ad, create sow [sic] fun and boost my ratings. #EbeiTV3 #ReinstateNanaAba."

Executive Director of IMANI Ghana, Franklin Cudjoe, wrote: TV3 Network! Why sack a news anchor over a personal prank? Hope it is not true!"

Deputy Minister of Tourism and Culture, Abla Dzifa Gomashie, was not left out: "I saw this letter supposedly (or allegedly) written by TV3," she wrote. "It may be well that she did something to rock the boat but trust me she is still one of the very few relevant people to keep the boat afloat. I just want you (TV3) to know … IT IS YOUR LOSS!"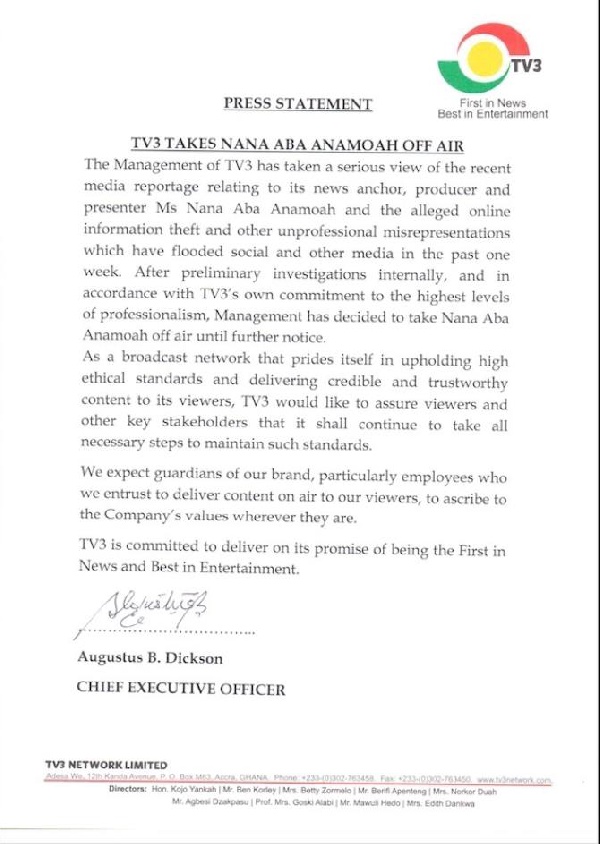 Well, I can go on and on and will not be able to exhaust all the social media opinion leaders' posts on this subject. However, it is clear from my unscientific survey of social media that public opinion has been turned against the management of TV3 Network. Nana Aba Anamoah is enjoying overwhelming support and solidarity from people. Some have launched a campaign to #BringBackNanaAbaAnamoah while a lawyer, I read somewhere, is threatening to sue TV3.

For me, however, even though I feel sorry for her, I hail TV3 for this decision. I am proud of that station and I congratulate management on demonstrating commitment to integrity. This is because of how serious I view this issue. And here is my view.

A tweet that suggested that this player stood in front of her.

From the explanation given by Nana Aba Anamoah and some stories from people who claimed to have spoken to her, we are made to believe that it was a joke and that she would have come out later to say she was not in the stadium.

This is hard to believe. It took her two days to respond to accusations that the pictures were not hers and to tell us it was a joke. If it was a joke, why did she crop one of the pictures, which showed one of the guys who actually took it? I do not think she would have come out later to say, "Friends, the pictures you saw suggested that I was in the stadium. The truth is that I was not there. It was a joke."
When you see pranks or intended pranks you know them. I don't see the joke in saying I was in a stadium when I was not there. There is nothing funny about being in the stadium. Or am I missing something?

The next question we should be asking is: why would someone claim to be somewhere important when they are actually not there?

It is to enhance their reputation and image. Yes, it is! On weekends, many of us shout ourselves hoarse behind television sets and on social media. But not many of us can afford to go to Old Trafford or the broken Stamford Bridge to see our favorite clubs in the English Premier League play. It sounds prestigious and image-enhancing if a TV Presenter (who sometimes presents sports and hosts sports personalities on her show) is often seen in the stadium where the action takes place.

It boosts her ratings. It boosts her credibility on such subjects as football. It adds weight to what she says about such teams and their stadia and their players. I would pay more attention to Nana Aba Anamoah if she had returned from the stadium to talk about the match and what went on than someone who watched it on TV and also comments. So it is not for nothing that someone would want to be associated with places and people not accessible to many.

If it emerges, however, that the person was not in the stadium as she claimed, I think it goes beyond social media prank. It goes beyond plagiarizing a photograph. If an action can enhance your credibility, then it can also take away from it if it is found to be untrue. It doesn't matter how insignificant it may appear. It is said that the smallest lie can ruin the biggest trust. If Nana Aba Anamoah's credibility is dented, it affects TV3's credibility as well. TV3 Network is not just the building and the broadcasting equipment housed in it. The station is as credible as its reporters and presenters who work there.

Another tweet from Nana Aba Anamoah

It is understandable why many of us don't seem to find anything wrong with what Nana Aba Anamoah has done. We are generally a dishonest society so such ethical breaches are not regarded as serious. Instead of looking at the broader implication of the action, we are behaving like what our taxi drivers often say when their colleagues cross them recklessly and dangerously: "Get away! Is this something you haven't done before?"

I know that none of us is without sin, yet we must cast the stone when it is necessary. It will deter others and ourselves from sinning if we know we cannot escape the stone we are casting if we are found culpable. It is only in this way that we can subdue the corruption and greed sinking our nation. We have all sinned and fallen short of the glory of God, but should we remain in the quagmire of sin and perish?

If Nana Aba Anamoah were an ordinary citizen, I would not waste my time on this piece. But she is a journalist. Journalists are bearers of news. We are processers and disseminators of information. We have to do so with the highest sense of responsibility and integrity because of the implications of what we do. As I grow in journalism, I am beginning to realize the enormity of the task on those of us who have chosen this career. My personal experience has thought me that any form of dishonesty can lead to irreparable damage to someone who may not deserve it.
When some district coordinators of GYEEDA were arrested and charged, one of them reportedly developed a heart attack and died shortly after he was granted bail. I have done a story that has put someone in jail. And I have done stories that have collapsed business empires. If the judicial scandal by Anas Aremeyaw Anas has not shaken the nation, then I don't know what will. So can you imagine the gravity of the offence if these stories were done with lies?

The media, in my view, is a lethal weapon that is expected to be used to destroy evil for good to thrive. But the bearer of that weapon must be responsible and blamelessly honest. They should be people with integrity. If you give the media to someone whose integrity is questionable, it is like employing a paedophile as a kindergarten teacher, a thief as an accountant or, as Prof. P.L.O. Lumumba puts it, hiring a hyena to watch over sheep. That is why integrity of journalists should be the most important thing.

Whatever we do will either cement our integrity with our audience or erode it. As a news consumer, Nana Aba Anamoah's handling of this incident has not helped my concern about a story she did many years ago when I was a journalism student. It has heightened my doubt.

She replies a follower

I was watching TV3 news one evening and the news anchor read an introduction to a story about some wheel chair-bound physically disabled men fighting. The news caster said TV3 news team was going for an assignment and chanced on the scene near Opeibea in Accra. When the story started rolling, however, it didn't look like a story a news crew chanced on. The story looked like it was staged, even though the fight appeared fierce and real.

The narration started with a video that showed one of the men going to the scene of the fight in a wheel chair. The other also came from a different direction and they met and started talking. Then a disagreement ensued and the fighting followed. All this was captured by the supposed TV3 camera. I had many questions about that story by Nana Aba Anamoah.

At what point did the news crew chance on the two disabled men? How did they know that the men would fight if they met, for which reason the news crew had to follow them with their camera until they met, argued and started fighting? The story did not show any interview of the two men or any account by an eyewitness so who told the reporter that they were fighting over a woman and 50pesewas?

Such complete footages are often captured when one is doing personality features or documentaries in which the subjects know what is happening and allow the filming. Another way to get everything captured in this story would be the use of a CCTV camera or a secret camera when the action is anticipated. But that was not the case in this story. I have still not satisfied myself with the questions that story left on my mind when this issue involving the same reporter came up.

Pictures and videos on social media don't seem to have known originators. We all see materials that are of interest to us and post them. Nana Aba Anamoah could have just taken the photos and posted them as they were. All she had to do after the owners came arguing was to apologise for not giving them credit. To crop them and create the impression that she was there was problematic. And to further explain that it was a prank takes the discussion to another level.
If the TV station thinks the action has breached its ethical code, and wants to punish the journalist, we can only appeal to them to reconsider their action and not attack the station. If TV3 did not take any action and tomorrow we saw them doing stories about plagiarism or on issues of integrity, would we take them seriously? She may not the first journalist to be punished by her station or by other media houses.

In my media house, for instance, I know journalists are suspended professional misconduct and ethical breaches. Some have even been sacked. There are times we feel the punishment is justifiable and there are times some of us feel anybody could have made that mistake. But it helps to put everyone on his or her toes. With this action, reporters of TV3 would know that if Nana Aba Anamoah of all people can be suspended, then no one is untouchable.

#NanaAbaWasThere

What has happened to Nana Aba Anamoah is a lesson to me. And it should be a lesson to you irrespective of what you do. I feel sad that she has been suspended. I will appeal to management for her reinstatement. But I will not fault management of TV3 for that action. By doing so we will ignore the lessons this issue presents to us. And when we fail to see the lesson, we will repeat the mistake.

We cannot afford to go that way. Why? Our sages of old say if a man dies by stumbling over a stone, we do not run to his funeral.

The writer, Manasseh Azure Awuni, is a senior broadcast journalist with Joy 99.7FM. His email address is azureachebe2@yahoo.com