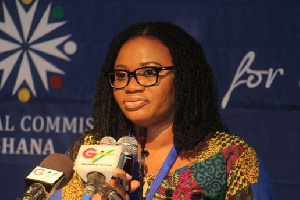 Quite a number of people especially our friends in the NPP chose to commemorate December 7, since that was the day we voted in last year's national election. A commemoration which is a novelty under the 25-year-old fourth republic - Ghana's longest democratic dispensation.
In what is likely to be discussed for many years, the NPP Government believed it was prudent to use scarce tax payer's money to organize an elaborate partisan 'Thanksgiving Service' to thank God for an NPP victory; abandoning Parliamentary duties, ignoring the frustration of over 30,000 stranded ECG consumers and snubbing a public health disaster at the Kumasi Academy (KUMACA). Well, the unique 'Thanksgiving Service' turned out to be the government's priority even in the face of an obvious national calamity that was claiming young lives in Kumasi in the NPP stronghold that delivered more than a 73% emphatic victory for them.

Even more striking is the fact that leaders of the NPP had been trooping in and out of the Ashanti Region over the last week attending the late Asantehemaa's funeral (I extend sincere commiserations with the Asantehene) and yet could not spare a brief moment for a solidarity visit to KUMACA for an assessment of the emergency response which most public health experts have described as quite poor. Our prayers and thoughts are with the souls of the departed, the sick and those students, teachers and parents who continue to live in fear of the deadly Acute Respiratory H1N1.

Back to the main thrust of this piece - others chose to celebrate December 7 a couple of days ago, I choose to commemorate December 9. First of all that must be the beauty of democracy - the right of choice.

The evening of December 9, 2016, was the day Chairperson of the Electoral Commission, Charlotte Osei declared New Patriotic Party (NPP) candidate Nana Addo Danquah Akufo-Addo winner of the 2016 presidential elections.

What is the essence of joining long queues sometimes under trying circumstances and casting a vote that won't count or participating in an election whose outcome is not credible, free and fair? We have all followed recent developments in Kenya and what is playing out in Liberia and Honduras.
However, in the case of Ghana, our Electoral Commission acquitted itself so creditably, that there was no upheaval and that none of the political parties disputed the outcome of the 2016 elections is definitely a feat worthy of praise and commendation.

The sad and painful truth, however, is that going into the December 7 elections, Mrs Osei was the most vilified and scandalised woman. Leading members of the NPP took turns to take aim at her saying the most unprintable things about her with some even suggesting she must have engaged in immoral conduct to propel herself into that office. As things will pan out, a leading proponent of that, now a Minister for Gender who at the very least should be the number one defender of women's rights refused to apologize to the EC Chairperson when she was offered the opportunity at her Parliamentary vetting.

Despite all the venom and opprobrium, Mrs Charlotte Osei conducted herself with dignity, integrity and honour and declared the elections in favour of those who swore that she wouldn't ever have the courage and integrity to do that and that she had been appointed with one grand agenda - make John Mahama winner and nothing else.

Mrs Osei so admiringly distinguished herself that President Akufo-Addo was compelled despite his earlier utterances and posture as opposition leader to commend her in his first State of the Nation address.

To crown her sterling efforts and as fate will have it, Mrs Charlotte Osei received the prestigious Woman of Courage award for 2017 from the United States Government.
On this day, I salute Mrs Charlotte Osei and commend her for her courage and fortitude. I want her to know that many of us empathize with her and continuously pray for her. Just as we love, respect and admire our mothers, aunties, wives and sisters and never wish upon them what she went through and what appears to have been revived under the cloak of an impeachment process so that perhaps the "job" can now be finished, she must take comfort in the fact that many home and abroad (including foreign Governments) hold her in very high esteem.

As I salute her on this day, it is my fervent supplication that the descendant of Yaa Asantewaa as she is, she will continue to remain resolute for many more vindications and triumphs await her.

December 9, 2016, was also the first time in our country's history that a sitting first-term President graciously conceded defeat and seamlessly handed over power to his arch-political rival. Ghana, Africa and the world will always be proud of President John Mahama even if he continues to remain at the mercy of eviction orders from the people he magnanimously handed over power to. No matter where he and his family finally settles - even if it will be in my holy village of Aveyime, Battor, his valuable contribution to our democracy by his conduct and grace on December 9, 2016, gives him a special place in history.

December 9 also reminds us of the power of the people. They can hire and fire the mandate-seekers by a stroke of the thumb. It also reminds us that the electorate are not robots and that they do not vote the same way all the time. While I must congratulate the NPP for their victory, in the real sense of the spirit of democracy it was a victory for Ghana and for Ghanaian democracy. And so I will say for all the elections since 1992 in which the NDC has won 4 and the NPP 3 - so you see, the NDC is indisputably in a comfortable lead!

December 9 must also remind us that the overwhelming majority of the people do not make up their minds on who to vote for on the day of elections. Every day is a decider for voters and I hope folks in the NPP making a big deal of voting day recognize that sacred fact.
We must all be willing to concede that if elections are held today, we cannot expect the same outcome as last year's for the obvious reason being that apart from the many who might switch preferences, other citizens have now attained the voting age of 18 while another sad reality is that some who voted with us last year are no longer with us in this world.

Be that as it may, the dynamic and ever sophisticated Ghanaian voter keeps asking every day and every hour; is this exactly what I was promised? Do I see credibility and principle or have I been taken for a ride? Has my living condition improved? Do I have a decent job now?

The ever discerning voter is still critically looking at the other side of the field and asking; is the current opposition looking credible? Have they learnt any lessons from their defeat? Are they offering better alternatives? Were they as guilty as charged?

Quite honestly, the lesson of December 9 must make all political actors extremely sober and reflective. This is not the time for merrymaking, lavish parties, taunting opponents or the feeling of hopelessness on the part of those who lost. That in one night the electorate can deliver such a verdict of a seismic shift as they did in years 2016, 2008 and 2000 should remind all political party leaders that it's not about how clever or special we think we are. At the end of the day, any political party can either win or lose - no political party is invincible even if you have formed a party militia going by that nomenclature in your ranks.

In the final analysis, it is about earning the trust, respect and confidence of the people in whom real power is vested.
Congratulations to all Ghanaians for our collective achievements exactly a year ago, however, without any scintilla of doubt in my mind, a very special commendation must go to EC Chairperson, Mrs Osei - wishing you and our nation many more successful December 9's at every election cycle.

God bless our Republic.

Samuel Okudzeto Ablakwa

MP, North Tongu