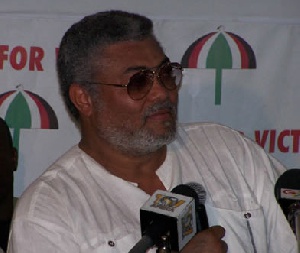 To declare that the current spate of armed robbery in Ghana is highly inimical to peace, progress and national stability is truly an understatement, for very few Ghanaian citizens could have imagined that embarking on intra-city and inter-city trips, either during the day or, worse still, at night, in contemporary times, may well result in their demise at the hands of hardened and notorious criminals who take pleasure in not only forcefully taking away the hard-earned resources of ordinary Ghanaians, but also are willing to summarily and impenitently cut short the lives of their victims. And while these criminals continue to indulge in unabashed ruthlessness, skullduggery, and banditry, ordinary Ghanaians can only ask what exactly their government is doing to crush the evil deeds of these criminals, who, without my resorting to any scholarly analysis, are insidious enemies of economic growth and public safety, as alluded to earlier.

Just over a decade ago, one did not come across any reports of State Transport Corporation buses ? and the slew of private citizen-owned buses and cars dotting our roads ? being hijacked on any one of the nation's highways. Today, to the chagrin of ordinary Ghanaians, however, criminals are able to strike anywhere and at any time, disrupting economic activity in the process. That these men of the underworld, who have little regard for human life and property, cannot be wiped out by a government that has superior intelligence at its disposal, leaves much to be desired. While one cannot blame the Kufuor administration solely for the sorry state of affairs in regards to the prevalence of these intricate networks of criminal activity, still it is under the leadership of the present administration that the situation has gotten out of control.


So, I wish to suggest that the next president ? irrespective of who gets the mandate to lead in January 2009 ? appoint Jerry Rawlings as either Interior minister, or head of national security. While my submission may sound ludicrous to some Ghanaians, especially those with an avowed hatred for the ex-president, I believe Jerry Rawlings is more knowledgeable than any other Ghanaian presently to deal with issues bordering on the internal stability and security of the nation. For a man who has succeeded two out of three times as a putschist ? an ignominious African record, by the way ? nothing will give him more pleasure than to go back to doing what he knows best: monitoring the internal security apparatus of the state. And I sincerely believe that Rawlings will never again attempt to subvert a constitutionally elected government in Ghana, which is why he deserves another shot at meaningful public service.


Jerry Rawlings loves Ghana, and his deep love for the nation has sometimes been misunderstood due to his penchant for the insalubrious and lugubrious, usually packaged as a smorgasbord of rants, tirades and vituperations, next only to lunacy. However, one could not find a more passionate Ghanaian who seems to care about the wellbeing of his people, although Rawlings' own past is checkered with dastardly acts that many Ghanaians may never be able to obliterate from their minds. Some Ghanaians may shudder at the thought of appointing Rawlings the Interior minister or national security chief, but I believe that it is the best way to both rid the nation of armed robbers and to find something constructive for the energetic but redundant ex-president. After all, John Kufuor willingly served under Rawlings' PNDC of yesteryears, so I hope the NPP, should it maintain power come January 2009, would repay the all-inclusive mentality of ex-president Rawlings, by appointing the latter as head of one of several national security agencies, particularly the Interior ministry.


My advocacy for the Interior ministry for Rawlings is based primarily on the fact that the Ghana Police Service reports to the Interior minister. The Ghana Police Service is underperforming at the moment, which is why armed robbers are having a field day in Ghana. As such, a tough and uncompromising Interior chief is needed to carry out reforms in the police service, in order to restore the dignity of the nation and liberate fellow citizens from the horrors perpetrated by armed robbers. There are many security agencies in Ghana, including the Presidential Security Unit; Ghana Armed Forces; Ghana Police Service; Bureau of National Investigation; and Ghana Customs Service, so appointing Rawlings as Interior minister should not scare spineless Ghanaians into believing that such an action might lead to the subversion of our democratic experiment. At any rate, Rawlings holds the coveted tag of "Father of Modern Democracy" in Ghana, as expatiated in an article I published on Ghanaweb.com in July 2007, so I do not see why the same man would go out of his way to destroy what he has helped to build. Moreover, Rawlings is now a well-respected statesman around the globe ? although not highly regarded by everyone in his own nation ? so he has that important legacy to protect.

Eliminating the scourge of armed robbery must be a primary goal of the next president, as it appears the Kufuor administration is not doing enough to abate the problem. Many Ghanaians know, but are unwilling to openly assert, that the incidence of armed robbery shot up when the nation welcomed in large droves some of its neighbors to do business in the country. Paradoxically, the unfettered access to the Ghanaian economy some of these unscrupulous individuals are currently enjoying will eventually lead to the dwindling of the nation's economic success, as the most important investors with the most important resources will likely relocate to countries where life and property are given better protection by the state, if public safety in Ghana does not become a priority soon. A perfunctory look at living conditions in one neighboring country attests to the fact that citizens of that nation prefer to erect "garrisons and forts" as houses, because some of their fellow citizens, men of the underworld, would simply not give the majority the respite they need to build "regular" houses. It is this culture of destruction and terror that has now been exported to Ghana, but the security agencies in Ghana must reject the status quo, and restore the nation to its previous glory as a safe and pleasant destination for all and sundry.


There are many Ghanaians overseas who are willing to relocate their businesses and firms to Ghana to contribute their quotas to economic growth, but the interminable stories of armed assaults are simply too frightening for them to pack up and move. It is clearly not enough to promote freedom of speech and establish free markets for economic growth ? the Kufuor administration certainly has done both ? as the safety of citizens is just as paramount. Let the present administration embark on a major exercise to weed out these criminals from amongst the populace in the next several months, and it will be surrendering to Nana Akufo-Addo one of the best gifts to offer the electorate in the 2008 presidential election! Together, Ghanaians can take back their society from ruthless hoodlums eager to maim and kill others, but the government must demonstrate a greater doggedness in its efforts to eliminate this menace from the public realm. Perhaps, introducing harsher penalties is one way to curb the incidence of violent criminal activity in the nation, and citizens must petition their representatives in Parliament to enact the necessary laws. And if the death penalty is the answer, then the legislature must act quickly to grant the executive branch the authority to enforce such a penalty.
The writer, Daniel K. Pryce, in addition to two undergraduate degrees, holds a master's degree in public administration from George Mason University, U.S.A. He is a member of the national honor society for public affairs and administration in the U.S.A. He can be reached at dpryce@cox.net.
Views expressed by the author(s) do not necessarily reflect those of GhanaHomePage.