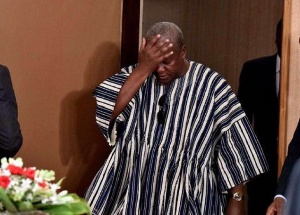 For the benefit of my cherished readers and those who have not followed my previous articles in the past 10 years, I have decided to crown the year 2016 with this particular edition to whet the appetite of the vulnerable and the silent majority in society. Fellow Ghanaians and compatriots, what a joy it was that by 03.00 hours of Friday morning, December 9, 2016, when news filtered through on radio that the major opposition party, the NPP was in a comfortable lead in the titanic general elections, my heart nearly shrank and disbelief took me spell-bound.
I did not believe in my mind's eye that Mr. Mahama, His Excellency, with all the state security apparatus, CDS Sampson Oje and the IGP, John Kudalor, probably with promissory notes for ambassadorial perks in mind if their master had won; the duo supported their mentor with bestial force from the flanks. One could count as many as 100 military pick-ups on the Accra-Kumasi road a day before the elections to intimidate the electorates. He was again unofficially aided with reinforcement from the state media, and hordes of other private media practitioners of all shades who ate the crumbs from under his table, and the hundreds of his specially trained dwarf hirelings with sharp teeth who lied daily on air and television to peddle falsehood.

That was just to help propel their master cling onto power in perpetuity, but lo and behold, this diminutive Nana Akufo Addo, from nowhere and with cash-strapped features and like David of old in the Bible who made his living always from the wilderness, was not as handsome, strong and youthful like the much touted John 'Ahoofe' Mahama, courtesy, Betty Mould-Iddrisu and Faustina Efua Nelson, with "The Battle is the Lord's" slogan in mind, strangely was able to conquer Goliath with all his huge frame and personality. Despite being backed by his spear, sword and all other defensive accoutrements like breast plate shield against David's only five pebbles and the sling; "David" Akufo Addo, floored John "Goliath" Mahama after he had been dazed by the fling of just one of his five pebbles i.e. with about 1 million and over votes in excess of an incumbent president's votes – he went straight to him, pulled Goliath's own knife from its sheaf hanging round his waist and quickly beheaded him and showed his head to the Philistines whose leader had always blasphemed and tormented the Israelites like John Mahama that Nana Akufo Addo can never ever become president in Ghana forgetting that the 2008 & 2012 were won for his party by the EC because the NPP were not vigilant enough at the polling stations but very complacent. That is a record beating indeed. That they were going to retire Akufo Addo rather turned out to be an unpardonable whipping!

That is unheard of anywhere in an African election. That was a proper beating and if it were in a boxing bout, I would say that after kissing the canvas within the first five seconds of the first of the 12-round title bout, John lay prostate with blood oozing from his nose and mouth and this commanding and unprecedented comfortable lead in an election such as this, will forever be remembered as the millennium election because the referee had to stop the fight – this feat was a real technical knock-out within the first 45 seconds of the first round with 53.85% leaving John to his fate crumbling helplessly at 44.4%. His NDC was unable to clinch the 1.5m votes expected from Ashanti let alone the Agenda 50-50 from the Eastern Region.

Thank God that the NDC bragging galvanized the NPP to really set themselves to work as against the previous elections. When finally Charlotte realized that there was nothing humanly possible for her to do to twist facts and figures to rig for her benefactor, pressure started mounting on her after other leading contestants like Dr. Edward Nasigre Mahama, Papa Kwesi Nduom and Nana Konadu Agyeman Rawlings of PNC, PPP and NDP respectively had conceded defeat in succession, to be climaxed by Ivor Kobina Greenstreet of the CPP, my beloved president also had to involuntarily under duress, throw in the towel around 20.00 hours of Friday. But wait a minute. John, according to insiders, had begged Charlotte on phone to help in whatever way she could help win the elections for him for a much more handsome reward in Ghana or elsewhere but the die was cast. Soon after, precisely, about 20.45 hours, Madam Charlotte Osei also hurriedly organized the "make-shift" press conference to announce the results of the elections that had put the whole nation on the tenterhooks since the whole world had placed its telescope on Ghana. That is gone down in history. Now to serious business.

To begin with, I will start by asking the million-dollar question that must perhaps, be on the lips of many Ghanaians still needing answers from whoever may be willing to volunteer the clue as to who, when and how the ex-president, John Mills met his untimely death. To me, Prof. Mills, as a mortal being, was someone who would obviously die but the circumstances surrounding his mysterious death is still questionable that the outgoing regime should have embodied in their transition documentary to set many troubled hearts and wagging tongues at peace. Who killed Mills anyway to enable John to be constitutionally sworn in by the Chief Justice to ascend the presidential throne that fateful Tuesday night of July 24, 2012? Was he privy to it or what?

"For what does it profit a man if he should scramble like mad to gain the whole world and loses his soul?" As the Holy Book states "Good name is better than riches", I would have wished that JDM, his siblings and his household would have tried to pursue the search for good name rather than amassing wealth, land and properties and what have you. But Mr. Mahama, as a Christian with the Assembly of God Church inclination, he should have abandoned the pursuit of riches to the background and sought after good name to immortalize his name in the history books of Ghana. By the look of things, the outgoing president will forever remain as probably the worst performed leader Ghana has ever had and will have for a long time to come. As a matter of fact, this particular name, John Dramani Mahama, son of the late E. A. Mahama, one time minister of State in the First Republic in the Nkrumah regime, believe you me, is the name that will sooner than later be obliterated from the history books and forgotten entirely by many a Ghanaian because none, repeat none, was a generational thinker as has always been trumpeted by Pastor Mensa Otabil, founder and general overseer of the ICGC fame. If his name will be ever remembered at all, poverty, tribalism, nepotism, ethnicity, pride, human degradation, gargantuan corruption and ineptitude.

Others were unprovoked arrogance, rape and robbery of state property, thievery, inept performance in governance, unprecedented 4-year "dumsor" debacle that crippled and brought a sizeable number of factories, industries and small-scale business community all over the country on their feet. Economic misappro –priation and mismanagement by all the facets of our economy that should not be glossed over were the factors and guiding principles to contribute to the loss. However, did anybody notice the awe that was written on the faces of almost all his appointees and the sudden silence that has caught up with them spellbound? But why did Allotey Jacobs a.k.a. the educated fisherman confuse the general public that his master too was in a comfortable and to unashamedly fetch some 'yenkyenni group' to march to Mahama's residence to congratulate him? Please read the following serialized reasons that greatly accounted for the unexpected show-down in the recent past elections countrywide and be the better judges yourselves.

? On his part, the unprintable pride exhibited by the out-going president like - "Anybody who has never been a president before should not have the guts to criticize him". In effect, it meant that if even he Mahama was piloting the flagship of Ghana to calamity, with particular reference to the strange contracts being engaged, all discerning persons should wait and keep quiet and acquiesce to the abnormal and ignominious nonsense of contracting trillions of loans, that have over-burdened each Ghanaian with a debt of Gh?5,000.00 i.e. ?50m without any meaningful commensurate physical evidence to show because we have nothing to say but to die with him.

? The incessant name-calling of Nana Addo Dankwa Akufo Addo, currently, H.E. the President-Elect, by all Tom, Dick and Harry, and nincompoops and never do well in society until the advent of Mahama such as Koku Anyidohu the bull, Kofi Adams, Kojo Twum Boafo, Omane Boamah, Fiifi Kwetey, Chief Biney, ubiquitous Kwaku Boahen et al, just to name a few, totally accounted for his total disgrace taking into cognizance the amount of campaign by air and road. Ironically, the multi-billion adverts via the electronic outlets, huge billboards, the seizure of state-owned media – electronic and print - by the incumbent, could not outpace the latter's chances of winning the polls because he relied too much on latest infrastructure and the mass bussing at rallies. But the Ghanaian kept his cool and did just the unexpected because the blasphemy was just uncontrollable – how come that Mahama should equate himself with the Lord Jesus Christ, re John 3:16. If Mahama were his father, E.A. Mahama, then I would dare say that he would condemn God that He never created the world but himself and he in fact got some following too. Shameful act!

? Then come to think of JDM's acquiescence to the Dzifa Attivor's nefarious 'non-sylla' deals vis-à-vis the Kumasi Airport runway saga that helped her secure some $28m. This huge sum of hard earned foreign exchange got lost and found solace in Dzifa's handbag without any reprimand and it actually served as catalyst for the unexpected humiliating defeat. Then again, come to think of the bus-branding that saw some colossal sum of Gh?3,600.00 each for 116 second-hand buses imported from China. Where is Dzifa Attivor; and now that her party has lost the elections that she did her best to strongly avert by campaigning against to save her skin, what story has she got to tell her assailants? Has she already arranged with the Nsawam Medium Security prison authorities for a place? Certainly, now that her party has lost and especially, the fact that there was general apathy in her home region to pull the magic wand, will she blame herself for the pre-election premonitions that failure to vote massively for the NDC will enable their rivals to prosecute her for jail? What story has she to tell her adversaries if she is hauled before the law courts to learn and sing the rule of law choruses? Since the rule of law was thrown to the dogs during JDM's era, because he Mahama offered a blanket platform and approval for everyone to create, loot and share, will JDM be courageous enough to try to use his ex-presidential fiat again after exiting from power to prevent Dzifa from standing trial for crime against the State re the Kumasi Airport runway US$28m and many others if she were slapped with a jail term like the Montie 3?

? Is it also a truism that the fines slapped on the Montie 3 people were actually paid upfront from government's chest – the Communication Ministry headed by now dumb Omane BoamaH. If this rumour happens to be true or little atom of truth, the Transition Team led by Osafo Marfo from the NPP side, should not waste time at all to spare the rod but to use him as the first official scape-goat to knock at the Nsawam prison to taste prison life.

? The discreet sneaking of the two Yemeni ex-convicts from Guantanamo Bay popularly called "G2" caused the expectant exit of JDM because the whole country became alarmed and fear-gripped.

? The Mahama-led NDC show of extravagance and wanton display and reckless dissipation of the national cake and opulence by dishing out expensive V.8 vehicles, Hyundai cars, motor bicycles, Luojia tricycles, second-hand used clothes, Yamaha outboard motors to undeserving recipients, and all sorts of goodies before and during the elections caused a fatal blow to their party's downfall and nobody should join them weeping over their fate. Nobody should shed tears for them.

? The one-time premium of the NHIS that never gave birth in Ghana was a total fiasco to give a deadly blow to his defeat.
? Mr. Mahama's daily insults on the intelligence of Ghanaians that we have short memory accounted for his exit because that statement, inter alia, was disrespectful, irresponsible, unguarded and in bad taste to come from someone like him – leadership by example was thrown to the dogs. ? The chronic inflation and no sense of direction took a major toll in his electoral defeat because there was nobody in his team who could pull the strings to safety. ? The vice president's brother, Jabesh Amissah, as CEO of the Bui Dam Project, infuriated many voters from the Brong Ahafo region to cause NDC's showdown in the region as a result of his reckless spending. ? The excessive show of bestial act by the John Kudalor Police Administration to chase and destroy human eye in the precincts of the Electoral Commission in Accra when the Let My Vote Count Alliance demonstrated in front of the EC offices.

? The outgoing MP for Madina-Nkwantanang, Accra, Amadu Sorogho, was reported to have sanctioned the import of uniforms for the Fire Service personnel that smelt of rat.

? The rampant State-sponsored wholesale galamsey by the Chinese in Ghana to destroy and poison all of Ghana's river bodies like the Birim, Densu, Pra, Tano, Ankobra etc. forced millions of voters to exercise restraint and oust the Mahama-led government because enough was enough – the dwarf was extremely tired of plenty banana eating. Is it sensible to allow our rivers to be poisoned to be dangerous for drinking rather than to desalinate the sea for drinking? That is Mahama for you.

? Is Mahama aware that the Tema Motorway contract that has been awarded to his brother's daughter just to enrich themselves at the expense of hopeless Ghanaians the more reason to cause his exit and bitter weeping?

? Is it a truism that Ato Ahwoi, Kwesi Botchwey and Sikpah Yankey, the notorious ex-convict, who should have learnt his lesson well, have for some time now been purported to rape the Nation by siphoning some $500,000.00 daily from the oil imports for Ghana?

? Many Ghanaians voted to reject John Mahama from continuing in office because his government cannot till date account for the oil money from the Jubilee Oilfields at Cape Three Points.

? The $100,000.00 Ford Saga from the Burkinabe contractor that JDM was deeply embroiled, gave a devastating shock to Ghanaians to finally alter the results of the elections to his disbelief.

? Is John Mahama aware that Baba Jamal, Sampson Ahi, Kojo Bonsu, Hanna Tetteh Kpoda, Hanna Louisa Bissiw and Solomon Nkansah and host of others the bane of his woes – vulgar language to reply to any trickle of noise from any quarters? ? Can John Mahama vouch that he does not have any knowledge about the vast parcel of land situate at Nkwantanang that stretches to border Adenta to the north and measuring about 625 acres that claimed a life when the squatting mechanics and artisans were being ejected uncere –moniously to lose their daily bread? Why are the Mahama family, friends and foes grabbing lands with their hands and feet? ? If a leader has the imbecile crop of deceitful bunch of liars as ministers and appointees in its trail parading the four corners of Ghana with yea, yea law makers blindly doing their master's bidding, whether good or bad, does such a leader have the guts to ask for continuity? Certainly no! ? Was Mahama aware of the NDC boys and girls who hurled insults and screamed at the Clergy, Academia and opinion leaders the cause of his loss that he woefully failed to reprimand?

? Mr. Mahama should be told that the unprofessional stance taken by CDS Sampson Oje and IGP John Kudalor to wear partisan robes corrupted their command chain thereby offering major ingredients for his defeat. Why reduce yourselves to pilot the president and John also kowtowing "Yes Madam" for continuity and extension of service like Alhassan?

? JDM could have saved his integrity if he had reprimanded the likes of Elvis Afriyie Ankrah, who purchased one fresh coconut for $1,000 during the Brazil World Cup, Akua Sena Dansua, Kofi Humado and Mahama Ayariga when they embezzled their respective World Cup and All-Africa Games monies from 2010 to 2014.

? Bugri Naabu's unexpected V.8 Mitsubishi Pajero car and Gh?50,000.00 gift from JDM to denounce his political identity finally floored and disgraced him and exhibit or illustrate his political immaturity.

? The Gbese Mantse's childish rhetoric that he would voluntarily abdicate if Nana Akufo Addo wins worked negatively towards JM's defeat.

? Is Mahama unaware about the impunity of Abdoulaye Naba, brother of Collins Dauda, Local Government Minister for the brutish attacks and killing and maiming of several innocent persons in the Asunafo and its environs which he winked an eye as if the victims were animals of no significance and importance? ? Did Mr. Mahama ever read about the careful advice by his solicitor, Tony Lithur against the unconstitutional ethics relative to the release of the G2 from prison custody? Does he now know that that neglect of the advice has worked adversely against him and the eventual loss of power?

? The positive defiance by Mahama not to pay the teachers and nurses also worked against his total defeat. Will he also collect his ESB that has been inflated to take retrospective from 2012? Greedy!
? The latest decision to unconstitutionally use portion of pensioners' money and deprive their livelihood also worked adversely against him.

? JDM's government last minute decision to borrow money from the Heritage Fund that was meant for the future generation after emptying all the public commercial banks also necessitated his unceremonious exit.

? The NDC leadership was pregnant with arrogance, pride, lies and deceit, and the rape and robbery of national wealth and property was ample evidence enough to deserve their 'death, memorial service prior to the burial and thanksgiving service'. ? Mahama's inability to fight the mountains of filth that engulfed the country for years also contributed to his defeat even though money was voted for same in succeeding budgets for chops by the boys and girls. ? The appointment of square pegs, misfits and charlatans in round holes was the major cause for his defeat.

? The infighting by Oye Lithur, minister for Gender Protection, Children and Social Protection versus her deputy; Murbarak Mohammed and Labour & Social Welfare minister, Haruna Iddrisu, former Ashanti regional minister, S.S. Sarpong and his vice, Yamin. The list can go on and on and on unending. ? Mahama's post-swearing in maiden message dwelt on retrieving Alfred Woyome's judgment debt but till date, he has not even dreamt about doing so. ? The former DVLA boss, Mr. Amegashie's deliberate stealing some $6m from the public purse which Mahama flatly overlooked to whip the party boy was still in the memory of Ghanaians to show him the yellow card one day. ? The unnecessary imposition of taxes at the ports and Mahama Boys to have a field day to enrich themselves forced many businesses to relocate to neighbouring Cote d'Ivoire gave the deadly blow for him to realize his folly. ? The unconstitutional extension and retention of both Ahmed Alhassan and Mohammed Yakubu of the Armoured Squadron, Ayalingo and many more "expired" retirees still at post annoyed the police and gingered them to vote en masse – 53% against him. ? The appointment of about 65% of tribesmen from the 3 northern regions into ministerial, executives of MMDAs and security top brass also must have accounted for the sudden defeat.

? It is unfortunate that to date, many of the senior high schools have not been provided with their feeding fees and obviously, the parents and guardians of such schools voted John out due to his deliberate obstinacy. ? The uncouth and uncomplimentary remarks by Mrs. Amissah Arthur thus – "We would not give you chalk today nor tomorrow" infuriated the Fanteakwa electorates to show the NDC the red card.

? The XTL Korean Housing deal initiated by the Mahama Administration that later turned to be a hoax was to clandestinely rope "bad money" for himself at the expense of the security agencies, rather exacerbated their fury and galvanized many votes for the opposition New Patriotic Party to clinch victory. ? The excessive abuse of power by the Vanderpuye Brothers – Nii Lante and Alfred Okoe, in their capacities as MP for Odododioodioo and Mayor for the Accra Metropolitan Authority, a.k.a. "Abaayee" respectively, will have their names written with 'dirty engine oil' in Ghana's history for the notorious behavior and character in Ghana's contemporary politics – maiming opponents and destruction of life and properties respectively.

? The complete neglect of ex-president, J.J. Rawlings from their campaign thinking that the NDC was self-sufficient without their founder and probably the bank-roller, very often referred to the their General Mosquito as the barking dog caused them dearly to lose the elections.

? What finally nailed the Mahama-led NDC in the coffin was the wrongful perversion of justice meted out to the opposition New Patriotic Party in the Election Petition Hearing of August 29, 2013, chaired by William Atuguba, Esq., JSC, which millions of Ghanaians still had it at the back of their mind only to bid their time for this year's elections and to amplify their displeasure and to be vigilant to guard against their votes for all to see that they never had short memories.

? The denial of Ghanaian school children and their feeding also acted as a catalyst to the massive votes cast against.

? The Black Queen's allowances, appearance fees, and winning bonuses totaling US$25,000.00 each per the 23-woman squad have been unpaid as at Thursday, December 29, 2016 and could have been a contributing factor because Nii Lantey Vanderpuye thought they were nobodies.

? The hopelessness and helplessness situation that Ghanaians found themselves in really contributed to the humiliating defeat.

? The reckless and lavish spending of few Ghanaians brought our economy on its knees and that incurred our displeasure to sweep them like dust under the carpet in the elections – dishing out expensive vehicles to undeserving chiefs, the clergy like sharing toffees to nursery school kids like Father Xmas has served him as an eye opener.

? Furthermore, the manner which some eminent judges of the SC openly perverted and corrupted justice to prop Mamaha after the EPH of Thursday, August 29, 2013, incensed the anger of many voters to bid their time for yet another general election to show him his true colour and position when elections are conducted.

? In a nutshell, what contributed to the loss of JDM was the positive defiance stance that his government arrogated power unto themselves to make use of the mandatory allocation of the Consolidated Fund meant for the physically handicapped and impaired in society. Now that JDM is leaving office I entreat him and his bunch of "moka koraa yennte gyae" cronies to visit the Dzorwulu Special School, the Death and Dumb school at Akuapem Mampong, the Blind school at Akuapem Akropong et cetera to see whether they would be able to eat and drink let alone send their children abroad for better education.
? The dangerous un-productive chemicals that were imported by 'sikadicious' Opuni to hamper sufficient cocoa yield coupled with the farmers' unpaid bonuses paid the high dividend for Mahama's fall even though the chief executive had raised millions of US Dollars for their hard work. The farmers who are mostly illiterates, translated their protest against their maltreatment through the ballot box.

? The teacher trainees, thousands of public nurses and pharmacists who had genuinely worked to merit their salaries and other bonafide allowances also illustrated their disapproval for the inhuman cheating during the December 7 elections to show him where power lies and it serves him well now.

? The Judicial Services Association of Ghana (JUSAG) of all workers who are not magicians, as all others, tried to vent their spleen to further increase the woes of government because some portion of people were seen to be enjoying at their expense.

? Unprecedented demonstrations that rocked the Mahama-led govern -ment included the UTAG, POTAG, Ports & Railways and lots more who, despite their ill-treatment, expressed their disenchantment by voting out JDM from office.

? Unnecessary fuel price hikes by the Albert Mould's NPA when, in fact, world market price continued to drop were some of the major factors that did the damage for Mahama's unexpected excruciating painful defeat.

? Another point worth mentioning is the list of needless taxes that were imposed to stifle Ghanaians and their businesses not forgetting foreign businessmen who were compelled to relocate to other neighbouring Cote d'Ivoire for better and conducive business environment.

? When JDM realized that the CEO of S.A.D.A., Dr. Sulley Garba, who had helped to embezzle so much money would obviously be prose -cuted and finally jailed, quickly relieved him of his post and promoted him again to become Ghana's High Commissioner to Canada thereby avoiding the imminent jail term. But while Mr. Mahama was noted for sparing the rod to spoil the child for far too long, he gleefully winked an eye and endorsed the proverbial create, loot and share. It is hoped that Ghanaians still remember the former CHRAJ's Vivian Lamptey's reckless and irresponsible hotel bills and lavish spending at one of the most expensive hotels in Accra at the instance of the over-burdened tax-payer. But Ghanaians kept their cool and showed John Mahama yellow card to detest their uncompromising stance against the justification of rot in society.

? The out-going regime's neglect to effect statutory payments like the MP's Common Fund retarded the numerous infrastructure projects all over the country and this phenomenon contributed immensely to the defeat.

? JDM reportedly increased the salaries of his appointees to take retrospective effect from January 7, 2009, when he was the vice president and one wonders whether he was honest enough to refund the difference. Ghanaians rightly put him in his proper perspective as greed took a greater percentage of his lifestyle; he tried to eat with his two hands and smeared his belly with the crumbs and leftovers.

? Now that Ghanaians have started to breathe the air of freedom; that is, second independence after March 6, 1957, the wind of positive change has certainly come to enhance the hitherto gloomy period they found themselves under his government.

? For the first time in Ghana's electoral history, ex-president, Prof. John Mills's home region, the Central Region, voted massively to register their vehemence against the NDC for the NPP including his constituency because the Mahama-led NDC has fun-fooled the Fantes, who are the predominant natives of this area. Again, they still want to know who killed their icon – Prof. Mills.

? The Volta Region, inarguably the 'electoral world bank' of the NDC felt slighted in many aspects under President Mahama and wizened up to vote according to their conscience and the result is as confirmed by the pathetic voting pattern.

? The EC's obstinacy to disenfranchise many university students who constituted majority of victims of bad governance as regards the prevailing poor educational standards demonstrated their position by educating their roots back home to ditch him – several ways of killing a cat.

? The uncontrollable expensive ECG bills that competed with Jamaican Usain Bolt's speed to render most people hopeless did the magic for us.
? The insurance premium policy for standard vehicles for two quarters for taxi cabs that previously cost Gh?70.00 was hurriedly increased to Gh?400.00 for the same period and this shylock nature incensed the drivers and transport owners to express their disgust against this bad governance.

? I will quote Prof. Kwabena Frimpong-Boateng, the globally renowned heart surgeon formerly of the Cardio Centre at Korle Bu Teaching Hospital, Accra – "Oh Lord, let the attitudinal change I want to see in Ghana begin with me." And it is my prayer that as one of the possible pillars of Nana Addo's government machinery, Nana will take a cue from this inspirational message to steer the affairs of Ghana to safety.

ADMONITION: Any person or group of persons who have planned to execute any needless criminal operation before, during and soon after the swearing-in ceremony of the incoming administration of the President-Elect, HE Nana Addo Dankwa Akufo Addo, should backfire, struck dead with lightning and those lucky ones be hit with blindness, and the rest of the extreme lucky group be maimed by the command of the angelic hosts to become perpetual paralyzed and bed-ridden till the end of time.

My word of advice to the CDS and the IGP is for them to resign honourably and voluntarily before the January 7, 2017 swearing-in because they chickened themselves too much to be brain-washed to politicize their individual professional institutions. Or was it for ambassadorial perks if the tables had turned? To wit, any advice you give to this no nonsense government, they will tell you "to hell with your nonsense" – they have come to create, loot and share – one has to wait for his share. By their inordinate ambition, they have impoverished, frustrated, and rendered a greater number of the population impotent, and this runs into millions. The hopelessness situation is such that their desperate condition gingered most Ghanaians to vote the NDC and their handful of apparatchiks from power so that they would have their peace. How come that the Black Queens, after winning global trophies including the Gold Medal, should be at the begging end for a justifiable cause? Will their cry not alter the electoral tables? Do you know that the so-called cheques given to the teachers have bounced? The intention was to wait till the last minute and hand them dud cheques.

CAUTION: Exodus 14:13 - 14 "To bring the curtains down, I should like to end by consoling the millions of Ghanaians who have, by show of their votes in the recent past elections, liberated themselves again to have second national independence i.e. December 7, 2016 after 6th March, 1957 but the rest of Ghanaians who, despite the enormous hardships, persecutions, bad governance that had rendered all of them as slaves in their own country, wanted to remain in "Egypt's Ghana" instead of a new haven in Canaan. And the subsequent quotation illustrates the scenario as thus "And Moses said unto the people, Fear ye not, stand still, and see the salvation of the LORD, which he will shew to you to day: for the Egyptians (The Mahama NDC government) ye shall see them again no more forever. 14 The LORD shall fight for you, and ye shall hold your peace". THE GREAT CHANGE HAS COME AND EVERYBODY SEEMS TO BE FREE AND RIDDEN OF THE SELF-INFLICTED OPPRESSION FROM MAHAMA'S MYOPIC GOVERNANCE!!! NOT MANY PEOPLE HAVE MONEY BUT THE JOY AND FREEDOM ARE EXTRAORDINARILY SPECTACULAR.

And by comparison, while the Mahama-led government was busily engaged with continuity choruses by almost all top echelon; with the vice president doing his dirty work in the two Upper Regions and ridiculing Nana Akufo Addo as probably the shortest man ever that he had seen since birth, the Chief of Staff with his bunch also in the Volta Region dishing out money as if Ghanaians were fools to accept same and vote them in power. As for Asiedu Nketiah, the least said about him the better – he did everything to appease his home region - Brong Ahafo – but the die had been cast – the government discreetly duped them of trillions of Cedis by the actions and inactions of DKM, God is Love et cetera under his nose. The whole train of the NDC machinery set themselves to work with Koku Anyidohus, Kofi Adams, Omane Boamah's and the Lordinas buying votes with Yamaha outboard motors, tricycles, and what have you. But despite all the monetary fringe benefits that people received together with Cecilia Johnson as chairperson of the Council of State, J. H. Owusu Acheampong, former NDC minister and kingpin, Yaw Boateng Gyan as former national organizer of the NDC, still Nana Akufo Addo's battle cry of "The Battle is the Lord's" slogan was able to outpace them.

The mad rush and senseless appointments by Mahama's appointees without reprimand are very strange. Have their salaries from January next year been captured in Seth Terkpeh's budget? If not, then has the World Bank now waived the clause that prevented government from employing persons until after the end of 2017? Or has it been revoked? How do some so-called executives allow themselves to be used for pittance only to pay the hard price for it? Are the Opunis of the COCOBOD; the surrogates at GNPC; the puppets at Fire Service real human beings who normally wash their faces from top to bottom or the opposite way? Do they know that the president is somehow insulated for wrong-doing, but they do not have any chance as they would be prosecuted for dereliction of duty and crime against the State? Imagine Ambassador Said Sinare behaving like a wounded bull in Saudi Arabia – how do you pardon someone who flatly flouts law and order to 'steal' State money that has been used to purchase luxury furniture and attempt to export to his wife in Egypt and replace with a cheap set? Does he still think that because his father found an Egyptian wife (Madam Fathia) for Dr. Kwame Nkrumah that was equally rewarded with the Ayawaso Central constituency seat as an MP so he can fool about?

TABOO – A cross-section of Ghanaians that this junketing reporter has interviewed soon after the elections indicates that by the latest ongoing revelations, JDM's name will erode very fast and never to be remembered as many people will like to obliterate his name from the history books – it will sound like a taboo. If his name will be remembered at all for some time, it will be associated with, and remind us of unprecedented high-grade corru -ption, arrogance, envy, pettiness, vandalism, rowdysm, tribalism, impunity, pretensions and nepotism because he wined and dined with them. Others were daylight thievery of the national purse by himself and appointees; the 2010 & 2014 World Cup tourneys; the 2011 All-Africa Games in Maputo, Mozambique et cetera because of the excruciating pain and agony we have gone through as a Nation. Even the late Kwame Nyanteh's name will have prominence in our history books as against Mahama's that will be a taboo after January 8, 2017. What prompted him to cut the sod at Somanya for a new university while he deliberately did not add even a nail to JAK's affordable houses littered all over the country? Shame!

If he shamefully did not continue with John Kufuor's good works, does he now want Nana Akufo Addo to continue with his unfulfilled promises?

Finally, it was really an uphill task indeed for John. And the rumour mill in town (source – in-house security detail) is that HE Busumuru Kofi Annan was right by his side in his residence to give him moral support because for more than an hour before Mr. Annan got there he was not himself and had been weeping bitterly and uncontrollably that he found it difficult and ashamed to concede defeat and congratulate his bitterest enemy who had won. The Electoral Commissioner was still waiting for the results from four more constituencies but that did not prevent her from declaring the results because his enemy was in a commanding comfortable lead - more than 1 million votes that given the late votes altogether, he would not be anywhere near his rival.

By: amaningkwarteng1@gmail.com