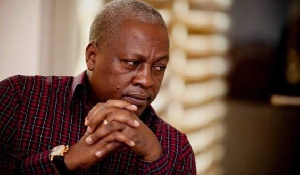 By Rockson Adofo
In my candid estimation, former President John Dramani Mahama was excessively corrupt by his words and actions. Every aspect of his conduct as portrayed in his public life indicated that he was not a man of principles but extremely corrupt.

In addressing the two questions of why and how he became unprecedentedly corrupt, let me first start with the WHY. He became corrupt because he was born, trained, and encouraged to be corrupt. His propensity to engage in corrupt practices could well not be by accident but genetic. The way he gave ministerial and other public service appointments to people of mostly his northern and ewe extractions even though, most of them were markedly incompetent and fraudsters, goes to confirm his own nature as a corrupt person.

How did he become OVERLY corrupt, one may want to know? I am using the word overly to emphasise how was deeply into corruption without ever able to extricate himself from it but rather getting more infatuated with the situation by each ticking second of the clock.

HOW means by what means. Here we go. Because he was born corrupt and became a suspect of personally pocketing some huge money at the expense of the public after returning from Brazil on a trip to negotiate for the purchase of some Embraer jets for the Ghana Air Force, the only way out of that public suspicion about him was to get more corrupted.

Was there not allegedly a Committee formed and tasked by the late President Mills to investigate him in relation to the cost of the planes to Ghana which was considered very huge and far way out of their normal price? What then happened?
Before the Committee could start their sittings and investigations, President Mills succumbed to a mysterious death the cause of which has not been known until today.

With President Mills gone, the path was paved for Vice President Mahama to assume the mantle of President. As President, he felt insecure. He believed the only way out of his insecurity was to surround himself with only one or two groups of people that he could fully trust to shield him from any public investigations into his conduct.

Most of the people he appointed were crafty and lovers of illegal wealth. They engaged themselves in various acts of malpractices, embezzling public funds at such an alarming rate that most discerning Ghanaians started to worry about the fate of the nation's economy. They cunningly initiated what became as "create, loot and share" judgment debts.

The more his subordinates got richer through such acts and sole-sourcing of government contracts at two to four times their actual cost price, the more he decided not to let the servant get richer than the master but the other way round.

Therefore, instead of punishing the perpetrators of corruption within his government and party, he rather decided to surpass them by getting much richer through same illegal means. It was this unhealthy competition between him and his appointees that made him become overly corrupt because he always wanted to maintain the lead without allowing anyone to overtake him in the run for material wealth and money.
He never understood that life is not a race and that money does not bring total happiness to its possessor. He is now a disgraced person. It could not have been said any better by Ms Otiko Afisa Djaba, his tribeswoman and probably close relation, who describes him as being wicked, evil and a disgrace to the northerners.

The above explanations are to me, the reasons for why and how former President Mahama became so corrupt. He abused his position as the President to favour certain groups of Ghanaians " his hired NDC radio phone-in serial callers, certain journalists and radio station programmer presenters, Northerners and Ewes (without sounding tribal but stating the obvious fact), his family and cronies and on top of all, embezzling public funds himself.

Why was he cleverly protecting Alfred Agbesi Woyome, the Ghanaian swindler of the 21st Century from any meaningful prosecution if not to conceal the degree of his corruption? Had Woyome not threatened to mention names of those who profited from the GHC51.2 million he defrauded Ghana of?

'Onaapo' Mahama bye, bye!