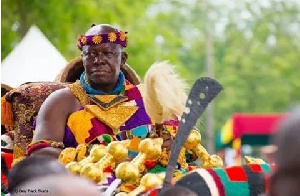 Are the Kumawu sub-chiefs who have rallied behind Dr Yaw Sarfo, the alleged Kumawuhene Barima Sarfo Tweneboa Kodua, conscious of their attitude amounting to selling out Kumawuman? Are the said sub-chiefs conversant with Kumawu history, especially that portion about the enstoolment and destoolment of chiefs in Kumawu as interpreted in terms of Kumawu's membership of the Asante Confederacy now called Asanteman Council? I very much doubt it!
Do they know how Dr Yaw Sarfo was sworn in as Kumawu chief-elect in Kumawu? Was the circumstance surrounding his swearing-in in conformity with Kumawu conventions? Was his going to Kumasi to be introduced to his colleague-Asanteman paramount chiefs by swearing an oath of allegiance to the Golden Stool, the embodiment of Asanteman unity, in the absence of Kumawu Kontrehene and/or Akwamuhene an acceptable Kumawuman usage?

By the known standard Kumawuman custom and traditions, no Asantehene has the power to meddle in Kumawu affairs let alone, Kumawu chieftaincy affairs to the point of imposing a royal candidate of his choosing on Kumawu as their paramount chief as seen to have collusively been done by Asantehene Otumfuo Osei Tutu II at Kumasi Manhyia Palace on 24 February 2014. For evidence sake, please watch the content of the cited underlying YouTube video link.

https://www.youtube.com/watch?v=Ac8wZIPlVu8

Are the Kumawu sub-chiefs in office purposely to pursue their selfish interests, or they are there to pursue the collective interests of the subjects of Kumawuman and the Kumawu traditional area itself? Are they simply a band of opportunists, ready to jump for any window of opportunity that will serve their personal interests, or they are there to serve the best collective interests of the entire subjects?

Are the sub-chiefs aware that Asantehene Otumfuo Osei Tutu II has connived with Kumawuhemaa Nana Abenaa Serwaah Amponsah to have a puppet as Kumawuhene so that they both can selfishly exploit Kumawuman resources to the hilt, hence dubiously enstooling Dr Yaw Sarfo as Kumawuhene? Have you seen how Dr Yaw Sarfo, going by the stool name Barima Sarfo Tweneboa Kodua, is belittling the Kumawu stool and its position within Asanteman by his constant overly veneration of Asantehene Otumfuo Osei Tutu II? He always says at any least opportunity he gets, "3deefo3 adaworoma na 3de me asi akungua yi so" and "me som 3deefo3 Asantehene" and other such infantile utterances all of which go to denigrate the Kumawu stool. The English translations of his statements are, "It is by the grace of His Lordship that he has placed me on this stool" and "I worship His Lordship Asantehene".
A Kumawu paramount chief does not belittle himself in the presence of, or behind, Asantehene. He is on a par with Asantehene but in name. Barima Tweneboa Kodua I, the originator of the Kumawu Kodua Stool was not a small chief within the Asante Confederacy. Does Dr Yaw Sarfo know the history about the Kum trees planted by Okomfo Anokye regarding the quest to select a capital for the Asante Confederacy? The choice was between Apemso (now Kumawu) and Kwamang (now Kumasi). If Kumawu had been that great, only to be let down by clueless and weak chiefs like Dr Yaw Sarfo, how dare he prostrates to Asantehene in a manner that the lesser chiefs from the other Divisions/States within Asanteman won't do?

I am not on Dr Yaw Sarfo today but the Kumawu sub-chiefs. Why are you knowingly or unknowingly helping Dr Yaw Sarfo to allow Asantehene Otumfuo Osei Tutu II, an intrinsic crook, to usurp the rights of Kumawuman within Asanteman, and then to exploit us through needless subjugation?

Are the sub-chiefs not aware of how Asantehene has criminally availed himself of hundred of thousands of hectares of Kumawu stool lands in the Afram Plains? Are you not aware of how he has his eyes set on availing himself of Kumawuman money without having the legal or traditional rights to do so? Why is he so interested, and stubbornly involved, in the Kumawu chieftaincy dispute to the point of always scheming to spiritually or physically eliminate the rival, but famous and popular chief Barima Tweneboa Kodua V from the Ananangya royal family?

The Kumawuman sub-chiefs cannot tell me, looking me straight in the eyes that they are not aware of the illegalities of the enstoolment of Dr Yaw Sarfo as Kumawuhene as well as the illegalities of Asantehene Otumfuo Osei Tutu II's involvements in the ongoing Kumawu chieftaincy dispute. By being supportive of Dr Yaw Sarfo who cowardly and stupidly is allowing Asantehene to have his own way to exploit and suppress Kumawuman as though Kumawu is subordinate to him in Asanteman, you are guilty of disservice to Kumawuman. You are doing so because you were each allegedly promised a car and a house if you helped enstool Dr Yaw Sarfo as Kumawuhene. Is it true?

Posterity will surely judge the Kumawu sub-chiefs for failing them. Should the sub-chiefs need knowing Kumawu history as it is and how Asantehene Otumfuo Osei Tutu II has illegally been exploiting their ignorance to milk Kumawuman dry, as insatiably greedy as he is, they can contact me for more info and evidence.
I will stop here to ask you to battle with your own conscience. Whatever solution you arrive at, do keep it. But remember, you have let Kumawuman down a big time. Is it Barima Tweneboa Kodua I's Kumawu that you are treating with disdain by your nonchalance while Asantehene connives with Nana Abenaa Serwaah Amponsah to rob its resources in a broad daylight.

Better late than never! It is not too late to correct your mistakes. You have the choice between continuing to ally yourselves with Dr Yaw Sarfo for Asantehene to have a strong oppressive foothold in Kumawu and withdrawing your support for Dr Yaw Sarfo to collapse his bogus rule to end Asantehene's thievery of Kumawuman stool lands and money. The personality of Dr Yaw Sarfo is the facilitator of the gluttonous flaying of Kumawuman of her wealth by Asantehene Otumfuo Osei Tutu II.

A word to the wise is sufficient.

Lest I forget, whoever comes across this publication must please help convey it to the attention of any Kumawuman sub-chiefs they know of.