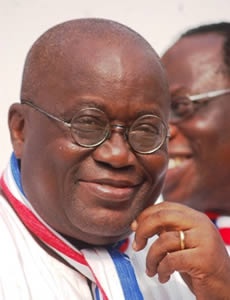 Folks, the Akans have a saying about "abuburo kosua" (Whatever is destined to succeed knows no failure). Another one says that: whoever legitimately owns something is the one to eat it, not the hungry one.
We can say with all certainty that when someone is destined to become a leader, he/she doesn't struggle to be so. No weapon laid against that person ever works to subvert that destiny. So should it be for political office-holding in Ghana in our time. But the reality in the case of the NPP's Akufo-Addo raises eyebrows. Why so?

There is an overwhelming mass of noise from certain quarters easily betraying their political allegiance as they invoke the name of the Supreme Deity (God) and their local "gods" ( conceived and characterized in diverse senses and guises) to sustain the NPP's Akufo-Addo that he is divinely destined to defeat President Mahama at Election 2016.

Over the years, since Akufo-Addo was trounced at Elections 2008 and 2012, he and his supporters haven't ceased encapsulating their political fate in the ambit of the supreme deity and those "gods".

Akufo-Addo himself has given much weight to that flight to spiritualism or escapism, especially when he led the NPP cabal top sing the cacophonous tune of "The battle is of the Lord's (top fight for us)". They shouted themselves hoarse in the process and organized a series of vigils, especially during the hearing of their useless petition after Election 2012.

What didn't happen? Akufo-Addo even got into a circle of failed JSS students to intensify prayers and to create the impression that God was on their side for the Supreme Court to crown Akufo-Addo as the winner of Election 2012. Everything exploded in their faces!!

Akufo-Addo and Bawumia had done everything and expended energy and resources canvassing for votes in the religious circles, especially those identifiable as Christian and Muslim. No matter what they did, victory eluded them. Not even Akufo-Addo's "pilgrimage" to the Wailing Wall of Jerusalem could make God shine his favour on him. Nothing worked well. Ridiculously, the NPP's claim was that even though Akufo-Addo had won the elections as ordained by God, the wicked hands of human beings (citing those of Dr. Afari Gyan, especially) had turned the table against him. So, the human being is more powerful than God?

One would expect the NPP camp to show political maturity and self-respect in doing political outreach; but it might all be in vain, especially if we consider the fact that the NPP's fixation on whipping up sentiments in the religious community is either ineradicable or unstoppable. Only they know why they think that God is on their side and not on that of the other political camps.
For Election 2016, the rush to invoke God and whatever else seen in the spiritual realm by only those favouring an Akufo-Addo victory has assumed ugly dimensions. It is more than ridiculous.

When Akufo-Addo began his five-day tour of the Central Region, the chief at his first point of call set the tone, saying that by appearing before the "gods" (of his own Fante village, I suppose?) for the third time, pleading to be voted into office, he would succeed. The gods would not reject him at the third appeal, he sought to say.

Then, we are told today that "the Queen Mother of Denkyira, Nana Ama Ayensua Saara III, has said that God would make Akufo-Addo Ghana's President (See https://www.ghanaweb.com/GhanaHomePage/NewsArchive/God-will-make-you-president-Queen-mother-to-Akufo-Addo-448831).

Before then, a number of so-called "Men-of-God" had made similar noises, even if they couched theirs in threats to the Ghanaian electorate. We won't bother reiterating their claims, but we want to say that whatever came from them has already created the impression that God has revealed to them the outcome of Election 2016.

It is intriguing how only these people are the beneficiaries of the Supreme deity's (God's) revelation regarding Akufo-Addo's fate. Is God so discriminatory to reveal the outcome of Election 2016 to these people and hide it from the mass of voters whose electoral decision matters most? Why would God tell them in advance what the voters haven't even yet decided to do? I don't believe God is so cheap.

And to think that the local "gods" in the Fante area that have so far been quoted as blessing Akufo-Addo to win Election 2016 adds a different complexion to the joke. So, which is which now? That the Christian God who abhors the local "gods" of these communities is now in cahoots with these same vile "gods" to crown Akufo-Addo's efforts? Surely, water and oil don't mix?

Taking the matter to a higher level, I wonder why the flight into religious sentimentalism should be attractive to Akufo-Addo and his camp. Of course, they may be operating on the warped basis that it is God who appoints Kings. If, indeed, that warped stance is even to be accepted, does it have to take so much muscle-flexing and all that has been happening in Akufo-Addo's case to wake God up so he could endorse his request to become Ghana's President at all costs?
The above question underscores concerns that Akufo-Addo is dangerously desperate. At no time in Ghana's political history has any aspirant done what he is doing, whipping up religious sentiments as if God has blessed him to become Ghana's President but the machinations of human beings detract from it all. This focus on religious sentimentalism is dangerous and must be pointed out as such.

Even if we accept Karl Marx's maxim that religion is the opium (opiate) of the masses (people), we should do so with a clear understanding that whatever is destined to succeed knows no failure. The point is that if Akufo-Addo were really destined to be Ghana's president, he won't have to go all this distance.

Let's just take a quick tour of our post-colonial political scene in Ghana to see how previous leaders emerged:

a. The Great Osagyefo Dr. Kwame Nkrumah was a NOBODY who was brought back to Ghana by the UGCC. By dint of his own natural propensity as a political leader, he weathered the storm to outshine all those who stood against him, including the already-established Dr. J.B. Danquah and the entire UGCC or the later United Party elements. Nkrumah rose from obscurity to stardom without invoking God in any way to drive his campaigns.

b. The traitors who overthrew Nkrumah through the barrel of the gun succeeded in setting themselves up for a rude shock; and they are consigned to the backwoods of Ghanaian politics.

c. Dr. Busia rose to power on the waves of what the anti-Nkrumah traitors had set up; but how long did he last? Even, this NPP's Akufo-Addo's father (Edward) didn't expect to become Ghana's titular President; but when his Fate called, the system responded. He had worked hard to become Ghana's Chief Justice but had no eye on the titular Presidency, even if he had earlier surfaced as one of the "Big Six". He didn't even create any space for his son, this William Nana Addo Dankwa Akufo-Addo, to step into in an attempt to emulate his shining example. He had no room for legacy.

d. Dr. Hilla Limann didn't force himself on anybody. He was a common official in Ghana's Foreign Mission but rose to the highest acclaim when he was favoured by the Imoru Egala team to lead the PNP to victory at Election 1979. His shortlived prominence belongs to history.
e. Jerry Rawlings saw death but survived to become the longest-serving leader of Ghana. He didn't make God the centre of his power-seeking venture. Even his simple attempt to tell Ghanaians that he didn't fear but loved God turned him into a vermin for them to berate.

f. Prof. Atta Mills was a lecturer who caught the eyes of the NDC establishment to succeed Rawlings. neither a politician nor a power-hungry person, he rolled along with the punches to power and left when his Maker called him unto himself. His personal investment in Christianity needs no elaboration, but he didn't drive his politics with any religious sentiments. he didn't win political power by invoking God and mobilizing forces to that effect. he won because he was destined to do so.

g. John Dramani Mahama's rise to fame began from a humble beginning. Even if he inwardly counted on God (or the gods of his Gonja extraction) to move him on, he never made any public demonstration of it. he is still in office, preparing to reach out to Ghanaians to be retained as such.

Here is where the snag appears. Why is it that it is the NPP's Akufo-Addo who is so fixated on God (and the local gods of areas he visits) as the basis for his political electioneering campaigns? Why is he so bent on circumscribing his own political ambitions in everything spiritual? I wonder; I truly wonder.

And for all those invoking the names of God (and the local "gods") to sustain his political manouevres, I wonder what they take Ghanaians for. Ours is not a theocracy but a democracy.

Funnily, though, even in countries whose politics is driven by theocracy, God is not invoked at election time. Rather, it is the electorate who are reached out. So, why is Akufo-Addo wasting time, energy, and resources on this flight to spiritualism? Is it because of the mistaken belief that Ghanaians are spiritually inclined and dumb enough to buy into anything attributed to the Supreme Deity or their local gods?

The fallacy thickens and will materialize sooner than later. Elections are won by those who know how to appeal to the voters with clear-cut, convincing messages. Those who turn to abstractions and phantoms lose out. They may not accept their fate and run around in circles, spiralling themselves out of control; but once their sad fate is determined and sealed, they become a public nuisance.
Let those who think that they can twist God's arms to do their bidding keep deceiving themselves. i will continue to poke fun at them for whatever they are: mere day-dreamers and wishful thinkers!!

I shall return…

Writer's e-mail: mjbokor@yahoo.com