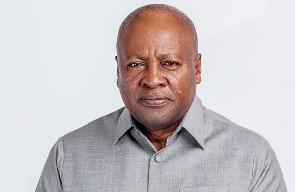 While some of us really appreciate discerning Ghanaians' inexpressible anguish over Mahama's puzzling and desperate attempt to reclaim the presidency, the NDC loyalists, unfortunately, do not anticipate the dire consequences of Mahama returning to the Jubilee House.
We, Ghanaians, and Africans as a whole are possessed with grovelling characteristics of a sordid mind which hates anything quality and rather prefers to worship mediocrity.

Ghana, in all honesty, needs true leadership with vision and ideas, altruistic leadership devoid of vindictiveness, corruption, greed, Incompetence and capable of transforming us into an industrialized and robust economy.

As a matter of fact, some of us cannot get our heads around how and why former President John Dramani Mahama would consider returning to the presidency given the apparent abysmal performance during his tenure in office.

With all due respect with no attached condescension whatsoever, former President Mahama had had enough opportunity to show discerning Ghanaians his ability to steer the nation in the right direction but woefully failed to do so. So, what else does he want at the presidency?

Some concerned Ghanaians thus believe that it would be devilishly suicidal if Mahama was to reclaim the presidency, given the dreadful errors in judgement which led to the business's crippling dumsor amid massive economic collapse(dragged 14% economic growth in 2011 to 3.4%, and 15.4% inflation in 2016).

Indeed, it would only take a doubting Thomas or a disputatious character to suggest that discerning Ghanaians have soon forgotten and forgiven Mahama and NDC administration for keeping Ghanaians in darkness and collapsing businesses for wilfully well over five years.
If you may recall, prior to the 2020 general elections, the reputable Economist Intelligence Unit (EIU) reported that former President John Dramani Mahama was going to find it extremely difficult to convince discerning Ghanaians into accepting that he is the preferable custodian of Ghana's economy, given his average economic performance.

The Economist Intelligence Unit (EIU) 2022 forecast on Ghana, released on April 13, 2022, stresses that unemployment, economic downturn, corruption among others under the Akufo-Addo administration can compel Ghanaians "to seek change"

"Our baseline forecast is that ongoing public dissatisfaction with the slow pace of improvements in governance—such as infrastructure development, job creation and easing of corruption—will trigger anti-incumbency factors and push the electorate to seek a change."

The Economist Intelligence Unit thus predicts that the situation will most likely favour the opposition NDC but not with former President John Dramani Mahama as the flagbearer.

I would like to believe that the EIU's lack of confidence in Mahama as a leader stems from his economic performance (moved economic growth of 14% to 3.4% and single-digit inflation to 15.4%), and the catalogue of alleged bribery and corruption cases, such as the Ford Expedition Vehicle, SADA, GYEEDA, SUBA, SSNIT, MASLOC, NCA, STX housing deal amongst others (four persons have since been convicted and sentenced to prison).

Interestingly, in its 2022 report, the EIU dwells largely on three thematic areas: slow development, job creation and corruption.
The overarching question then is: did Mahama and NDC perform exceedingly better on those indices?

Dearest reader, your guess is as good as mine.

It is quite troubling to see the NDC loyalists whose businesses were wilfully crippled by Mahama's appalling dumsor pathetically clamouring for the return of Ex-President Mahama.

The loyal supporters of Mahama should engage in deep introspection and accept the painful fact that discerning Ghanaians have overcome their supposed memory loss and cannot so soon forget the terrible errors in judgement which culminated in economic hardships amid the business crippling dumsor.

Apparently, the vast majority of unhappy Ghanaians voted against the NDC and Ex-President Mahama in the 2016 election largely due to the unresolved business crippling dumsor.

Nevertheless, the business crippling dumsor has since been brought under control by the NPP administration to the delight of discerning Ghanaians.
While it is true that the Mahama loyalists are moving heaven and earth to help him reclaim the presidency in 2024, the sceptics, both outside and inside the NDC, are insisting that Mahama was not up to the task during his tenure in office and must thus be ditched and replaced with a competent flagbearer.

With all due respect, it would appear that Mahama loyalists are living in a denial. They have indeed lost touch with reality.

In fact, we do not have to look any further than the 2016 and 2020 general election results to acknowledge how Ghanaians were disgusted over Mahama's dreadful errors in decision-making which culminated in the unspeakable dumsor.

That being said, in as much as the sceptics hold the preponderance of the argument about former President Mahama's unpopularity, the diehard supporters will keep cheering him on.

Indeed, the vast majority of the NDC loyalists are living in a denial about former President Mahama's perceived capability and popularity and will thus push him to another embarrassment in 2024.

The all-important question every discerning Ghanaian should be asking the Mahama loyalist is: where is the justification for former President Mahama's popularity and competence when his terrible errors in judgement sent Ghanaians into darkness for well over five years?
How can the diehard supporters convince some of us about former President Mahama's ability to lead Ghana again when he woefully wasted Ghana's scarce resources instead of purchasing fuel to generate power?

Mahama allegedly doled out huge sums of money to all sorts of people who contributed nothing to the nation-building. Madam Akua Donkor of Ghana Freedom Party comes to mind.

In ending, some of us are not oblivious to the negative effects of dumsor and therefore do anticipate the apocalypse of Mahama reclaiming the presidency in 2024.