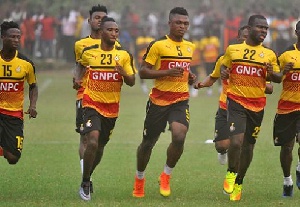 By the time you will be reading this, Ghana would have qualified for the 2015 African Nations Cup tournament in Equatorial Guinea.
This piece will attempt to describe where the team is at, its weaknesses and suggested solutions.

As journalists, we are constantly attacked with the mantra that we do nothing but criticize, but unfortunately, reading as a culture is disappearing and as a result, people will only read the criticism and pay no attention to the proffered solutions.

So you will find that this article would be properly demarcated just so that everyone can see where I am headed with this one.

I will begin with a statement that is bound to spark debate.

For starters, the Black Stars as a team is not as good as we all think it is. Over the last couple of years, the team has steadily retrogressed and from a side that had competition for places, it would appear that certain players believe that they can just walk into the starting eleven.

Performances have suffered as a result and perhaps, that might have culminated in the horror show in Brazil.

Even though Ghana's African Nations Cup qualifying campaign has been an above average one, for the Black Stars to need a point ahead of the team's last game is symptomatic of the fact that things are not as they were a couple of years ago.

Goalkeepers – who stands up to the ball?

As we speak Ghana does not have a first choice goalkeeper. It's funny but true.

Three goalkeepers have been used already in the qualifying campaign in Fatau Dauda, Stephen Adams and Razak Braimah.

Bluntly put, Black Stars goalkeeper's trainer Nassamu Yakubu has to carry the can for that.

What is even more mind-boggling is the fact that Adam Kwarasey, who has had another good season in Norway, was not considered good enough to be first choice during the World Cup, resulting in his dropping after the 1-2 defeat to the United States in Brazil.

I can tell you on authority that Kwarasey feels he has not been fairly treated by Nassamu and that is why he has declined invitations during the current campaign.

People may argue, but Kwarasey should be Ghana's number 1 on current form and if he doesn't want to play for Ghana because he feels that Nassamu is favouring other goalkeepers, then there is a problem.

For starters, the Ghana Football Association has to replace Nassamu Yakubu and quickly too.
There is no time to allow emotions to come into it.

The GFA has to find a new goalkeeper's trainer as soon as possible to restore some level of confidence.

It would immediately bring Kwarasey back into the fold and longer term, it should also lead to proper scouting and training of goalkeepers for the Black Stars.

With less than two months to the tournament, it is not good that a team of the Black Stars' calibre still does not have an established first choice goalkeeper and that needs to be addressed.

Defence – A major Achilles heel

It is an undeniable fact that Ghana's defence has not been in good shape for a long time now and since defeating Lesotho 2-0 in a World Cup qualifier earlier last year, Ghana has not had a clean sheet in any competitive match up till now and that is very worrying.

Defensively, the Black Stars have not been strong at the back and even since John Mensah exited the team, there has been no leader at the back.

I am particularly disappointed, because with the experience he had gained over the years, one would have expected Jonathan Mensah to assume that role.

He has not been bad, but he is not the defensive organizer we all expect.

John Boye had a breakout tournament during AFCON 2012 and he has been steadily going downhill since then.

Yes, people may talk about the cringe-worthy money kissing incident 24 hours before the World Cup match against Portugal, but in truth, Boye began to lose form 12 months earlier.

He should have been sent off in the AFCON 2013 semifinal against Burkina Faso, but inexplicably, Jonathan Pitriopa was rather red carded.

My guess is that once he cemented his place in the starting eleven, he began to get a bit swollen-headed and even his return to the side against Uganda was not as redeeming as he would have hoped.

He made two mistakes that could have resulted in goals for Uganda. Even though he improved against Togo, for me, he needs to be taken out of the firing line.

I cannot understand why the likes of Joseph Attamah and Lawrence Lartey have not been given an opportunity.
This was the central defensive pair that played a major role in Ghana's bronze medal-winning performance at the 2013 FIFA Under 20 World Cup and for my money, either of them is good enough to be given a chance.

I think they should be called up, together with FC Copenhagen's Daniel Amartey and others. It is time to freshen up the backline.

Fortunately, Baba Abdul Rahman has emerged as the long-term solution to the left back problem position, and with the likes of Jeffrey Schlupp around, that position looks well covered now.

Down the right, Ghana seems spoilt for choice now with Harrison Afful, Yaw Frimpong and perhaps Philemon Ofosu Ayeh, when he is called up.

A few new players in should spark competition and improve defensive performances.

Midfield – Good, but needs improving

It is obvious that Rabiu Mohammed needs cover. Many argue with me on this point, but he is probably Ghana's most important player apart from Asamoah Gyan.

He has performed his role as the team's 'water carrier' with distinction and because of that, he is likely to receive more than his fair share of yellow cards for breaking up play, which can result in suspension.

Unfortunately, Afriyie Acquah has not stepped up to the plate and in my opinion, Enoch Adu Kofi is the right person to provide cover for Rabiu.

He is strong in the tackle and reads the game well. He has been active and his UEFA Champions League campaign for Malmo FF is his second in three years.

Seidu Salifu could also be considered.

Kwadwo Asamoah remains an enigma. Technically, he is Ghana's best player but he has not been consistent enough with top performances in the national shirt.

Unfortunately, his versatility has worked against him and that resulted in his role as a makeshift left back for Ghana in Brazil.

The deep-lying playmaker role remains his best position and whoever becomes the head coach during the 2015 AFCON and beyond would have to instill confidence in him.

Solomon Asante and Christian Atsu should be mentored and encouraged, as should Mubarak Wakaso.
I believe Anderlecht's Frank Acheampong should be invited because he gives a lot, including trickery and excellent crosses on the left. He has also played at left back and so will bring a lot into the team.

I do not think Andre Ayew is best suited to the wings anymore.

He is a player for a central role; specifically in the 'hole' behind the lone striker. His is tireless and will also trackback if needed. He provides an aerial threat and so for me, the Marseille midfielder should be deployed in that role.

Attack

This is where I also have a big challenge. I say this because we still haven't found a reliable replacement for Asamoah Gyan.

Gyan has been the team's heart and soul for a few years now, but I think all efforts must be channeled towards finding a suitable replacement in case the Black Stars captain is unavailable.

It saddens me that after winning the golden boot at the FIFA Under 20 World Cup in Turkey, no real effort has been made to monitor the progress of Ebenezer Assifuah and that is regrettable.

The forward has attributes of a very promising striker and if polished, mentored and monitored, he could easily be Gyan's long- term successor.

Personally, I would have included him in the World Cup squad just to gain experience but sadly that has been ignored. I am still puzzled as to why Richmond Boakye Yiadom was not selected for the Uganda and Togo games and why Emmanuel Osei Banahene was selected and not even on the bench in Kampala.

Abdul Majeed Waris is currently suffering a crisis of confidence and Jordan Ayew is hugely talented but needs a consistent run in goal scoring.

I believe Elvis Manu also has to be brought in and I am delighted that the GFA are making efforts on his behalf. John Antwi also needs to be monitored, but for me, Assifuah has to be properly monitored and brought in.

Technical bench

In my view, Maxwell Konadu is a promising coach and would make a fine assistant for incoming head coach Avram Grant.

He may have made certain mistakes but he will learn from them and he has won the respect of the players; some of whom were asking for him to be left in temporary charge for the 2015 AFCON before Grant takes over.

Professor Mintah remains an important member of the backroom staff, especially for his psychological and technical skills, but as I have said, the team needs a new goalkeeper's trainer.
Black Stars Management Committee

I will reiterate that Kwesi Nyantakyi should step down from being Black Stars Management Committee Chairman and hand over the role to someone else so that whether things go right or wrong, whoever is in charge can report back to him.

Indeed, the committee needs to be reconstituted and better relationships would have to be built with the players so are to forestall events like what happened in Brazil.

Indeed, payment of per diems and bonuses in cash should be discouraged and the electronic means of payment should be adopted to eliminate the over focus on money.

Also, the Black Stars Management should, in consultation with the technical team, devise a medium to long-term strategy to ensure that the conveyor belt of talents into the Black Stars constantly works.

It would take the synergy of relationships between the coaches of the Black Satellites and Black Meteors and the Black Stars technical team, as well as effective monitoring and mentoring of players.

Transitionally, the Committee has not lived up to expectations.

After the Black Satellites won bronze at the 2013 FIFA Under 20 World Cup, is it not sad that only one member of that squad, Baba Abdul Rahman is in the Black Stars?

There were so many players in that squad who, with the right kind of mentoring and monitoring, should have been in the Black Stars now.

Again, no plan was put in place to monitor the players who helped Ghana win silver at the 2014 Championship of African Nations (CHAN) tournament in South Africa and that is very bad.

There has to be a plan where players who distinguish themselves at various age-group national teams are well monitored and mentored so that the transition to the Black Stars is never ending. In short, the Black Stars Management Committee has to sit up!

Conclusion

So, whether Ghana will go to Equatorial Guinea or not, these are some of the things that are needed to be done to ensure that the Black Stars as a brand does not lose its standing in years to come.