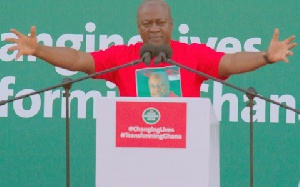 Given former President Mahama's abysmal performance during his tenure of office, it would be boundlessly unconscionable for anybody to suggest that to err is human and therefore he must be pardoned and given another chance in 2020.
And, considering the unobjectionable economic mismanagement in the erstwhile Mahama's administration, I am not least surprised that some concerned supporters within the NDC are expressing their dissatisfaction over the anticipated comeback of former President Mahama.

Ironically, while the Mahama loyalists are moving heaven and earth to have him back as the party's next presidential candidate, the sceptics are insisting that Mahama was not up to the task during his tenure in office and must thus be replaced with a capable flagbearer.

Take, for example, a group of organisers within the opposition NDC recently urged the National Executives of the party to allow Mr Alban Kingsford Sumana Bagbin to go unopposed in the party's forthcoming flagbearership contest (See: Alban Bagbin must go unopposed – NDC organisers; ghananewsagency.org/ghanaweb.com, 12/03/2018).

The extremely disengaged party organisers articulated: "So many people in the party feel Hon. Bagbin is the best person to lead us into 2020 and the reasons are pretty clear: he is the exact contrast to former President John Mahama in the matter of marketability and yet retains the Northern extraction that will satisfy the need to have a Northerner complete an eight-year mandate."

Apparently the spokesperson for the group maintained that since corruption would be a key campaign theme in 2020 and the fact that former President Mahama's administration had serious issues with corruption, Ghanaian voters would be forced to reject him if he was to be elected as the next flagbearer.

If you may recall, the courageous George Boateng was ready to unseat Ex-President Mahama during the 2016 NDC's flagbearership's contest. However, the party apparatchiks controversially blocked George Boateng's presidential ambitions.
But despite the undemocratic and somewhat unfair disqualification of the valiant George Boateng, his loyal supporters and the other disgruntled NDC delegates went ahead and voted against Ex-President Mahama, who bizarrely failed to convince nearly 6% of the delegates. Indeed, the unhappy 6% of the delegates voted for "MR Zero". How bizarre?

Somehow, the aggrieved NDC Party supporters action did not end at the presidential race, but they rather took their protest to the 2016 general elections.

More disturbingly, the unhappy NDC supporters uncharacteristically withdrew their support for Mahama, which resulted in the humiliating defeat in the 2016 general elections.

I would like to believe that it is going to be extremely difficult for the disengaged NDC Party supporters to forgive Ex-President Mahama over his catastrophic errors in judgement.

But all said and done, it would appear that the Mahama loyalists are living in a denial. They have indeed lost touch with the reality.

Given the circumstances, it would not be farfetched to suggest that following their 2016 humiliating election defeat, the brassbound loyalists of Mahama are going through a process similitude to Dr Elisabeth Kubler-Ross's stages of grief.
Dr Elizabeth Kubler-Ross developed the grief model in the 1960s to explain the grieving process. The grief model has since been widely utilised as a method of helping people to understand their reactions to significant change or upheaval.

Dr Kubler-Ross grief model posits that a terminally ill patient for instance, would normally progress through five stages of grief when informed of their illness.

She further proposed that the model could be applied to any dramatic life changing situation, such as the NDC's 2016 humiliating election defeat and the subsequent upheaval.

The five primordial stages of Dr Elizabeth Kubler-Ross's grief are: denial, anger, bargaining, depression and acceptance.

According to Dr Kubler-Ross, during the denial stage, individuals who are grieving over their loss are often unable or unwilling to accept that the loss has actually taken place.

In other words, the grieving individuals would feel as if they are experiencing a bad nightmare and would often hold an elusive conviction that the loss is unreal.
Kubler-Ross explicates that when individuals who are grieving over their loss have gone through denial stage and have thus accepted that the loss has actually occurred, may enter into the anger phase. For instance, they would become extremely angry at the loss and would thus throw tantrums to evince their pains.

In the bargaining phase, according to Kubler-Ross, individuals in the grieving mood, like the supporters of Ex-President Mahama, would relentlessly beg their "leaders'" to do something about the defeat, saying things along the lines like, "We'll not vote if you failed to bring "the former president" (or Mahama ) back ".

Interestingly, however, Kubler-Ross asserts that once it becomes crystal-clear that anger and bargaining are not going to alter the loss, individuals grieving, like the Mahama faithful, may then enter into a depression stage where they come face-to-face with the reality of the loss and their own infelicities that contributed to the loss.

During the depression stage, the grieving supporters may weep bitterly behind the scenes, and, may experience sleep or eating habit changes, or withdraw from other relationships and activities while they process the loss they have suffered.

Some followers may also blame themselves for having caused or in some way contributed to their defeat, whether or not it is justified.

Lastly, according to Dr Kubler-Ross, individuals would enter into a stage of acceptance when they have overcome their initial grief emotions. And, are able to accept that the loss has occurred after all, and cannot be undone, so once again they are able to plan for their future and re-engage in daily life or politics.
Let me ask you dearest reader: don't you feel for the impoverished citizens of Ghana?

Well, if you really feel for the poor and disadvantaged Ghanaians, why is it that you are gleefully clamouring for the heartless individuals, who out of sheer cruelty, embezzled funds meant for development to comeback?

And how did you feel when millions of Cedis originally budgeted to develop our schools were bizarrely spent on bus branding? Wasn't that an illustrative case of a misplaced priority? It would, indeed, have been very helpful if the erstwhile Mahama administration had not wilfully wasted Ghana's scarce resources.

Never before had we witnessed so much scheming guiles, sleazes, corruption and unobjectionable incompetence by an elected government.

With all due respect, it would be boundlessly unconscionable for anybody to suggest that to err is human, and therefore the insensitive Ex-President Mahama must be given another chance so soon to come and mess up the country. Well, I'll rather vote APC or GFP.