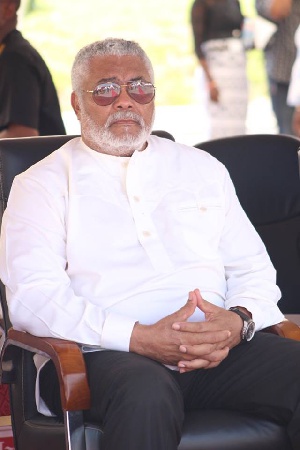 Hypocrisy is worse than corruption! It is much worse than plotting to rob a nation! In fact, it is a crime, and if you ask me, I'll tag it with Treason!
In the days of the madness of the 1979 AFRC stratocracy, Flt Lt Jerry John Rawlings went on an anti-kalabule drive, and "let the blood flow" crime of shedding blood to appease his gods. All that he did in the belief of communism, inspired mainly by two leaders, Fidel Castro and Mu'ammar Gaddafi. However, as the years went by like the street lights from a speeding bus, things changed. Ideals became mere experimental ideas; Beliefs in a cause became the regrets of a menopause; and Heroism became a measure of political cronyism!

Soon, against the principles of the AFRC and the early PNDC, he took moneys from supposed well-wishers. How do I know? Well, at least news flew all over the media that he had taken a $5 million US Dollar gift from the late Saani Abacha, which amount he debunked and reduced to a confirmed $2 million USD. I remember the anti-kalabule days where people were flogged and drilled in public for selling above normal prices. In the minds of the wee smokers on rampage, "normal prices" meant that goods had to be sold for less than cost price. If you think that I am being diabolical here, ask my brother Abdul-Malik Kweku Baako. He'll tell it to you p3333!

J.J.Rawlings' subsequent PNDC junta killed people for possessing more than GHs50,000 (fifty thousand Cedis). In those days, due to the continuation of the "let the blood flow" regime of 1979, people were so scared that they threw their moneys away. Money could be found in heaps at rubbish dumps because the rich could not change their moneys from the old currency to the new one. The ceiling was just 50,000 cedis, unless you knew some big shot in power at the time. I remember, word made the rounds that at one of the rubbish dumps at Nima, an elderly lady found stashes of cash in old currency in addition to funny looking notes in bags and suitcases. She reported to the Nima Police Station. Unfortunately for her, she received a few slaps to silence her. Until today no one knows what happened to that booty of cash some of which turned out to be dollars and pounds, as alleged!

Given this house cleaning scenario that brought a lot of pain to some people, I thought that it was extreme, but a necessary chore, albeit it turned out to be in vain!

So Rawlings' recent endorsement of Jospong, as was peddled in the media when the latter held his thanksgiving party, smacks of a nakedness of ideals and wanton abandon of nationalism that we were made to believe the AFRC and PNDC were all about! Does Rawlings not know that there are numerous allegations of corruption and embezzlement hanging on the shoulders of Jospong? Is he not aware that Jospong, is being investigated for allegedly causing over 2.2 billion cedis in financial losses to the State? Is Rawlings not aware that Jospong was allegedly banned from Liberia and other places for years by the World Bank as a suspiciously corrupt fellow? Is Rawlings not aware that the Equitorial Guinea was refusing to pay moneys allegedly owed Jospong for non-performance? Apparently, as I was told, it had to take the intervention of high profile persons to talk to the President of that nation to have the moneys released!
Let me put it to Rawlings that by his alleged endorsement of Jospong, he has endorsed corruption, thievery, bribery, political prostitution, and oligarchical consolidation of an iron grip on MCEs, DCE's, District Assembly Men and Women, and others relevant to the chopchop agenda of this supposed maverick of corruption.

By allegedly stating that if it had not been for Jospong's benevolence, it would have been difficult for him, Rawlings endorsed institutional corruption, thievery, abuse of the rights of the citizens, abuse of trust, abuse of human rights, and abuse of respect. In fact, not only does this seem to be the case, it is also a gross abuse of senior citizens, children's rights, and the rights of all to a clean environment, which he was and continues to be paid to make happen, but has failed in his inimical attitude towards anything and everything true, proper, and ideal.

So I suggest to Rawlings that he is now in the pocket of Jospong. After all, Jospong is alleged to be the neo-slaver, buying the conscience of politicians, recidivists, and jaundiced journalists!

#ShameOntoYouAll