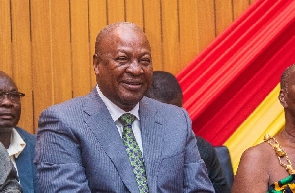 'Tofiakwa'! This word reminds me of my deceased friend, Kwadwo Nkrumah a.k.a Okobo. Whenever a question was put to him regarding whether he would give a position, or offer assistance, to, a particular person that he personally felt did not merit that position, he would move his right hand over his head, crack his fingers and say, 'tofiakwa'.
'Tofiakwa' is an Akan word or expression meaning, 'never ever'. It is a strong emphasis on the fact that the request will never ever be granted.

Now, in my candid opinion as an honest person with the love and prosperity of Ghana at heart, it will be over my dead body and a 'tofiakwa' to have former President John Dramani Mahama elected as the president of Ghana for the second time.

While his number one contestant, Dr. Kwabena Duffour, for the position of NDC flag bearer-cum-presidential-candidate is campaigning on policies, ideas and programmes as to what he will do for Ghana and Ghanaians if he became the president of Ghana, John Mahama is only out there sorely criticising President Nana Akufo-Addo and his NPP government.

He enviously criticises even the very queen or king's tone in which President Nana Akufo-Addo speaks the English language. He mocks him for speaking English in American slangs to deceive Ghanaians to vote for him whereas actually, Nana Akufo-Addo is hollow on governance for bettering the conditions of living of Ghanaians, John Mahama asserts.
Why can't John Mahama campaign on policies, programmes and ideas, telling Ghanaians what he will do better and differently when offered the chance to rule Ghana again, rather than continually destructively criticising President Nana Akufo-Addo and his policies and programmes?

When I compare and contrast, I can only conclude that Mr. John Dramani Mahama does not come anywhere near President Nana Akufo-Addo when it comes to talking about he who overflows with innovative policies and programmes intended for the upliftment of the image of Ghana and the long term conditions of living of the Ghanaian.

Who came up with the idea and implementation of the free Senior High School education? It is obviously Nana Akufo-Addo, although the NDC with their principal liar John Dramani Mahama, claim it is either them, or it was already enshrined in the constitution (sitting there gathering dust), so Nana Akufo-Addo cannot take credit for it.

Who is Mr. John Mahama kidding, if not his miserable self?
I was in Ghana on holiday in February/March 2012, when hectic campaigns were ongoing by the various political parties to win the election.

I watched on television the numerous anti-free Senior High School education adverts made and run a hundred times a day for weeks and months on end by John Dramani Mahama and his NDC to subvert the programme. How could a person and party that were frantically campaigning against that Nana Akufo-Addo's vision of establishing free SHS education in Ghana, if he won the election, now turn around to claim they introduced the free SHS education?

This is one of the many instances that goes to confirm how and why John Dramani Mahama is a liar, hence Rockson Adofo always calling and treating him so in his online publications.

Who introduced the free school dinner in Ghana? Was it not former President John Agyekum Kufuor and his NPP government and then expanded by President Nana Akufo-Addo? Nevertheless, John "Clueless" Mahama who never added anything to it is out there on his campaign tours claiming the free food given to students is not worthy for even dogs to eat, let alone, humans, hence he will review it if he won election 2024.
Was it not John Mahama that sought to cede 75% of the Nyinahini bauxite mineral deposit to his half-sibling, Ibrahim Mahama, a week or so to leaving office after losing election 2016, all against the constitutional requirements for awarding contracts for mining mineral deposits in Ghana? How can a person without respect for the constitution creditably be elected to rule Ghana, unless Ghanaians were stupid and have a short memory as he has publicly teasingly said?

John Mahama does not propose any policy or programme that he will implement to better Ghana but on any platform that he mounts, he criticises President Nana Akufo-Addo with such avidity that confirms how he is deficient in ideas and policies of his own to rule Ghana.

It is only in Ghana that such destructive criticisms of one's political rival can win the criticiser the admiration of his audience or the electorate. If it were in any civilised society, John Mahama would have long been written off as a sore loser.

Who will vote to elect a person without policies and programmes to lead a country, except the voter is a fool?
Dr. Kwabena Duffour is laying bare his policies and programmes in public for all to see, hear and read. What and where are those of John Dramani Mahama? Are his policies and programmes the attacks on, and destructive criticisms of, President Nana Akufo-Addo?

Sorry, Ghanaians will be damn stupid to vote for John Mahama on such criticisms taken for his flagship policies and programmes for improving the conditions of living of the Ghanaian.

Out of the two, Dr. Kwabena Duffour and John Dramani Mahama, which one will you go for if asked to choose between them for the president of Ghana? Bear in mind the Akan proverb that goes, "Ye soma 3ba nyansani, na yen nsoma annamon tenten", to wit, "we send out a wise person on a mission (as an emissary) but not a leggy (long-legged) person"

I hope you will be rational enough when making your choice between Dr. Kwabena Duffour and former President John Dramani Mahama for the NDC flag bearer-cum-presidential-candidate position and eventually, the president of Ghana.