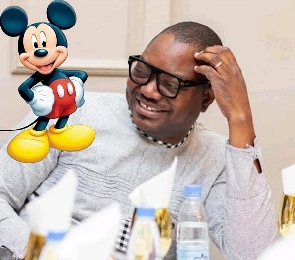 Why is it that a lot of men don't like bathing koraaa like that han? During the rainy season, hmmm! armpit inspections must be carried out. We were born with that habit, or? As adults, we just do it for sheggey reasons bcos it is religious to bath or I dey lie? Bathing no be by force, abeg leave us alone.
Ideally everybody must bath twice a day, once in the morning and once in the evening. Yesterday, I took the day off to rest. I only realise later in the night that I hadn't taken my bath at all but I was very fine thank you and you? Hahahahahahaha!

When I was in Primary 1 circa 1982, Mrs Acheampong, my class teacher asked me how many times I bath in a day and in the bid to impress her in front of the whole class, I said 7 times! That's all! Even with that you could still find sand in my ears and dirty elbow! Yes o! Men o men, clap for us!

I am back again with this matter of multiple wives and the advantages. As for the disadvantages we know but we can manage. Since as Christians, and for every human action, I make reference to the scriptures, I think men would be asked to account for the 6 women each married man is supposed to be with and they are not, officially'! We must be responsible. What did the Bible say in Isaiah 4 verse 1 about this?

'In that day seven women will take hold of one man and say, "We will eat our own food and provide our own clothes; only let us be called by your name. Take away our disgrace!" – Isaiah 4:1 (NIV).

In spite of this wonderful scripture, you are still feeling guilty for touching a single lady apart from your wife? Abeg, you need 6 more to go o, my brother. If God asks you at the heaven's gate how many women you married and you say only one, He may refer you to the scripture in Isaiah 4:1 o, yoo. Ei but only one wife sef, it is not easy o, then 7? What I don't understand is the 'disgrace' at the tail end of the scripture.

'Disgrace' about what? Some of those single fine fine Ladies, please I am available this weekend to be 'taking away' your 'disgrace' o! Come…come…come, no problem! But warning: mommo no dey inside! Hahahahaha!

Out of the seven I have learnt to sort myself out though not necessarily giving all of them my name. One person, my wife has the name and the other 6 will manage small small without it! With the 6 eyi, we will continue to hide and be 'married' secretly! Let me walka pass before it's too late o! It's Fridayyyyyyyyy!

Abeg let this remain between you and I, Mr Francis. If my wife hears this, I will know you are the one who told her since you are the only one I shared this secret with! Because of you, now I keep secrets to myself. Not a single one is shared with anybody because the lips of human beings itch to share what you've shared with them.

Woe on to you if you say: 'this is a secret o'! Hmmm!
Why is it that human beings like doing the opposite of things they have been asked not to do han? Please don't tell anybody o, they would tell and say: 'he says I shouldn't tell anybody o' so keep it to yourself! Hehehehe! You just issued a press release without knowing!

When I was working in Europe some 22 years ago, it's amazing how human beings like me in particular like doing the opposite of things – it is not peculiar to blacks o, the white people also do it; human beings are the same everywhere.

At the entrance to the office, there was an inscription on the door mat that read: 'Please look Up'. There was a very good reason for asking the workers to do that before they proceeded to the main office. Believe me, (even if I am lying) nobody was looking up! So the Management of the factory decided to change it to: 'Please don't look up'. Come and see.

Even me, I would look up three times before entering the main office. Nipa? Nipa? Ei, please I heard there is another dangerous virus that has been with us since creation. No matter how much you pray against it, it won't work; it is called 'Onipa Virus!

Come to offices in Accra and other cities. On the main hinged glass doors mostly is the 'Push' and 'Pull' sign at either side of the door. I am sure you know by now how we ALL do it. 'Push' for 'Pull' and 'Pull' for 'Push'. We often do the opposite before thinking about it, no be so?

If you like tell me, 'Be Faithful', that will be a really really good advice bcos chances are that I will do the opp..., I mean OPD! Don't bring me marital wahala o, yoo.

Yes o that just reminds me. You won't believe that I found myself in an East African country recently and f**lishly decided to drive a car spared me by a friend there to see what's up in town. I was a bit drunk and jumped the traffic light without knowing. The police stopped me and interrogated me:

Policeman: You are under arrest for jumping traffic light. Who are you?

Me: where is the traffic light?
(At this point, he became upset)

Policeman: where are you going?

Me: I don't even know

Policeman: Ei! Are you from this country?

Me: No. is there any problem?

Policeman: Where are you from?

Me: I think Ghana

Policeman: Are you drunk?

Me: How can I be sure? Can you smell anything from my mouth?
Policeman: Do you have a licence?

Me: Which one? TV licence or what?

Policeman: I think I have to go with you to the station now. Let's go.

Me: Where are you going? (I quizzed the policeman).

Policeman: I don't even know

Me: Ei! Looks like you are drunk too

Policeman: How can I be sure? Can you smell anything from my mouth?

The useless dialogue went on and on till he sat in my borrowed car; I feared nothing! Alcohol can be deceptive o. it gives you vim; you don't fear anything!

We drove through town and he showed me the areas especially the boozing spots before seeing me off to my hotel.
He had time for me well well bcos I treated him well well too with some Alommo from Ghana! By the time we returned to where he had arrested me, his supervisor was already waiting to inform him about his immediate dismissal for abandoning post and drinking on the job! That is when he started screaming with his hands on his head: 'I sack myself ooooooooo'!

Then, at my hotel was Mr Gito, the securityman of the hotel. I wondered what that man secures o. He will come and call me so that we will go out and drink and leave the gate ajar. Who cares! It was then that I realised that engaging 'a woman securityman' for a hotel would be better in many ways.

The title of this non-fa was informed by the signage in front of the hotel in that East African country. Apparently, they have never been impressed with male security personnel they had engaged in the past hence their new preference: A Reputable Hotel is looking for: 'WOMAN SECURITY-MAN'.

You see how beautiful women in uniform especially camouflage look like. Usually when they are in the midst of their male counterparts, it is only the pony tail hairdo enclosed in their berets that make them stand out small. Another area to look out for if you want to see a woman soldier-man stand out among her male counterparts is their back. It usually protrudes like a pump action gun! Very fine fine and round.

A woman soldierman I befriended before was amazingly so gentle but I used to fear her anytime she raised her hand in an attempt to express anger especially anytime I was caught telling her lies. I would have married that lady o but… She often told me that to perceive anything as 'difficult' is a state of the mind and left me with these last words: 'If even a woman could survive military training, then nothing should be difficult'!

This is where I have a problem with you o. So you believed it when I said I was in Europe er? At least you can get away with believing that falsehood but to also believe that I have ever travelled to an East African country, then you need help. Me? Who go give me visa sef? Going to do what? God forgive you for your thoughts!

Have a great weekend and remember: 'whatever you wish anyone, good or bad, is what you are actually wishing yourself!