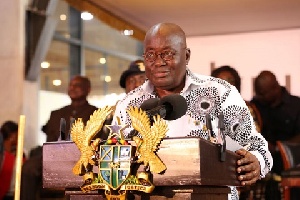 What ingenuity! It is a show of utter love and dedication to be directly linked to the masses that brought the NPP to power having realised that there was nothing in the NDC but hollow promises, shallow mentalities, and an acute lack of pragmatism. Isn't governance all about attending to the needs of the people?
Lord Commey must be enjoying the sweetness of playing a major role in this innovative idea of ruling Ghana in direct consultation with the people. But that is to be expected, after all, he is known to be the best at what he does, and has always been since his descent onto the political landscape of our country. With his irenicism, he managed to get the stakeholders involved to write yet another success story in the matter of the regional tours that the President, Nana Addo Dankwa Akufo-Addo, has tirelessly embarked upon, seeking to keep the people informed of developments in their current affairs.

But it wouldn't come to most people as a surprise that the NDC extremist ideological despots look in the nitty bitty grits of anything NPP to slur the holiness of the Akufo-Addo presidency. In fact, they are more myopic than may be readily understood. For example, the first Hajj flight that left to Mecca a few days ago was criticised in the most desultory way by the very NDC people who superintended over a Hajj board debt of over GHs53million (fifty three million Ghana Cedis). The same empty NDC critics embezzled the hard earned money of over 450 (four hundred and fifty) pilgrims of last year's Hajj season, which was in excess of $1million USD (one million US Dollars, equivalent then to some GHs4.5million - four and half million Ghana Cedis). The NPP's Hajj board is absorbing them this year. That is the difference between honest people of today and the thieves of yesterday!

The NDC, in a frantic effort to reduce the devastating effect of the Presidential initiative on their political fortunes is coming up with all sorts of allegations. The fact that members of the ripped umbrella party were major contributors to the destruction of our water bodies being, hitherto, heavily involved in galamsey are cooking up all sorts of lies to counter the President's resolve to fight this scourge. Asiedu Nketia, Fiifi Kwertey, Felix Ofosu Kwakye, Collins Dauda, Ibrahim Mahama, John Dramani Mahama, and countless more, were said to be galamseyers!

But nothing of their evil plans will work. For as long as we have strong men and women like the Honourable Chief of Staff Hon Frema Opare, Director of Operations at the Presidency Lord Commey, an ingenious communicator as Eugene Arhin, and others, we can be assured that NDC will remain at bay.

In an instance where the President promised to develop the hometown of the late Prof Atta Mills in his memory, the NDC folks began to agitate, but were soon shot down by the will of the people to see justice done for this supposedly murdered Ex-President of Ghana. Yes, murder is the suspicion, yet "okro mouth" Kokoon Anyidoho remains impotently unable to seek the autopsy report of his late Boss in spite of the love that he foxily portrays for him; or was he involved in this conspiracy theory?

Anyways, back to our Presidential tour, what strikes me is the closeness that the NPP government is to the masses. Unlike John Dramani Mahama, who faked everything from love and care to holiness, this tour is a true reflection of the sentiments that the President has always exhibited towards the masses. That has not changed as he is now in Power. The authenticity of one's desire to help their people by ascending to the Presidency is a far cry from the awkwardness of acting it out and that is what separates the goodness in Nana Akufo-Addo from the sullenness of a fake John Dramani Mahama.
And Lord Commey managed to portray that quite clearly. You see, when the position of President is demystified by such humility, the people's concerns are addressed. For example, six months into this administration, the NDC made much noise, as characteristic of empty barrels, about jobs. Well, the NPP promised jobs, yes! And the president is delivering. 500 nurses have so far being absorbed! One district one factory initiative is set to employ record hundreds of thousands. On a personal basis, the initiative I am working on will absorb almost one thousand. Agriculture has already provided jobs for thousands of youth.

In comparison, Okudzeto Ablakwa during the NDC era lied, as he is professionally reputed to, about creating 1.6 million jobs (one million and six hundred thousand jobs). It turned out that the NDC rather cut same by that much. They touted thousands of jobs at the Komenda sugar factory, but it was just a lie. Till date, the factory is inop! Industries shut down or relocated to neighbouring Ivory Coast because investors could not sustain the excessive taxation by and belligerence of the NDC government. That contributed to the loss of millions of jobs. So what are they talking about?

Let me, once again, commend Lord Commey, for putting together this Presidential tour, organising it seamlessly, and making it a success from day one! Kudos.

Oh and all those who seek to vilify this man should understand that he is an "osonoba" of impeccable records. There is also that age old adage that says, "People who live in glass houses should not throw stones!"

GOD bless our homeland Ghana, and make our nation Great and Strong…again!