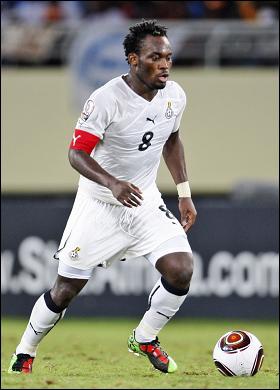 Tue, 1 Apr 2014 Source: Fiifi Anaman/Daily Telegraph
World Cup 2014: Great servant Michael Essien ready for the Ghana swansong he so richly deserves

Michael Essien was calm. Seated across from his interviewer, the cameras rolled, studio lights illuminating his familiar face. He had been asked about his favourite past-time. "I try to sleep as much as I can," he told the BBC interviewer in 2008. "I can sleep anytime, anywhere."


"How many hours a day?" he was asked. "12? 14?"


"Probably 14," he replied, nodding slowly, his lips parting in a mischievous smile. "I love sleep. Give me one minute and I'll sleep for 30 seconds!" He burst out laughing, revealing the warm glow that gracefully complements his calm, unassuming demeanor.


In assessing professionals, sleep is often mentioned in the same breath as laziness and unseriousness. But the Essien story has been a mind-blowing exception.


Essien's career has seen an iconic rise from the dusty fields of Ghana to the well-manicured pitches of Europe, getting to strut his stuff in the biggest competitions and rubbing shoulders with the world's finest talent. It is no mean feat, and only rare gems can sleep that much and still manage to reach such dizzying heights.


In his prime, he was a footballer of supreme quality, a midfielder of a rare generational breed. A consummate professional with an envious skill-set and the indefatigable heart of a cheetah, wide awake on the field of play and frighteningly effective in the execution of his duties.

It was apt that he was nicknamed "the bison" by his teeming fans, with a physical presence in defensive midfield that could be matched by few in the game. He would take to the pitch and perform with such mesmerising command, such passion, such drive. It was impossible to get past him: he went into every tackle with an adrenaline rush that left chills down his opponent's spine.


Perhaps sleep has been his secret to success; an effective catalyst that has seen him transform into a beast of a performer anytime he steps onto the turf. There have been two sides to him since his football journey began in the late 1990s, a paradoxical beauty that has made him an intriguing personality.


On the pitch, he is an immensely committed professional with the merciless aggression of a hungry lion. But off it, he relegates all that fire and fierceness to the background. He loves the quiet life and has that calm, refreshing effect. "I was a good baby," he remembered with an endearing smile. "I didn't disturb."


Essien has always loved his time alone. And in a gruelling career that has seen him suffer many serious injuries, he has needed this distinct trait to endure and to heal. It has helped him dig into the deepest depths of his soul lift to find the last traces of strength to bounce back. And he always has.


In the run up to the 2010 World Cup, Essien suffered his second major anterior cruciate ligament rupture, 18 months after suffering the first, both on national duty. It robbed him off the dream of participating in a second World Cup, and the ensuing months of recovery were long and pain-laden.


The injury forced him into making a tough decision to turn his back on Ghana, his first love. He had always expressed his pride at playing for Ghana, and he had given his all any time he wore the shirt. From being a baby-faced 16-year-old as part of Ghana's bronze-winning Under-17 team at the World Cup in 1999, to evolving into a promising 18-year-old midfield dynamo as part of Ghana's Under-20 World Cup silver-winning class of 2001, through to maturing into a proper bulldozer as part of Ghana's golden generation that qualified the country to its first World Cup in 2006, his journey with Ghana had been a story of deep pride and sacrifice, unyielding commitment and commendable selflessness.

But this time, he had to think about himself for a change. A return wasn't in sight. His love affair with Ghana seemed all but over.


Late last year, after three long speculative years that saw him struggle to reclaim his once indispensable status in his club career, Essien decided to rescind his decision and return for one last hurrah with Ghana, when the Black Stars were three games away from qualifying for the World Cup in Brazil.


Now 31, Essien – who made his senior Ghana debut in 2002 and is currently one of three surviving veterans from Ghana's class of 2006 – might not be the bundle of boundless energy that once defined him as one of the world's most sought after stars, but he still has that rich desire, that fiery mentality that is almost second nature. The 2010 World Cup was supposed to be the global tournament that coincided with his peak years as a footballer and it was sad that the heartbreaking bane of injury took it away from him.


This year, after 12 years of serving Ghana through many highs and lows, Brazil 2014 will possibly be Essien's last World Cup before hanging his international boots. And it will be the swansong he richly deserves

Source: Fiifi Anaman/Daily Telegraph