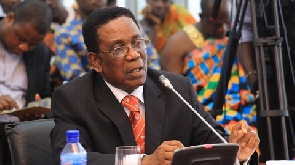 We read in Alice in Wonderland about things getting curiouser and curiouser…
If the future of my country was not involved – education – I would just have laughed it off as a comedy of sorts, involving mistaken identities. That it involves two individuals at the pinnacle of our educational totem is what for me turns it into a tragedy – of sorts.

Two professors with teaching credentials at two of our leading institutions of higher learning, in this, well, tragi-comic setting.

I know a few Yankahs. A common name, it would seem, from one of our ethnic groups. In Ghana, it is typical. One of my favourite Yankahs, a former employee of the defunct Ghana Airways who died a year or so ago, had a way of pronouncing one of my names, which I loved no end! Abdallah, he used to call me. I recall this because, "What's in a name"?

Then there are three Yankah brothers I am quite acquainted with, regarding them as friends (unless they disown me). And another Yankah I had never heard of till a month or so ago.

"What's in a name?"

The protagonists in this drama involve one of the three Yankahs I know and the one I had never heard of till very recently.
It opens in Cape Coast where former President Mahama on his campaign rounds for the NDC presidential primaries, pronounced to his audience that "Free SHS" is being badly implemented. He would review it, he said, to make it better – or words to that effect and for which reason he would convene a national stakeholders meeting, should he return to the presidency after the 2020 elections. He then makes reference to a Professor Yankah who would be part of the human resource in the review process.

The scene then shifts to New York, where President Mahama's successor, Nana Akufo-Addo, steps in with his lines, castigating his predecessor, accusing him of threatening to abolish the scheme.

This sets the scene for their troops to take to the battlements with their weapons to join the battle of words.

The scene shifts to Accra where one of my three Yankah brothers, Professor Kwesi Yankah, Minister responsible for Tertiary Education fires off several stinging missiles towards Mahama, more or less calling Mahama a liar because he, Professor Yankah was not at the place where the former president was addressing his audience and anyway, he would have nothing to do with Mahama in the "unlikely" event that the NDC returned to power after the 2020 elections. He uses very harsh words in a statement put out by his PRO.

In a rather embarrassing riposte, it is pointed out to him that it is a different Professor Yankah being referred to: Professor Victor Yankah of UCC not Professor Kwesi Yankah of Legon and now Minister! At this stage, no need to embellish or belabour this narration, for details are already lodged in the public domain.

Question: Should Mahama have raised the issue of Free SHS? I leave the answer(s) open…
Question: Should Nana Akufo-Addo have responded the way he did? Again, I leave the answer(s) open.

Question: Should Professor Kwesi Yankah have reacted the way he did? Should I leave that one open too? No.

The Professor Kwesi "Kwatriot" Yankah that I know, is more measured than what his PRO put out. In his many years of writing and teaching, his has been a voice of moderation. "The Woes of a Kwatriot" and other writings have been by and large anodyne in nature. Any attempts bordering on the risqué in his oeuvre have usually been couched so as not to cause offence. For him, therefore to condone the words put out by his PRO in this little issue of mistaken identity, has come to me as a surprise and a shock, giving me much cause for concern.

The bile of extreme partisanship must have been so overpowering that he could not hold back the gag in his throat, and for me, what makes me gag is what I thought I knew of the man, now throwing tantrums, grovelling, fawning, and glancing for the approval of Big Brother!

Does this diminish my regard for Prof Kwatriot Yankah? No, not exactly! Just a little disturbed…A fine gentleman, a good teacher/academic and an accomplished writer. My worry: What extreme political partisanship can turn the best of us into…This little drama of Yankah versus Yankah, once again, shows up the widening fissures in our polity: Cannot be the kind of path that leads a nation to greatness…Things are indeed getting curiouser and curiouser, but without the humour, creativity and sparkle...