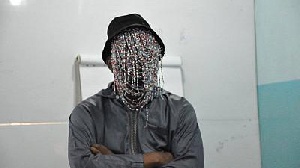 Inspite of the great job Anas has been doing, l expect allegations of blackmail and bribery that have been put out in public against him (Anas) by Kennedy Agyepong to be investigated by Police.
Yes, Mr Agyepong has been raucously accusing Anas of exploiting the considerable influence and heft he (Anas) had amassed over the course of his investigative journalism to extort and receive bribes which he had used to acquire land and property in some plum parts of Accra.

Personally, I take Mr Agyepong's allegations very seriously! Because Mr Agyepong has a pedigree of being a very reliable whistle-blower. More so, l share Orwell's mantra that says that: SAINTS SHOULD ALWAYS BE JUDGED GUILTY UNTIL THEY ARE PROVED INNOCENT. It's this Orwellian test that l'd like to subject Anas to given the job that he does, yes, a muck racker exposing corruption and the corrupt in our midst.

For me, Anas has a near-saintly undertaking and ought to be measured by a much higher bar.
So folks like Kweku Baako, many years Anas' mentor, must stop defending Anas. I find Mr Baako's defense hasty. Being the apotheosis of objective journalism, l had not expected Mr Baako to hurriedly leap to the rescue of his (Anas) protege.

Yes, the investigator must be investigated. Amen!