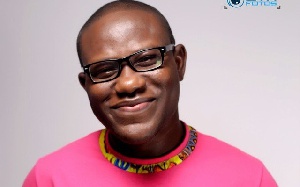 Intermittently, my first day in Pope John Senior High School and Junior Seminary plays back in my mind. When I was escorted by my dad and left alone thereafter to start that phase of life, I knew I was on my own… now. My future was in my hands!
Whether I was going to allow my peers influence me adversely was my choice to make. Whether I was going to allow my seniors bully and deny me of my chop box's pleasure, it was my choice to make, too. Fact is, churning something profitable out of my life was my sole decision to make. I was going to be responsible for my choices and decisions. I was on my own!

Truth is, we all are on our own in this life. It takes a conscious effort to make something great out of your life. It takes a self-driven drive to drive your life to the top! Man is no island. Yes. Man was not made to wholly depend on another either.

Your life is yours… and yours alone. The uncomfortable truth is, no man on Earth cares much about you than you would ever care about yourself. Your happiness is in your hands. Your greatness is in your hands. Your total well-being is in your hands. YOU ARE ON YOUR OWN!

I burst into laughter when I hear others yell for a change in government. Well… a change is government doesn't necessarily mean a change in your life. It is an undeniable fact that government plays a significant role in the lives of its citizens. However, on the whole, your life is in your hands… especially in this part of our world.

Your future is in your hands. Whether you will make use of your talents or not is your decision to make. You are the captain, at least, of your own life! Be in charge of the affairs of your life. Disappointment is what you get when you look up to others for your appointment.
The greatest ill is to leave your destiny in another man's custody. I have met young people who are wasting their lives away because they probably lost a benefactor or helper. Others feel their lives are worth nothing without another person. In this age of women empowerment, some women still think they are nothing without a man. Well… tragedy is when you tie your future to another man's present! Dependence only puts you in a mental fence.

We can't do without God… not another man. You can't afford to put your heart in another man's hands. It's is utterly suicidal to entrust your tomorrow to another man's today. Take charge of your own life. Be the master of it. Be responsible for every decision you take. Be responsible for your successes and, more especially, your failures. Don't blame witches for your failures. If your success is yours alone, why do you want to share your failure?

I'm not the least surprised the western world is miles ahead of us because we are still yet to grasp the fact that we are on our own! We can't be irresponsible and blame spirits for our woes.

We can't keep on importing goods we could have empowered local artisans to produce and later cry, "Buy Made in Ghana goods!" Our woes woefully are the consequences of our decisions.

We are on our own. Africa is ours alone. Ghana is ours alone. What it is today is what it was made yesterday. What it will become tomorrow is what we will make it today.
A corrupt present simply means a corrupt future. A messed up system today simply means a messed up Ghana tomorrow. Whether Ghana will become great or not, it is our choice to make; you and me. A better Ghana won't come from wherever. It will come from within. It is our headache!

The Sarkodies, Amoabengs, Nkrumahs, Otabils among others. These are an epitome of what it means to take one's life into their own hands. Your dream is your headache. You had better carry it yourself… and alone! No one helps others carry their headache. You are the potter of your life. You need to consciously mold it into what you desire it to be. The government won't. Society won't. You only can mold that change you want to see in your life.

Our lives are like a body in a straight line motion. Until we apply force/conscious effort to change the direction or speed, this life will move just as it has always been… forever. Our lives are like clay. If we leave it to mold itself, it would mold into just anything. We need to mold it into that something we yearn to see. Don't leave your life to mold itself. Mold it yourself!

Whatever you desire is achievable. Life would give you anything you ask for as long as you can work for it. Dream. Wake up. Work.

What is your dream? What is your vision? Well… it is in your hands. The politician is probably too busy to help. The only one who can stand between you and your greatness is you! You are on your own.
This Saturday God willing, June 4, 2016, I join my colleague, Patrick Fynn, to launch his maiden book, YOU ARE ON YOUR OWN, at the Bronx View Hotel, Tantra Hill. Time is 4pm. Get a copy of this revolutionary self-help and let's make Ghana a better place to be. You can reach him via +233-548-628-978 or +233-206-718-697 to place your orders.

Great weekend.

The writer is a playwright and the Chief Scribe of Scribe Communications, a writing company in Accra. (www.scribecommltd.com)