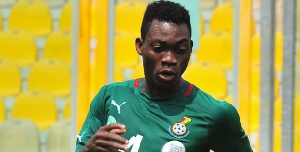 Thu, 28 Jan 2016 Source: Katey Caesar
The world is still waiting for you to spark. I mean your football talent. Once dubbed the new Messi, it looks like the memories of your impressive outings at Porto and the recently ended African Cup of Nations in Equatorial Guinea are quickly fizzling into space. There have been several questions along the line. Football Pundits and the likes have already drawn the conclusion that oh! You are just one of those; a 'one day wonder' chap. But wait; I guess you are twenty-four (24), which means you still have about 10 years to prove them; sorry I mean us wrong. And I say 'us' because I have also been disappointed at times with how things have gone for you. I know injuries have not helped your cause, but I can also add that maybe luck has eluded you.
Guus Hiddink, the Chelsea boss in an interview said that "I think …. Players who don't have much of an option to play [at Chelsea]; they must get the experience of playing weekly. I cannot say much more than this. He (Atsu) is not a young, young player, he is 24 and these guys need to play." By virtue of this, some would argue that you have already wasted the opportunities that you could have blossomed into; Maybe at Chelsea or some other big club in Europe.

But no! Don't be enraged at all. In fact, your case must also become a testimony for others to ride on. Do you remember Didier Drogba? He signed his first pro contract when he was 21.

Wikipedia: "Former Le Mans coach Marc Westerloppe later remarked that "it took Didier four years to be capable of training every day and playing every week".

Furthermore, due to his complicated family life, he never attended a football academy and only began daily football training as a fully grown adult.

By age 21, Drogba realized that he had to establish himself as a player soon or else he would have little chance of becoming a professional footballer.
Today, Drogba's story is a furry tale that we all know.

Atsu, there are more examples I could show you but I believe you could be getting ready for training at this point. I could have called your phone to give you my little advice if this may prove tough to read but please take some little time to go through the final parts of my letter.

I have no doubts about your knowledge of the expectations people have for you now. Ghanaians love you so much and can't wait for you to succeed with both club and country.

I believe your move to play in one of the most respected leagues and teams in the world are no coincidences. La Liga; described as the league with a lot of skill, flair, and nice interplay unlike the rugged Italy or the pacey premiership gives you the opportunity to show people they were completely wrong about you. You love to play. And the Spanish league offers you the perfect opportunity to exhibit your style. Most importantly, the fact that Malaga is a side you can easily break into offers you more platforms to blossom once again.

Please put the disappointments of the past behind you. Put on the garment of victory and show us more of what we saw some few years ago.
Atsu, please use your incredible feet to tell the world that Ghana has a lot more talents of your kind to offer; and like Essien did at Chelsea; please leave an indelible mark on the minds of every football loving fan in Spain.

We can't wait to see you in action once again and I hope you have realized the immensity of this chance even before your receive this letter. Thanks for your audience.

Yours truly,

Katey Caesar
Source: Katey Caesar