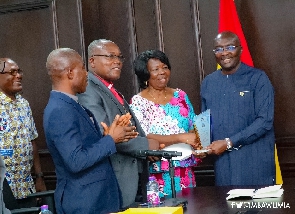 Vice President Dr Mahamudu Bawumia has said harmonious religious diversity and acceptance is vital for the nation's development.
Dr Bawumia said this when he received the leadership of the Evangelical Presbyterian Church, Ghana led by the Moderator, Rt Rev Lt Col Bliss Divine Kofi Agbeko (Rtd) in his office at the Jubilee House today, Wednesday, 22 February 2023.

The delegation was at Jubilee House to among others, express appreciation to Dr Bawumia for his active participation in the launch of the Church's 175th Anniversary celebrations, and to pray for the nation.
The Vice President commended the leadership of the EP Church, and all religious leaders, for their continued efforts in nation-building.