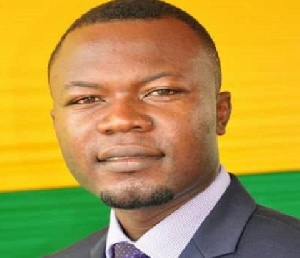 A leading member of the NPP Communications Team, Mr. Sylvester Gomado has sworn to join workers on site when the construction of the National Cathedral starts, indicating that he will dedicate one day each week to help put up the Cathedral.
According to Mr. Gomado, he is convinced that putting up a National Cathedral will be a major symbolic honor to God for all the blessings he has showered on the country, since independence.

He said Ghana has been blessed with peace, stability and economic progress since independence and since 1992, has maintained its longest republican status. "We have not gone through any nasty civil war, neither have we had to seek refuge in someone else's country and we have gone through seven (7) successful peaceful elections, something not all African countries can boast of", he stated.

Mr. Sylvester Gomado, who is also the Constituency Secretary for Gomoa East in the Central Region argued that it was easy for people to take for granted "goodies" that are available to them every day while losing sight of the Hand of God in their life.

He described as moot, the position by some, that funds meant for construction of the cathedral can be used to provide alternative social amenities, arguing that the funds used to construct ceremonial edifices like the Accra International Conference Center and Jubilee House could have been used to provide other infrastructure. "But when will we ever finish with those infrastructure?" he quizzed.

Mr. Gomado lauded President Nana Addo Dankwa Akufo-Addo for taking such a spiritually fulfilling initiative stating that the President has shown gratitude and reverence to God for bringing the Nation this far.
He advised persons, especially Christians raising worldly reasons against the construction of the National Cathedral to search deep within themselves to find out the relevance of their existence here on earth, without God in them.

Eliciting wisdom from the late Martin Luther King's popular quote, "The time is always right to do what is right", Mr. Gomado said everything good that has happened in this country came about against some opposition; even the renaming of Gold Coast to Ghana was opposed. Like similar calls made before the implementation of Free SHS, he said, calls by some people for the completion of all infrastructure project before turning to the Cathedral is synonymous to a call never to honor God with a national place of worship.

The National Cathedral of Ghana is a planned interdenominational Christian Cathedral which is scheduled to be built in Accra, the capital city of the country. It is expected to have an auditorium seating capacity of 5000 as well as the requisite chapels and a baptistery. The site will also house a music school, an art gallery, and a museum dedicated to the Bible.