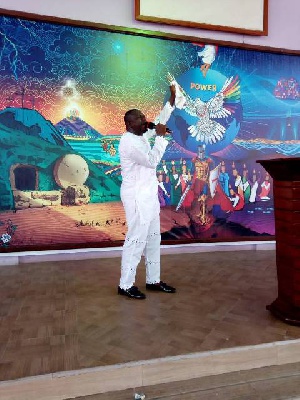 The Seekers Temple of the International Central Gospel Church (ICGC), will on April 22 launch its anniversary celebration to mark seven years of God's abundant grace to the Church.
The church, which started in a classroom at Ashongman Estate Accra, under the tutelage of Pastor Emmanuel Osei Bediako Dinkunim has grown in leaps and bounds, now fellowships from its own auditorium at Bohye-Mangolane New Ashongman in Accra.

The general theme for the anniversary: "Grace to Pursue Perfection."

In an interview with the Ghana News Agency (GNA) in Accra, Pastor Bediako Dinkunim, said "the grace that kept Noah going in the midst of tribulation; the grace that found Apostle Paul in sin and guided him through prison to achieve uncommon exploits had kept the Seekers Temple through seven years of Christian service".

He said the church had therefore outlined series of activities to commemorate the successes, highlight the challenges of the church and hopefully win more souls.

He said the weeklong celebration would include evening church programmes from Monday April 23 to Friday April 27 at 18:00 hours.
Pastor Bediako Dinkunim said the anniversary would be climaxed with an anniversary church service on Saturday April 29 at the church's premises.

According to the Head Pastor, some of the invited pastors to grace the occasion include; Rev. Eric Xexemeku, the Head Pastor of ICGC Open Heavens Temple, East Legon; and Rev Samuel Wiafe Asante, the Head Pastor of ICGC Liberty Temple, Ashongman Estate.

Others are, Rev. Alexander Botchway, the Head Pastor of ICGC Kings Temple and Rev. Ismaila Awudu, the Head Pastor of ICGC Yahweh Temple, East Legon.

Climaxing the activities would be the special anniversary Sunday Service on April 29 with Rev. Botchway as the guest speaker as well as the chairman of the anniversary.