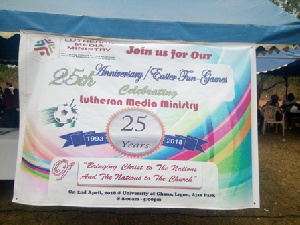 The Lutheran Media Ministry, Ghana (LMMG) on Easter Monday commemorated its 25th anniversary with fun games to climax the Easter festivities.
Five Lutheran Churches participated in the fun games, which included 100 metre race for the youth, 50 metre walk for the elderly, thread and needle for female youth, filling the bottle and musical chairs for children and sword drill among others.

The participating churches were St. Paul's Lutheran Church, Kanda; All Saints Lutheran Church, Anyaa; Peace Lutheran Church, Ayikope; St. Peters Lutheran Church, Madina; and Grace Lutheran Church, Dome.

Mr Ekow Coleman, the Board Chairman of LMMG congratulated the members of the Lutheran Churches for supporting its vision of "Bringing Christ to the Nations and the Nations to the church," over the years.

He said over the past 25 years, the Media Ministry had been undertaking activities like Easter Soup and fun games to unite the Lutheran Churches.

Mr Coleman said the Ministry had been reaching out to communities with the word of God and food during festive seasons.

He called on all followers of Christ to view the Easter season as a time for regeneration and take their Christian life serious to become more like Christ.
The Reverend John Shadrack Donkor, the President Elect of Evangelical Lutheran Church, Ghana urged members of the Lutheran Churches to remain united towards the goal of bringing more people to God and remain united in Christ Jesus.

Mr Kwasi Nyantakyi Sarpong, the Programmes Manager for LMMG said in an interview with the Ghana News Agency that the Ministry has over the years, been working in the localities in fulfilment of the group's aim.

He said the main aim of the LMMG is to proclaim the Gospel of Jesus Christ to all people and serve as a link with the Church.

He said the Ministry was committed to the production of contextual Christian programmes for media outreach and coordinating with ongoing ministry of Churches in the country.

The media ministry, which started in 1993 from Accra has reached out to nine regions with God's message of hope and also by responding to the social, physical and moral needs of people.

At the end of the fun games, All Saints Lutheran Church from Anyaa emerged the overall winners and followed by Saint Paul's Lutheran Church from Kanda.