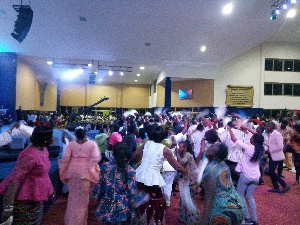 Rev. Fr. Collins Yeboah, a Formator at the St. Joseph Minor Seminary and Senior High School at Asante Mampong, has stated the need for Ghanaians to be united all the time for national development.
In his Easter Sunday Homily at Asante-Akyem Domeabra to mark the resurrection of the Lord Jesus Christ feast Fr Yeboah explained that as the death and the resurrection of Christ Jesus brought oneness , unity, peace and freedom to the world so were Ghanaians expected to live in oneness in all activities they do to strengthen the unity and peace they have in the country.

He mentioned that the spirit of oneness would only work if Ghanaians learnt from Christ Jesus as He humbled Himself by obeying the acts of His father in heaven to sacrifice for mankind to be saved.

Fr Yeboah, said it was time for Ghanaians to learn to love and forgive one another and also bury their political and religious differences when discussing issues of national concern so to help to develop the national.
He entreated to use the celebration of the Easter to promote fair justice, love, unity, hard work and peace in their lives to be an example for others to emulate from them.

At the St Anthony Catholic Church at Ejisu in the Ashanti Region, Rev. Fr. Stephen Asante Barkoe, Parish Priest of the Church, told the congregation that the Easter story gave assurance that God related well with mankind besides all their sinful deeds.

He explained that the faith in the risen Lord should give assurance that there was good future for everybody and cautioned them against the acts of sinful deeds and live life worthy of emulation to draw other people to Christ Jesus.