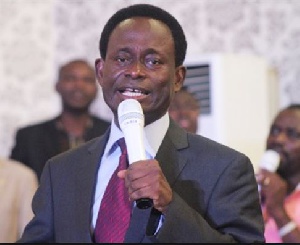 Chairman of the Church of Pentecost Apostle Prof. Opoku Onyinah has condemned a growing tendency of some 'prophets' who go public with their doom prophecies.
He said it is needless and wrong to stand in public to relay what one believes to be a message from God which could spell grave danger to the object of the message.

His comments follow a plethora of claims by 'prophets' who said they predicted the death of the rising 20-year old music star Ebony Reigns, born Priscilla Opoku Kwarteng.

Some also claim to know who killed Priscilla Opoku Kwarteng who died in a car crash last Thursday.

The revelations and declarations have aroused controversy over what some see as a fame-seeking opportunity by self-styled men of God.

Explaining the subject of prophecy, the Chairman of the Church of Pentecost said in an interview on Accra-based Okay FM Monday, there are two types of prophecies - conditional and certain.
He said God can reveal impending danger or disaster if a person or a nation continues to live in sin. This type requires that a person repents and changes some habits or behaviour.

But God can also make decrees which are certain to happen without any condition, he said.

Apostle Opoku Onyinah said standing in public to deliver death or doom messages about people could open up the person to criminals who could take advantage of the message to perpetuate their own evil agenda.

He said the proper steps to take when one receives a divine revelation is to relay the message to its intended target and help the person in prayer.

Even when revealing these uncomfortable messages, one requires wisdom so as not to create panic.
Prof. Onyinah who is also chairman of the Ghana Pentecostal and Charismatic Council referred to a story in the Bible in which a prophet died after he revealed a message he was not supposed to disclose.

The respected Pentecostal leader said it could be a futile exercise to attribute a person's death to some behaviour because God works in mysterious ways.

Apostle Opoku Onyinah said while Saul committed what appears to be a minor sin, God rejected him. But when his successor, David committed what appears to be a serious sin of adultery, God spared him his life and maintained him as king of Israel.

The chairman laughed off what he described as 'trial-and-error' prophecies in which death is predicted to happen to some prominent or popular people in society.

This is because there are so many artistes, pastors, politicians, and chiefs and if any of them dies, it should not be surprising.
The Christian leader who has been in full-time ministry for more than 41 years recalled that someone claimed he was going to die by December following his election as the next leader of the Church of Pentecost in 2008.

But he is in his 10th year as chairman and is set to retire by the close of the year.

The chairman said only a love for worldly fame would inspire a person to go public with a serious revelation about the death about an individual.

He urged those who believe to have the gift of prophecy to be humble and not seek for fame because all glory belongs to God.

The Apostle who leads a worldwide Pentecostal church of an estimated three million members referred to Christ's exhortation to his servants to consider themselves unworthy of praise even when they are used mightily by God.
He expressed worry about the emergence of fake prophets and urged Christians to focus on God and not look around for prophecies or look to prophets for help.

Every good thing has a counterfeit, he said making the point many prophets are looking to make money from vulnerable Christians.

The Apostle is an author of numerous books and articles including: "Pentecostals & Charismatics,""Spiritual Warfare," "Resting In The Lord," "Are Two Persons The Same?" "Pressure of Success," "Taking The Ultimate Step In Marriage" and "African Christianity In The 21st Century."