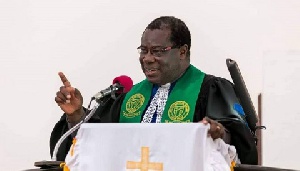 The General Assembly of the Presbyterian Church of Ghana has elected Rev. Prof. Joseph Obiri Yeboah Mante as the New Moderator of the Church.
The General Assembly, which is the highest decision making body of the Church, elected the new Moderator Wednesday night August 23, 2018 at the end of the 18th General Assembly at the Christ Congregation at Akropong Akuapem in the Eastern Region.

It was under the theme: "Go and Make Disciples of All Nations" -(Mathew 28:19).

Rev. Prof. Mante who was contested by three other hopefuls won but could not pull the 70% votes as required by the Constitution of the Church during the first round therefore a second round of voting was expected, but the other contestants stepped down hence went through popular acclamation.

The new moderator succeeds Rev. Prof. Cephas Narh Omenyo who could not seek re-election due to chronic illness which rendered him ineffective a few months after he was elected Moderator in 2016.

This is at least the third time Rev. Mante has contested the moderator position.
Rev. Prof. JOY Mante, PhD is the immediate past President of the Trinity Theological Seminary, Legon. He holds an MA, MPhil and PhD in Systematic Theology and Philosophy of Religion from Claremont Graduate University, Claremont, California in USA. Prof. Mante has served as the Board Chairman of Adom Foundation since 1996 and also currently serves on the National Accreditation Board of Ghana.

He has served on many committees and boards in Ghana and abroad over the past 20 years including the Presbyterian University College of Ghana, Presbyterian Women's College of Education, and the World Alliance of Reformed Churches in Geneva, Switzerland.

He has been a minister of the gospel in the Presbyterian Church of Ghana since 1981 and he served as the Akuapem Presbytery Chairperson from 2006 to 2011.

Prof. Mante also hosted the GTV Show entitled "In the Light" for four straight years. He and Mrs. Mante are the co founders of Adom Foundation Ghana and they plan to see the organization help many more children.