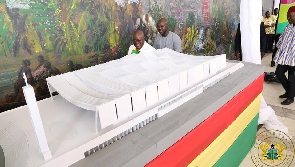 The Builsa South Member of Parliament, Dr. Clement Apaak has stated that religious edifices do not foster unity.
The Akufo-Addo led-government has spent a whopping amount of almost GHC340 million on the construction of the controversial national cathedral by the close of December 2022.

This includes an amount of GHC113 million paid directly to the Consultant, Sir David Adjaye and GHC225 million paid directly to the Secretariat.

The Executive Director of the National Cathedral Secretariat, Dr. Paul Poku Mensah made this known in a status report on the National Cathedral delivered at the Bible Reading Marathon Thanksgiving Service at the project site on Tuesday, January 2, 2023.

But the Builsa South lawmaker has expressed worry on why the government should prioritize the construction of a Cathedral over other important national concerns such as the cut on capitation grants and feeding grants for special schools.  

In a tweet Mr. Apaak asked "Mr. President, Houphouët-Boigny built a basilica, the largest in the world, in Yamoussoukro, did it avert war in Ivory Coast?

"Religious edifices don't foster unity neither do they insulate society against civil strife or war, the conduct of human beings and their interactions do.
He continued: "Vehemently opposing the use of public resources to build a (needless) cathedral in times of debilitating hardship is not just Christian but Godly."

"How can you justify building a cathedral when you have drastically cut capitation grants and feeding grants for Special Schools?" the Builsa South MP queried.

However, the Executive Director for the National Cathedral Secretariat has also expressed displeasure over what he described as a misrepresentation of facts on the project by some Members of Parliament.

"While projects of this nature will always have discontent, we are nonetheless concerned about the misrepresentations particularly when it comes from Members of Parliament.

"For instance, the continued misrepresentation of the contract to the consultants is worrying as none of the amount bandied around comes anywhere near the contract amount. Rather than 34% that they said we'd paid the architect, actually, the contract figure is 12.5% when the Ministry of Works and Housing allows for 15.5%.

"And the 12.5% will not change irrespective of what happens to the total cost. More critically, the contract is not for an architect, but for a set of consultants' services involving 15 international and Ghanaian firms of which Sir David Adjaye Associates is the lead consultant."