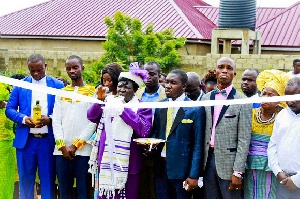 Sat, 30 Jun 2018 Source: Promise Afelete
The Founder and Presiding Bishop of the Strong Faith Family Chapel International (SFFCI), Apostle Bishop Grace Nkuah Mensah has opened a new branch of SFFCI at Doblo Gonno -Kpota near Amasaman in the Greater Accra Region.
The new branch, Bethel Temple, was dedicated by Apostle Bishop Mensah together with Joseph Nkuah Mensah son and Personal Assistant to the Apostle Bishop, Delegates from the Headquarters-Adomfie opposite Chantan Market- and Rehoboth Temple at Kasoa.

The presiding Pastor of Bethel Temple- Pastor Emmanuel Coffie, Deacon Mr. Oware and Deaconess Mrs. Cynthia Oware.

Also present at the dedication were Associate Pastors, Elders, Deacons, Deaconesses and members of SFFCI Bethel Temple.

Speaking before the dedication, the Founder, Apostle Bishop Grace Nkuah Mensah, who had her Episcopal Consecration recently, said the dedication coincides with the First Anniversary of the Bethel Temple Doblo Gonno (Kpota) and expressed her profound gratitude to the Presiding Pastor, Deacons, Deaconesses and members of SFFCI Bethel Temple for sustaining the branch since its inception in June 2017.

She was particularly grateful to Mr. and Mrs. Oware who double up as Deacon and Deaconess respectively of the SFFCI Bethel Temple and the Oware family for consenting that the SFFCI Bethel Temple be situated on their compound.


She encouraged all members to continue with the good work and to win more souls for the branch.

She was optimistic that the SFFCI Bethel Temple would grow to become a more successful and vibrant church where members would be groomed in the fear and knowledge of God, while the blessings of the Lord abounded on them in the various aspects of their lives including finances, employment, health, marriage and family lives among others.

The Presiding Pastor of SFFCI Bethel Temple, Doblo Gonno (Kpota), Pastor Emmanuel Coffie in an address, was grateful to the Founder, Apostle Bishop G. N. Mensah for her keen leadership and great support for the SFFCI Bethel Temple so far. He prayed that the Lord would bless her with good health and increase her anointing to continue in her Apostolic Ministry.

He also expressed appreciation to the Delegates who joined her from the Headquarters and the Kasoa Branch of SFFCI for being a part of the dedication and prayed for God's blessings for them.

He then thanked Deacon and Deaconess Oware, Elders and members of the Bethel Temple for their team spirit and tremendous support over the few months. He asked for God's blessings and favor for them and called on them to do even more to support him in growing the branch.

After some activities, the Apostle Bishop and the whole congregation moved to cut sword to dedicate the SFFCI Bethel Temple amidst prayers and singing.
Source: Promise Afelete