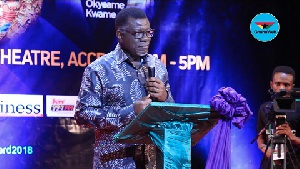 The founder and leader of the International Central Gospel Church (ICGC) Pastor Mensah Otabil has advised that the youth with more emphases to the ladies to focus on life and desist from wasting time on older men.
He said, the majority of pretty people, especially ladies do not use their potentials at their youthful ages.

He made the statement in reference to the statement made by the controversial celebrity Moesha Boduong while in an interview international Journalist from CNN Christiane Amanpour.

The pastor while delivering on a sermon themed "Abundance", said abundance may come in the form of beauty and if not harnessed well between the ages of 18 to 20 years, one may regret at the age of 35.

He said, "Abundance comes, maybe when you have abundance of beauty. …Sometimes you see an 18-year-old, 19-year-old, 20-year-old young lady going out with a 55-year-old man. You have abundance of beauty, but you are not harnessing your moment well because one of these days, you'll be 35[-years-old] and at 35, you'd realise: 'Wow, I wasted my time on that old man!' Now every young man who should have married you, thinks you are old, used, and discarded. That's when people [ladies] start going to church, worshiping, fasting and praying and hoping that God will turn things around."

"Abundance becomes abundance of strength, abundance of beauty, abundance of job opportunities – when you have so much, people are giving you jobs or abundance of time, when you are young, you have so much time, or abundance of popularity. Don't ever deceive yourself that the years of abundance will be forever. There will be a year of scarcity as predictable as the years of abundance are," he said.


The pastor has become the talk of many citizens on the country after making a controversial statement about a month ago saying he preferred watching animals to watching Ghana television.

video=33345>

He had said that the only thing the Ghana channels deliver is politics and nothing captivating.