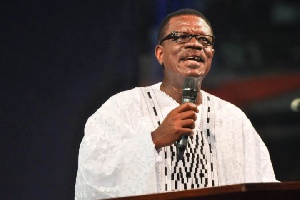 General Overseer of the International Central Gospel Church (ICGC), Dr Mensa Otabil is making a case for the government to use wisdom in dealing with how to make more money from Ghana's oil reserves.
One of the major oil giants in the world, Exxon Mobil, is about to sign an agreement with the government to explore oil in Ghana.

This is a big deal for Ghana since this company called Exxon Mobil has profits double or triple the GDP of Ghana.

Taking to his Twitter handle, Mensa Otabil says the government must use the power of their minds to achieve wealth in the sector.
"The key to Ghana's development is not black gold; the key to Ghana's development is grey matter. Our wealth resides in our heads. Our greatness lies in the wisdom we can harness as a people to turn this oil resource into a huge industrial boom for our nation," Mensa Otabil stated.

Exxon Mobil is touted as the world's largest integrated international oil company with daily production of about 4 million barrels of oil equivalent (BOE) and with revenue stream worth $218.6 billion as of 2016.