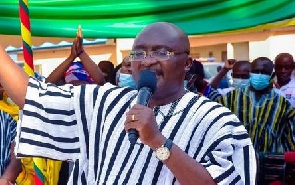 Wed, 8 Mar 2023 Source: GNA
Vice President Dr Mahamudu Bawumia has been commended for his commitment to strengthening religious tolerance and diversity, which has helped to consolidate peace and social cohesion.
"As an astute Muslim, his ability to relate with and bring Christians, Muslims and other religious sects in the country together has consolidated national peace and social cohesion", Yaw Dabie Appiah Mensah, a leading member of the New Patriotic Party (NPP), has said.

In an interview with the Ghana News Agency (GNA) in Sunyani, Appiah Mensah said: "With these traits, the Vice President remains the best presidential candidate for the NPP to win more votes in Election 2024".

He said peace and unity were important prerequisites to growing Ghana's fledgling democracy and those qualities the Vice President had proven he had.
Touching on former President John Dramani Mahama's campaign promise to scrap the ex-gratia and review the conditions of service of Article 71 office holders, the former NPP organiser in the then Brong-Ahafo Region, said it was one of the "political gimmicks to throw the dust into the eyes of the public".

"Apphiah Mahama has had the chance to serve the nation before and, as the greatest beneficiary of the ex-gratia, I wonder why the NDC leader is now advocating its scrap."
Source: GNA