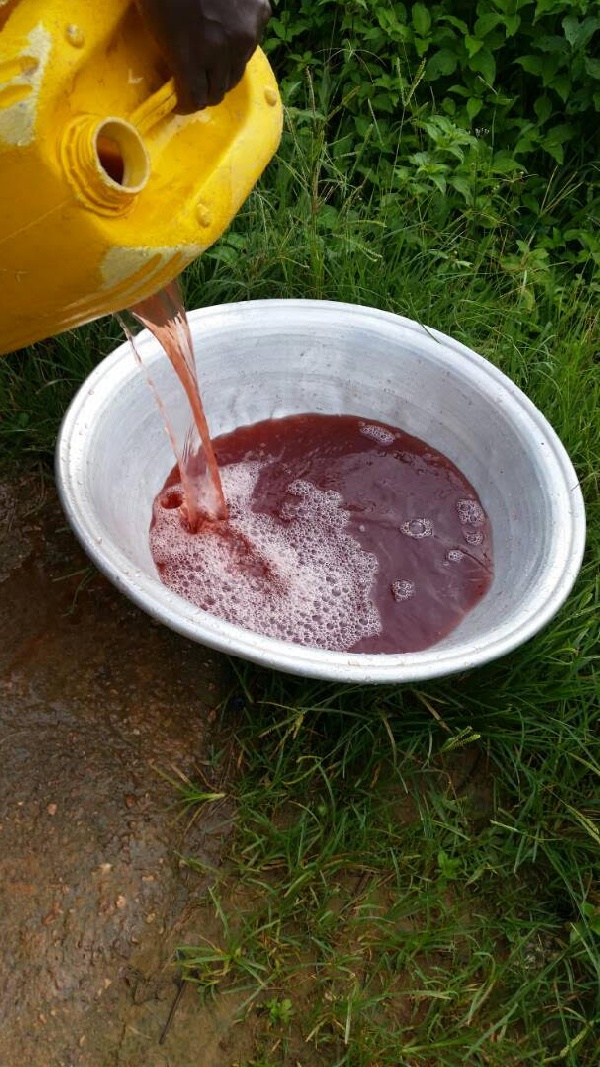 ▶ Click Here for Full AFCON Coverage ◀
It seems the Nsukwa river at Koforidua in the Eastern Region which turned 'bloody' red will not be the last as residents of Asudei in the Ahafo Ano South district in the Ashanti Region woke up to witness a similar occurrence but this time in a well water.
The 100ft water well which is situated within a Jerusalem prayer camp in the district which turned bloody red has seen residents trooping in to witness the highly unusual incident.

According to Mensah Abrompah of Kumasi based Fox FM, residents could not explain what could have caused the water to turn red because they have been using water from the well for the past 9years since it was built.

"Residents who fetch water from the well are completely shocked with what they have seen here and if you fetch some of the water from the well, it would not be farfetched to think that this is more spiritual than physical because the well in question is always covered and the possibility of it being contaminated with something is slim per what I myself have seen," Mensah Abrompah told Boamah Darko on the 'Maakye' educative program on Accra-based Hot 93.9FM.
However, Prophetess Grace Agude, head of Jerusalem Prayer Camp who also confirmed the incident to Boamah Darko said, "when I came to establish this prayer camp 9years ago, I had several messages from God telling me that he was going to perform a miracle that will surprise us all which I forgot because it was a long time ago but just yesterday, I heard the voice of the Holy Spirit telling me to go to where the well was, so I obeyed and on reaching there, I was instructed by the voice to fetch water from the well and when I did, I was astonished to see that the water we have been using for years have turned into blood."

She added, "The voice then told me to close the well and open it on October 25th, 2017 where it will be a source of healing for sicknesses and other spiritual problems."