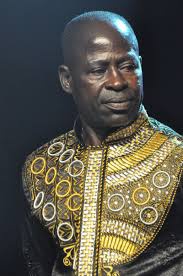 Date of Birth:

1958-01-05

Place of Birth:

Agogo, Ghana
Dan Amakye Dede is a Ghanaian highlife musician. He is also often referred to as "Iron Boy", and "Abrantie".
He was born on 5 January 1958 in Agogo, Ashanti Region, Ghana, and a product of the Agogo Roman School.
In 1979, he was the composer and vocalist of the Kumapim Royals. The was led by Akwasi Ampofo Agyei (AAA) with hit songs including "Wanware Me A", "Ohohoo Batani", "Abebi Bewua Eso", and "Odo Mani Agyina".
Amakye Dede formed his own band in 1980 called the Apollo High Kings.
He has 20 albums to his name experimenting with different genres: soca, calypso, lovers of rock,s, and pop music.
On >On 2 January 2016, he was involved in an accident that killed his manager and seriously injured his bodyguard.
Amakye Dede is also a sub-Chief at Agogo in the Asante Akim traditional area
His popular songs include "Handkerchief", "Seniwa", "Brebrebe yi", "Mensuro", "Mabre", "Broken Promises", "Nsuo Amuna", "Sokoo na mmaa pe", "Kose kose", "Dabi dabi", "Mefre wo", "Okyena sesei", "Odo nfonii", "Nka akyi", "M'ani agyina", "To be a man na war", and "Iron Boy".
www.ghanaweb.com