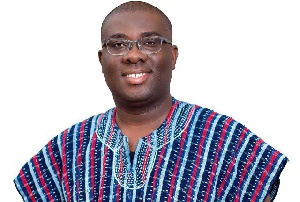 Date of Birth:

1984-04-10

Place of Birth:

Koforidua, Ghana
Samuel Awuku is a Ghanaian politician and a member of the New Patriotic Party and the National Organiser of the party. He is also the Board Chairman of the National Youth Employment Agency (YEA) and was the former Deputy Communications Director, National Youth Organiser of the party.
He was born on 10 April 1984 and bred in Koforidua, Ghana, and the last of four children, being the only male. For his basic education, he attended the Nana Kwaku Boateng Experimental School and then the St. Augustine's College in Cape Coast for his senior high school education.
He has a certificate in Political Science and Psychology from the University of Ghana. Sammi also holds a Diploma in Law from the University of London as well as a master's degree in International Relations from the Free University of Berlin in Germany.
He was a member of the political community, contesting for the presidency of the Student Representative Council while studying at the University of Ghana.
Sammi Awuku was the Communications Directorate of the New Patriotic Party between 2011 to 2013, assisting Nana Akomea, the then Director of Communications before his appointment as National Youth Organiser in April 2014.
He was charged with contempt of the highest court of the land by the Supreme Court of Ghana during the 2012 Election Petition hearing and was pardoned after pleading guilty and showing remorse.
Sammi Awuku was named among five others in the Influential Young Ghanaians ranking in 2016.
www.ghanaweb.com