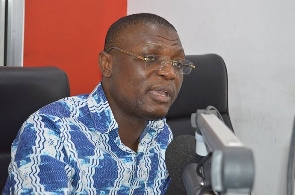 Kofi Adams, Member of Parliament for Buem Constituency has admitted photographing his ballot in the March 24 vote in respect of approval of some eight nominees of President Nana Addo Dankwa Akufo-Addo.
The Minority had issued a three-line whip for members to reject the six ministerial nominees and two supreme court justices of Akufo-Addo but all eight persons were passed after a secret ballot.

The outcome meant that some National Democratic Congress (NDC) MPs voted against the party's orders, which situation has led to a hunt for the rebel MPs.

Kofi Adams, speaking on Joy News' PM Express programme (March 27) said it was specific MPs that had offended Ghanaians and the NDC not all of them.

"They have actually offended Ghanaians by their actions, they have offended the party by their actions so there is the need for some serious action to be taken.

"My comrade and I, we prefer working with may be a 90 member, that I trusted than a 137 that you can never trust. Look, we needed the energy by having the 137 voting the way Ghanaians wanted to propel us," he stressed.
The comrade in question was Ibrahim Murtala Mohammed, MP for Tamale Central, who was also on the programme.

"This was a free bonanza for our preparation towards 2024 if we had done what Ghanaians expected of us. That is why today, you have persons who say the NDC has failed us. Even though it is not the NDC as a corporate entity.

"You must make a distinction between the individual members who have failed the NDC," Kofi Adams stressed.

You can also watch this episode of People & Places here:


Watch the latest episode of The Lowdown below:



SARA